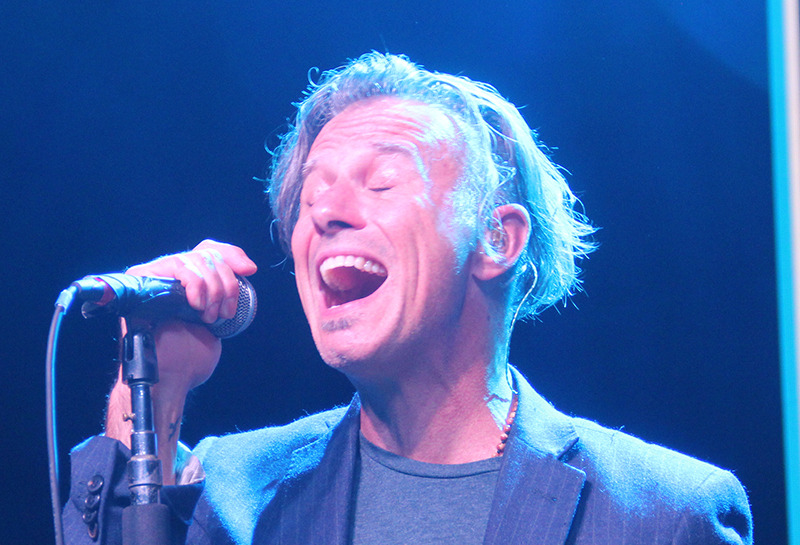 ---
Rocktober has arrived! Check out all of the schedules in this issue and get out there and support local music! Every month I'm amazed at how many shows I get to see, but I'm equally amazed at how many shows I miss! Music is all around us, check out all the schedules in this issue, and plan your next night out on the town. I took advantage of every free second, and managed to see a lot more music than I thought possible this month.
It all started on a Thursday night when I stopped by Cold Springs Inn to see Colt Wilbur. It has been a very long time since I saw Colt play solo. It was an absolutely perfect night to sit along the creek and listen to amazing music. Colt also played some original music for us too, which is always a bonus! Cold Springs Inn is a great place for music on a Thursday night.
The following Thursday was a special show at XL Live, Saving Abel was in town with Stone Horses, and Observe the 93rd had the opportunity to heat up the stage. It's always awesome to see Observe the 93rd on such a big stage. If you haven't done so yet, make sure and check out their new CD 'an eeriness to everything'. All of the songs on the CD are very different. It really shows how versatile they truly are. You can check it out for yourself on their website, www.observethe93rd.com.
Stone Horses and Saving Abel didn't disappoint either. Stone Horses set kept the crowd pumped up, especially with their great original songs, my personal fave was "Flirtin' with the Devil". Saving Abel played most of their popular songs, like "Addicted" and "18 Days" and put on one heck of a show. I couldn't believe how fast it was over! We are so lucky to have great venues like XL Live, HMAC, Lovedrafts, etc.. bringing in amazin
g National Acts all nights of the week. I just wish they'd advertise their schedules so I wouldn't keep missing so many of the shows.
The following Friday, I picked up the magazine to see what was happening, Derek Henry was doing acoustic at Fratelli's, Matt Jameson was acoustic at Laser Alley at Funk's Brewing, and Stonewood was at Hollywood York, so my best option was to get in the car and start driving! I stopped at Fratelli's first to see Derek for a few songs before he took a break. Then, I zoomed down to Funk's for the last hour of Matt's show. Funk's has an amazing bar filled with spirits and craft beers, but also has the Laser Alley's bowling alley. There is fun stuff for the whole family, or just a perfect date night spot! The last stop of the night was also a new one, at the York Hollywood Casino. It is much smaller than Grantville, but still tons of fun! Stonewood had the dance floor packed and all of the tables! It was a huge crowd for such a small space, but everyone was having a blast! You can check out all three of these acts in our magazine. It's been a long time since I was able to hop around so much in one night, and I gotta admit, it was tons of fun!
Well if I thought Friday was crazy, it was nothing compared to my Saturday! Saturday started early with a trip out to Foglemans Wounded Warrior Music Fest. This festival started in 2014, and even with the pandemic, they didn't miss a year to raise funds for our wounded warriors! Last year, in one day, they raised a breathtaking $104,000. As of today, I haven't heard the grand total for this year, but I know it's going to be even more than last year. People were absolutely everywhere. I'm surprised the ATM by the pull tickets didn't explode with how many people were pulling cash out to buy more tickets! 50/50s were going off every hour, and every time the winner was getting over $1,000. It was absolutely crazy. Meanwhile all the food and entertainment was included with your ticket! Chicken, Pork BBQ, Burgers, Dogs, Fresh Cut Fries, Soups, Sides, you could eat until you couldn't eat no more! I think they had more food than The Shady Maple! The first band I saw was the Full Circle Band. They played a great range of covers through the decades that had tons of people singing, clapping, and dancing along. The next band was quite a shock to the Fogleman stage, especially seeing a Flying V guitar and hearing him shred away during the sound check! The band was the Nick Tauer Band from Schuylkill County. They refer to themselves as a Country Rock band, but I do believe there is much more rock than country. They were playing all originals that definitely had a lot of people asking the question, "Who are these guys?!?" Their set definitely had people awake and on their feet, that's for sure! The next band was Applejack. Definitely a much calmer band, and a local favorite, that had the ladies on their feet and dancing along early. Since I had a lot to do, I couldn't stay all night for all of the amazing music, but I'm glad I made the trip and was able to enjoy as much as I did. They already have the date scheduled for next year, Sept. 9, 2023, mark it on your calendars now, because it's definitely a show you don't want to miss. They always go above and beyond and it's for a super amazing cause, our PA Wounded Warriors.
My next stop was down to the outskirts of York for the Turtle Soup music festival. This year this event was at Elicker's Grove because it got too big for the hosts' backyard! When I got there the party was in full swing. People were set up all over the picnic grounds kickin' back, enjoying the show. Maiden America was just taking the stage when I arrived. I haven't seen these guys for quite a while so I'm glad I made it down there in time to see them. They played for a straight hour and a half. I really don't know how Gordon can have so much energy to be running, jumping, and dancing all while singing! The man is intense to see and hear! Next to the stage was Steel. With their new singer, Kyle, they are definitely changing up their show, adding in all kinds of new material and tricks. Dave Magaro even played the keys on a few songs! I love Steel so much, and it's awesome to see them so happy, doing what they love. Changes in bands are never easy, but in this case, it's definitely worth it to keep persevering and finding a new path to take! They have a few dates coming up in Rocktober, check out their ad in this issue for all the details, or go to www.steelrocks.com. Steel was the last band of the night, but believe it or not, it was only 10, so I still had time for one more stop!
The final stop of the night was out to Jen-Jen's Rhythm N Brews for the 2nd half of Observe the 93rd's set. I don't know if the look on Derek's face was shock or panic when I walked in, but I had a blast dancing to the last few songs of the night! I was at Jen-Jen's back in January and I couldn't believe all of their changes. It is really beautiful how they redid things. Hopefully next time I will be there longer and get a better look around. I'm just glad that Jen-Jen's gives full bands another great venue to play at!
The next night was a super special one. I was invited onto the Podcast: Darker with Daniel. I actually got invited one night sitting at the bar.. So I really didn't know what to think, but wow, this was quite the set-up! I actually got interviewed by Daniel and Hunter, and there were also two guys just running the production side of things. I don't know if the episode will ever air, but it was fun recording it. We all learned a lot about each other. I talked a lot about the magazine, and probably got a little over passionate at times. Overall, I had a great time, if it ever does air on Darker with Daniel, I will definitely share the link on my Facebook page. Darker with Daniel has over 30 Episodes with a bunch of different people in the local music scene, check it out and learn some inside scoop on the scene.
After the interview I headed over to Sturges Speakeasy for the last set of Derek Henry's show. Sturges is a great place to go listen to some music because the whole venue just loves music, and they want to make sure their patrons are having fun! With being so busy during the weekends, I am always super excited when I see someone is playing near me on a weekday.
On a Tuesday I made special plans to go out to dinner with Angie for her birthday to Jo Jo's in Upper Allen. Little did we know, they have live music on a Tuesday! Kirk Wise was there playing with his friends. It was pretty cool to see everyone's versatility and being able to quickly adapt by adding in more musicians, or taking some away. It definitely helped make the show even more entertaining. Kirk Wise can play shows of all shapes and sizes because he can just play solo, or as a duo, and sometimes even as a full band. Thanks again Kirk for playing Happy Birthday to Angie, she absolutely loved it!
On a Wednesday night Kris and I had the pleasure of attending BRP Entertainment's 60th Birthday Party. BRP Entertainment has also just released their new website and branding. It's exciting and refreshing! It's amazing what the very limited staff of BRP Entertainment can accomplish. The party was held at The Mill in Hershey and there was entertainment on every level, bands, comedians, photo booth, etc. Everywhere you looked there was something fun for everyone! Congrats to BRP Entertainment on 60 years! I'm glad I can help out whenever I can.
That week it just so happened, I was helping the next day! Thursday evening I flew out to Lawrenceburg, Indiana for their city's Fall Music Fest. It was busy, yet tons of fun! Friday morning at 9am, people already had their lawn chairs out marking their spots! Friday was Rock Night, and Saturday, was all country music. Friday kicked off with Wade & Murphy. These guys were top notch musicians. I loved all of their music. They played some originals and covers with their own special twist. They were very entertaining and very professional. Next up was Dirty Deeds, the Ultimate, Extreme AC/DC Experience. If you've ever read my articles before you know how much I love Back in Black, so these guys had their work cut out for them. I'm thrilled to say the put on one heck of a show! When "Brian" pulled out his bagpipes and started wailing on them, I have to say, I was impressed! The final band for Rock night was Def Leggend. Even tho these guys had to travel in from Texas they pulled out all the stops. They had a full light show with video screens, etc. When the show started you really felt like you were at a full blown Def Leppard show! It was a great kick off to the festival!
Day 2 started bright and early with a car show, medals being awarded to members in the community and other great things happening all around us. The music started with the super talented and young, Rachel Holt! She is a local country star that is already putting her boot print on the world in Nashville! Then it was time for Five Lights with Jessie Strassel, another amazingly talented local band. They had harmonies that gave you goosebumps! Dunn & Brooks took the stage next. That's right Dunn & Brooks, a tribute to Brooks & Dunn. They had everyone fooled and confused, they were so good! When things got a little dicey for a bit, they also were super quick to help me however they could, and they even took the stage 15 minutes early! Last but not least, the headliner Granger Smith, who also changes 3/4s of the way into Earl Dibbles Jr. aka.. The King of the YeeYee Nation! This was a completely free event and people came out in full force to support all of the music. Lawrenceburg, Indiana is an amazing city filled with people who love their community and live music. Yes, it was stressful at times, but for the most part it was an awesome experience!
Even tho I only flew home Sunday morning, I can never sit still long, so by 3pm I was off and running to go see Matt Jameson Acoustic playing a private event at the Marysville VFW Post 882. I love seeing new people hear Matt for the first time and then see them tell him how much they loved his show! Even though one thing he needs to work on is taking compliments, I'm just glad he's having as much fun as the people are hearing him play! Matt has another full month of shows. You can check out his ad in this issue to see where and when! You can also check him out on his Facebook page, facebook.com/MattJamesonAcoustic.
After his show I was off to XL Live to head to the River 97.3's 30th Birthday Bash. There was an early VIP Pre-show with the Badlees playing some acoustic songs, and we all got to eat some super delicious cake! At 7pm the show officially kicked off with the Martini Bros. For a Sunday night show, this was a rough crowd to get people moving and dancing along, even tho the Martini Bros. put on one heck of a show! Next up were the Jellybricks. It has been quite a while since I saw these guys, and I'm so glad I caught their set! After Jellybricks it was time for the Badlees. The Badlees are performing once again with their full, original band! They also announced that they are working on a new album that will hopefully be done in time for it to be a stocking stuffer this year at Christmas! XL Live was packed! It was awesome to see so many faces that I haven't seen in quite some time! Congrats Glenn Hamilton and his whole team at The River. I know I love listening every day on my way to work!
Ahhh… I made it through another month. In October I have some more BRP fun stuff to do, so keep an eye out for me on your weekday shows. You just never know where I'll show up next! Please leaf through this issue, make plans for a night out on the town. Get out there and Support Local Music! It needs us just as much as we need it!