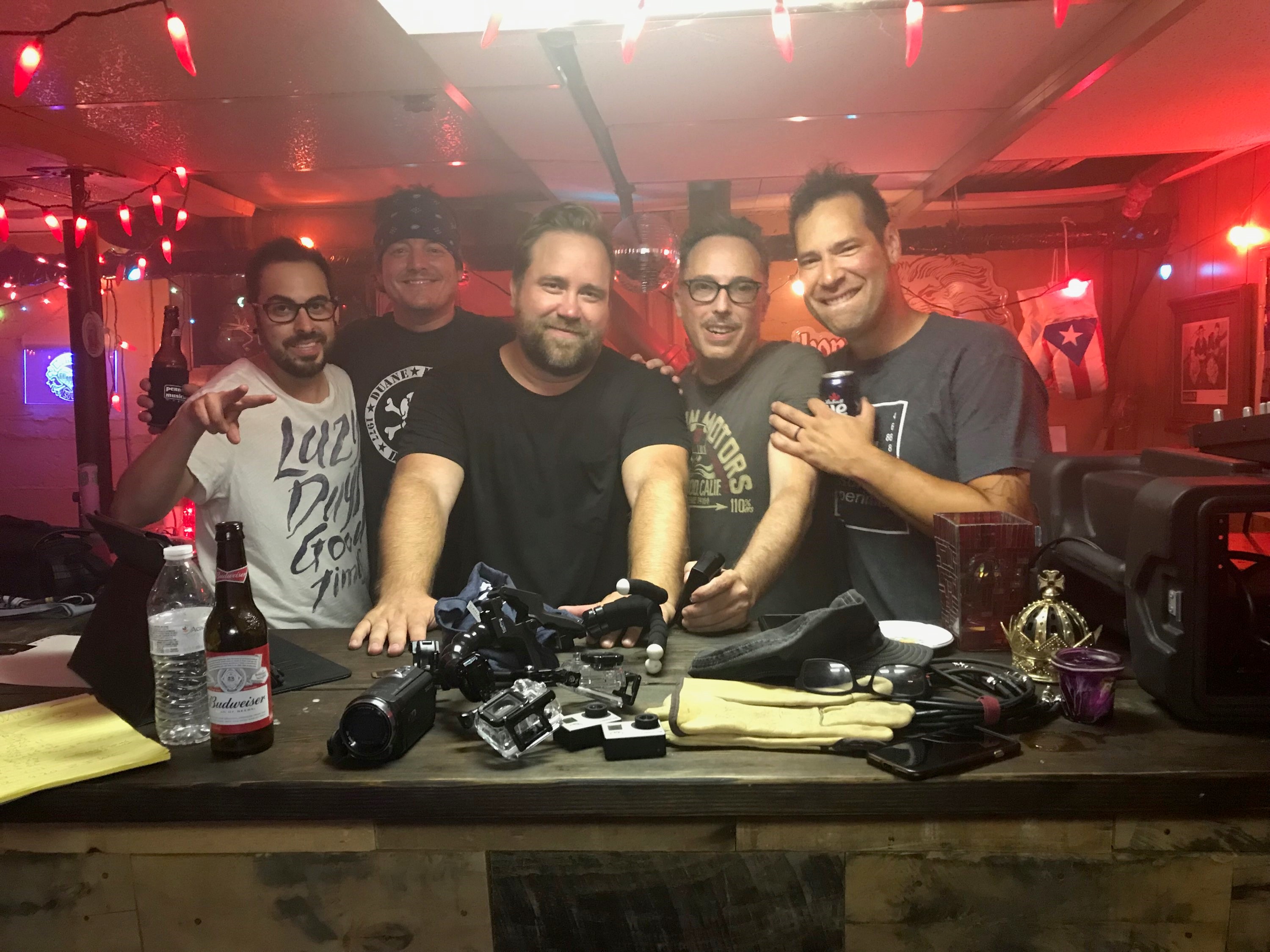 ---
By: Eric Hoffman
Greetings Rockers 'N' Rollers! Harrisburg's great venue Club XL continues to bring notable artists including The Growlers on July 24th and Faster Pussycat with Bang Tango on July 25th. The Growlers were really impressive bringing their beach goth style of music which combines surf, pop, rock and beat. Singer, Brooks Nielsen, has a unique delivery and sometimes is reminiscent of The Doors' Jim Morrison. A great cult following turned out for this semi-unknown band who have created 7 albums. Great job Club XL on bringing such a unique show to Central PA. Faster Pussycat also visited the club and are still spreading their sleazy metal rock. The band always puts on a good show and continue to tour consistently, always visiting Pennsylvania. Frontman, Taime Downe, was always known for a cigarette in one hand and a drink in the other but has given up both in the past year and continues to deliver great vocals. Their "Return to the Sunset Strip" tour with Bang Tango played 39 shows in the span of two months.
The Menzingers played an incredible sold-out show at Baltimore's Ottobar on August 10th It was the last night of their Summer 2019 tour which began in Lancaster in July. The band is originally from Scranton but have relocated to Philadelphia and continue to garner huge success. The Menzingers will release their sixth studio album "Hello Exile" on October 4th and recently released two singles, "Anna" and "America (You're Freaking Me Out)." The band returns to the road in late October for 32 dates including Philadelphia November 29th and Washington DC December 4th.
The following day, it was off to Pittsburgh to see The Bouncing Souls at Mr. Smalls Theatre on August 11th. A great 800-capacity venue in a re-purposed 19th century church for the past 15 years. The Souls have been touring off and on all year to celebrate their 30th anniversary. Sadly, the opening band The Bronx had to cancel their slot due to a bad van transmission which left the band in Toronto. Fortunately another opener The Swingin Utters turned out to be a great surprise and were awesome. The Souls will tour Europe in October and return to the States in December for six more shows including Philadelphia December 13th and Silver Spring, MD December 18th.
Legendary rock band KISS visited Hersheypark Stadium on August 21st. The band that formed in January 1973 is most known for its members' face paint and stage outfits. In September 2018, Kiss announced that, after 45 years of recording and performing, they would be embarking on their final tour, The End of the Road Tour, in 2019 and it is expected to end in 2021. The band has gone through several lineup changes, with Paul Stanley and Gene Simmons the only remaining original members. The Hershey show provided plenty of pyrotechnics, shooting rockets, levitating stages, fire breathing and blood-spitting. My sincere thanks to Tommy Presite, John Harris and Mark Swatt for making the evening possible.
Lastly, I've been extremely fortunate to have local band The Super High-Tech Jet Fighters practicing at my home the past month. Drummer, Logan Betz, and his wife are expecting a baby, hence needing a new place to practice. The band has been recording songs at Rock Mill Studio in Mechanicsburg, to be released very soon. Jet Fighters also shot a video on August 6th for their song "All These Miles" with Hollywood director Torr Pizzillo.
NATIONAL NEWS: One-time Bauhaus front man and goth legend Peter Murphy was rushed to a local New York City hospital, due to shortness of breath and was unable to perform a scheduled show. It was revealed Murphy suffered a heart attack. The cardiologist stated: "Mr. Murphy was admitted for treatment of a myocardial infarction. He had two stents placed in his right coronary artery and was started on medications to manage his heart condition." Murphy's family has issued the following statement: "We would like to thank the fans for their undying support and hope that Peter will be back on stage with a refreshed heart, stronger than before!"
The NFL and Jay-Z's entertainment and sports representation company are teaming up for events and social activism. The league not only will use Jay-Z's Roc Nation to consult on its entertainment presentations, including the Super Bowl halftime show, but will work with the rapper and entrepreneur's company to "strengthen community through music and the NFL's Inspire Change initiative." Inspire Change was created by the league after an agreement with a coalition of players who demonstrated during the national anthem to protest social and racial injustice in this country. Roc Nation's stable includes Rihanna, Mariah Carey, Shakira and, of course, Jay-Z — much emphasis from both the league and the representation group is being placed on the social relations aspect of the agreement.
Willie Nelson took to Twitter late last night to break the news he was forced to cancel six dates on his upcoming tour with Alison Krauss because of a "breathing problem," which has plagued him in the past. The 86-year-old singer posted, "To my fans, I'm sorry to cancel my tour, but I have a breathing problem that I need to have my doctor check out" after performing with Krauss in Toledo, Ohio. "I'll be back. Love, Willie" His publicist posted, "Willie is resting and feeling better. He will be back on the road in September. The only dates canceled were the six remaining in August. Thank you all for your concern."
Woodstock 50, will not happen and was finally put to bed July 31st with the official statement that organizers were throwing in the towel. "We are saddened that a series of unforeseen setbacks has made it impossible to put on the Festival we imagined with the great line-up we had booked and the social engagement we were anticipating," stated co-organizer Michael Lang. Permit denials, venue changes and artists dropping out lead to its demise. Originally scheduled in Watkins Glen, NY with an expected capacity over 100,000 – was then changed as a free event of 20,000 at Merriweather Post Pavilion in Columbia, MD. Miley Cyrus, Jaz-Z, John Fogerty, The Raconteurs, The Lumineers and Santana all dropped out of the festival. A rival Woodstock celebration took place at Bethel Woods Center for the Arts, on the site of the original festival, August 16-18, with Ringo Starr and his All-Starr Band (8/16), Santana with the Doobie Brothers (8/17) and John Fogerty with Tedeschi Trucks Band and Grace Potter (8/18).
UPCOMING CONCERTS: Social Distortion / Flogging Molly – Lancaster Freedom Hall, Sept 1. Future Islands – Philadelphia Dell Music Center, Sept 5. Morrissey / Interpol – Merriweather Post Pavilion, Sept 5. Ratt – Easton One Centre, Sept 13. JS Ondara – Harrisburg Club XL, Sept 13. Southern Culture on the Skids – Reading Downtown Alive, Sept 18. Fuel – York Fair, Sept 20. Rancid – Baltimore MECU Pavilion, Sept 21. Cheap Trick – Bloomsburg Fair, Sept 24. Sebastian Bach – Harrisburg Club XL, Sept 26. Psychedelic Furs – Baltimore Soundstage, Sept 27. Southern Culture on the Skids – Harrisburg HMAC, Sept 28.