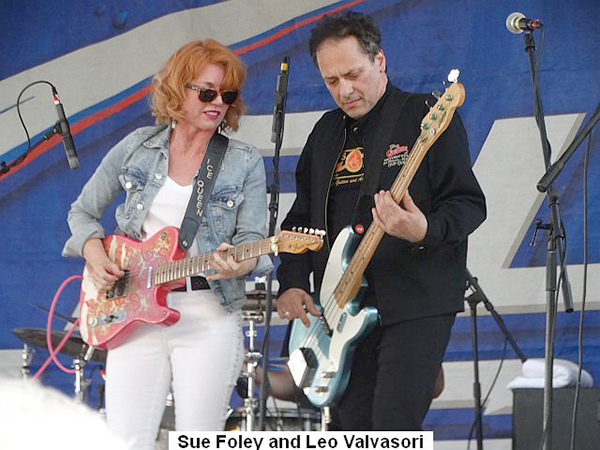 ---
By Jim Price
Time flies when you're having fun, and this summer flew by fast! A few more weeks of outdoor live music festivities remain before it all starts to head back indoors for the colder weather season. Enjoy it while it lasts!
Every so often, special moments remind me of why I continue to celebrate local music each month in PA Musician and on 105.9 Qwik-Rock's radio airwaves each week. One such moment happened early last month as I attended the annual Flood City Music Festival in Johnstown. The first group I saw upon arriving during the festival's first day, Friday, was renowned Minnesota Twin Cities-based blues, jazz and roots group Davina and the Vagabonds, who have performed across the country and internationally, and have appeared on BBC Television, NPR and PBS. Group namesake Davina Lozier (formerly Sowers) grew up in the Altoona area, and this was my first time seeing her perform live since her Altoona days, when she guest-sang with Felix & the Hurricanes at Peter C's nearly two decades ago. I chatted with Davina briefly after her Flood City performance as I purchased a copy of the group's brand new album, "Sugar Drops," which was released that same day. Davina recalled that the first time she had ever seen her name appear in print was when I first wrote about her in PA Musician during that Peter C's appearance with the Hurricanes. Other musicians have told me before that seeing their name on our pages for the first time inspired them to keep doing what they were doing and stick with music; it was especially heartening to hear Davina share that recollection, and see the great heights she has attained in her music career so far.
Davina and the Vagabonds' performance was one of my favorite highlights of this year's Flood City Music Festival. Singing and playing piano, Davina and this day's cast of Vagabonds – husband Zack Lozier on trumpet and vocals, Jacob Melsha on trombone, Chano Cruz on upright bass and Connor McRae Hammergren on drums and vocals – quickly roused the crowd with their feisty blend of blues, soul and jazz. The timing of this appearance was perfect, as the group was releasing their new CD, "Sugar Drops," on this very day, and they performed some songs from the new disc including "Devil Horns" and the title song "Sugar Drops." They also did the title from their 2014 album "Sunshine" (with Davina delivering a perfectly-placed knuckle crack as part of the rhythm!), "St. Michael vs. the Devil," "Start Running," "Pocket," plus their unique renditions of Fats Waller's "Louisiana Fairytale" (familiar to many as the former theme song from the TV show "This Old House"), Louis Armstrong's "My Monday Date," Lovin Spoonful's "Daydream," a boppin' version of Hank Williams' "Hey Good Lookin'" to close their set and more. Davina took charge from the get-go, channeling the influences of famous blues women like Billie Holiday, Etta James and Bessie Smith into a boisterous style all her own. Her voice and personality shined from start to end, and her cast of Vagabonds supported her with spirited, grooving and often playful arrangements. This performance was fun from start to end, and the crowd applause grew louder as the set progressed.
Many other stellar performances highlighted this year's Flood Music Festival as well…Austin, Texas-based Latin funk group Brownout brought their special Brownout Presents: Brown Sabbath show full force, as – eight members strong including three-piece horn section – Brownout celebrated the music of early-era Black Sabbath with a brassy Latin flair. They showed that a brass section and Latin-styled percussion could bring the firepower on Black Sabbath favorites like "The Wizard," "N.I.B." "Iron Man," "Children of the Grave," "Sweet Leaf," "Electric Funeral" into "War Pigs," their encore of "Supernaut" and "Fairies Wear Boots," and many more…The "Ice Queen," Sue Foley, and her band dazzled the audience with scorching electric blues, including numbers from her "Ice Queen" CD plus other tunes, flamenco-flavored acoustic numbers and more. Sue displayed mesmerizing guitar work and a strong, soulful voice along the way…Saturday night hitmaking headliners the Gin Blossoms electrified the crowd with their performance, celebrating their catalog of popular radio songs like "Allison Road," "Found Out About You," "Follow You Down," "Til I Hear It From You" and the set-capping "Hey Jealousy," tunes from their latest album "Mixed Reality" such as "Break," "Wonder" and "Mega Pawn King," plus a version of Tom Petty's "Even the Losers" and for the encore, Johnny Cash's "Folsom Prison Blues"…Returning to Johnstown, Bill Kirchen woke the crowd early Saturday afternoon with his mix of rock'n'roll, blues, honky tonk and more. He dazzled constantly on his Fender Telecaster guitar, but also pleasantly surprised the crowd by breaking out a trombone during "Milk Cow Blues." And true to form, he and his band closed out their set with "Hot Rod Lincoln," the song he helped popularize in 1972 as a member of Commander Cody and His Lost Planet Airmen; as the lyrical auto race heated up, Bill treated the audience to a rapid-fire collection of riffs from 30-plus legendary groups and artists, spanning Johnny Cash to the Ventures to Earl Scruggs to Iggy Pop to Chuck Berry to Link Wray to "The Kings" (Freddy, B.B., Albert, Ben E., Carole, and – plucking his guitar strings like a tennis racket – Billy Jean) to Elvis to the Beatles to the Sex Pistols, Jimi Hendrix and more!…Brooklyn's Red Baraat closed out Friday night's festivities with a high-powered, worldly sound – mixing elements of Indian music (including bandleader Sunny Jain playing a dhol, a double-headed Indian drum) with funk, jazz, hip-hop and raw rock energy. Six members strong, Red Baraat kept the crowd dancing with everything from Bollywood movie songs to percussion jams and more.
Local and regional performers represented well during Flood City Music Festival…Pittsburgh's Adler & Barath Blues Band provided hearty blues during their Friday night set. Guitarist Jimmy Adler and harmonica player Charlie Barath shared singing duties on their original song creations, backed by drummer Gordon Grottenthaler and bassist Gerry Borish…At least ten musicians strong, Johnstown's Jeff Webb and the Delectable Sound made a joyful sound with their wide-ranging blend of original songs and select covers. Fronted by namesake Jeff on lead vocals and keys, the group did songs off their recently-issued debut CD "Crossroads," as well as well-crafted takes on numbers from Van Morrison, Bill Withers, the set-ending Joe Cocker version of "With A Little Help From My Friends" and more…Johnstown's Jeff Perigo & Friends sounded good on their mixture of blues-based original songs and select covers. Jeff on acoustic guitar and vocals, Scott Jeffreys on bass, Seth Shumaker on mandolin and Brad Barron on acoustic guitar performed some of Jeff's original songs such as the waltz-toned "Writing Songs" and "Feel Like a Fool," plus numbers from Willie Nelson, Jimmy Cliff and more…And Johnstown's Afro N'at slammed the lid on the Festival with their feverish Saturday night performance. Eight members strong including three-piece horn contingent, Afro N'at kept the music and the action constant, doing their own funky original compositions, as well as offering their own feisty reads of Average White Band's "Pick Up the Pieces," an instrumental take on Britney Spears' "Toxic," percussion jams and more.
Also during Flood City Music Festival, I enjoyed performances from Ghost Light, Cowboy Mouth (at least the last two minutes of their performance that I got to witness), Dale Watson, National Park Radio and The Plate Scrapers. I unfortunately missed sets by Elias Khouri and Essential Machine.
I enjoyed many more outdoor highlights recently as well, including performances during the final day of the annual Duncansville Community Days celebration in late July. I arrived in time to catch the last couple of songs from Johnstown's Three Of Hearts. Performing in 90-degree heat and humidity, the cast of singer/bassist Duaine Detrick, drummer/singer John Shimko, guitarist Joe Tirpak and drummer Tom Romanek nonetheless sounded sharp on versions of Wilson Pickett's "Mustang Sally" and Wild Cherry's "Play That Funky Music." Afterward, R2B2 brought the rock, pop and dance party to finish the day. Rick Wertz on guitar, vocals and percussion, Mary Villani on vocals and keys, Ric Criste on guitar and vocals, Fritz Wyland on bass and vocals and Beau Saller on drums and vocals performed their uplifting mix of sounds. Mary and Rick did the lion's share of lead singing, but everyone fronted the group on at least one song. From behind the kit, Beau sang lead on Delbert McClinton's "Standing on Shaky Ground," while Fritz led the group on War's "Low Rider," and Ric sang lead on T. Rex's "Get It On," Romantics' "What I Like About You" and R2B2's take on "Mustang Sally." R2B2 kept the crowd happy and had folks young and old up and dancing on numbers from Pink, KC & the Sunshine Band, Jennifer Lopez, Walk The Moon, Meghan Trainor, B-52's, DNCE, Portugal the Man, Van Morrison, Shania Twain and many more. Despite heat and humidity, these five musicians had fun engaging the crowd and putting smiles on people's faces.
I caught my first look at Kristi Jean and Her Ne'er Do Wells in late July during one of the installments of the Sunday evening concert series at Talleyrand Park in Bellefonte. The group played as a quintet this night, as Bill Wilgus – filling in for both Dave Mudgett and Mike Russell on guitar – joined singer and namesake Kristi Jean, lead guitarist Steve Branstetter, Jim Baughman on doghouse bass and drummer Sean Hershey. This group kept the crowd happy with their "country-billy collision" of roots, rockabilly, country and Texas swing sounds. Front and center, Kristi Jean led the group with her bright, cheery personality and uplifting voice, with the rest of the group providing tight and tasteful backdrops behind her. They tapped the Patsy Cline catalog a few times, doing versions of "Got a Lot of Rhythm in My Soul," "Seven Lonely Days," "Leavin' On Your Mind," "Stop, Look and Listen" and the Patsy take on "Bill Bailey, Won't You Please Come Home." Among their other numbers were takes on Hank Thompson's "Cryin' in the Deep Blue Sea," Hank Williams' "Hey Good Lookin,'" Charline Arthur's "I'm Having a Party All By Myself," Wanda Jackson's "Funnel of Love," and to end the performance, Bobby Charles/Bill Haley's "See You Later Alligator." The crowd enjoyed this rootsy mix, and it was cool to observe a few older audience members bobbing heads and grooving in their seats to songs they probably hadn't heard in a while.
I caught the next-to-final installment of this year's Alive at Five Summer Concert Series at Altoona's Railroaders Museum in late July, headlined by Dave Matthews Band tribute act Rhyme & Reason. Opening the show was the official full-band debut of new Altoona-based rock group August Wake. This group features a cast of familiar area musicians: singer/guitarist Matt Wagner, former Nevermoure/Vs. the Earth bassist Big Dawg, former Pistol Peg & the Beer Kegs lead guitarist Joe Scott, drummer Manny Barbazzeni and keyboardist/trumpeter Nate Beatty. August Wake introduced their brand of melody-based, acoustic-driven rock music, mixing original songs from their just-released debut EP "Mistakes I've Made" with mostly 1990s-era rock favorites from Matchbox 20, Pearl Jam, Sister Hazel and more. Their original songs were catchy, and the group even resurrected some of Matt's older solo originals such as "Cycle" and "You Never Know." Matt's voice sounded in excellent form, and the group provided strong backing harmonies along the way. August Wake received increasing cheers as they went along, and finished strong with their powerful closer, "Throne" from the EP, highlighted by Joe drilling an intense guitar solo behind his neck! (Nate Beatty has since left the band to devote time to other musical endeavors.) Formed in 2001, New Jersey's Rhyme & Reason followed with two sets celebrating the music and performance of the Dave Matthews Band (DMB). This group largely captured the sound and vibe of DMB live; singer and rhythm guitarist Rob Messina closely sounded like Dave Matthews, plus established a fun and friendly rapport with the Railroaders Museum crowd. The band around him was solid, and violinist James Sattler frequently dazzled with his solo displays and flavoring he contributed to the songs. Randy Parker played lead guitar, Jimmy Knight played bass, and Bob Elliott played drums. After kicking off their first set with "Too Much," Rhyme & Reason followed with "What Would You Say," and proceeded to mix popular and lesser-known DMB tunes. Some highlights included a version of Steve Miller's "Fly Like an Eagle," "The Space Between" a mesmerizing edition of "Don't Drink the Water," "Crush," "Tripping Billies," "Crash Into Me" and their popular interpretation of Bob Dylan's "All Along the Watchtower" to close the set. The group welcomed August Wake's Nate Beatty on stage to blow some trumpet on "Ants Marching." When the Railroaders Museum crowd quickly demanded more, Rhyme & Reason returned to do one more, "I Hope You'll Be By Me Then." Rhyme & Reason was well-received by the Railroaders Museum crowd, who stuck around for the duration to capture every last note from the group.
Also taking place at the Railroaders Museum was last month's 13th annual Day Of Rock benefit concert, a day of music raising money for the We Care Foundation of Central PA, which helps out children with physical disabilities. Some of the day's early performers included Avenue Of Kings, the Ben Dumm Band, It Is Written and Bone Jacked. Performing during band changeovers, Jae Smith was on the stage when I first arrived; through several visits to the stage, he strummed guitar and sang a mix of 1990s and modern rock favorites from Gaslight Anthem, Better Than Ezra, Ataris, Eagle-Eye Cherry, Social Distortion and more. Railtowne then took the show in a country direction, doing favorites from Luke Combs, Luke Bryan, Eric Church, Big & Rich, Jason Aldean and more. Fyre showcased original metal music, performing songs from their recently-issued "2 Keys" album, plus powerful versions of Dio's "Holy Diver" and Judas Priest's "Living After Midnight." Downshift then fired up the crowd with their rowdy blend of rock and metal favorites; including tunes from Smashing Pumpkins, Nirvana, Gin Blossoms, Billy Idol, Alice In Chains, a Metallica medley, and a powerful take on Pantera's "Cowboys From Hell" to close their set. With a passing thunderstorm providing some sky-to-sky lightning illumination behind them, Matt Pletcher and his band kept folks happy with their mix of mostly country-geared original songs and favorites. Matt on lead vocals and guitar, lead guitarist Kenny Murdick, Nate Beatty on bass and Randy Servello on drums did songs off Matt's "Sure Thing" CD such as the title track, "Somethin' I Can Dance To" and "For You," plus numbers from Georgia Satellites, Hank Williams Jr., Nathaniel Rateliff & the Night Sweats and – finishing the set – a take on Foo Fighters' "Everlong." Shallow 9 then fired up their dance party mix to close the show, mixing pop, modern rock, funk, dance and hip-hop favorites. With Erika Marino and Mike Stanley providing most of the lead singing and raps, Shallow 9 kept folks dancing and grooving with several hip-hop and funk medleys, as well as numbers from Outkast, Lady Gaga, House Of Pain, Panic! At the Disco, Michael Jackson and more. This year's Day Of Rock was successful, raising more than $2,000 for the We Care Foundation.
The fourth annual Vets Fest took place early last month outside at Altoona's Unter Uns Musical & Entertainment Society, raising funds for the Vietnam Veterans of America Blair County Chapter 967, which helps out area veterans in need. Five groups donated their talents this day; following singer Anna Oberneder's rendition of the "Star Spangled Banner," Kickin' provided the afternoon's first set. A new Altoona-based group featuring singer and acoustic guitarist Sean Osborn, lead guitarist Craig Albright, keyboardist Barry Yeager, sax player Ted Ellis, bassist Kevin Mitchell and drummer (and show organizer) Bill Hocherl; Kickin' set the afternoon's tone with numbers from Jimmy Buffett, Van Morrison, Eric Clapton, Neil Diamond and more. Next was Flashpoint, who took the music in a classic rock direction. Singer/guitarist Don Osborn, bassist/singer Bill Hunter, keyboardist/singer Ken Civils and drummer Jeff Crownover performed tunes from the Black Crowes, Hollies, Steely Dan, the Beatles, Stevie Ray Vaughan and more. Don and Ken remained on stage for the next group, as Skye 2.0 celebrated 1970s-era hard and progressive rock favorites. Don, Ken, singer/keyboardist Adam DiFlaviano, bassist Kris Civils and drummer Bill Hocherl did numbers from Deep Purple, Uriah Heep, Yes, Boston and more. Skye 2.0 isn't afraid to dig deep for their song selections; pulling out an interlude from "Jesus Christ Superstar," King Crimson's "Court of the Crimson King" and – possibly as the only band ever to cover this song – a rendition of "Children of the Universe" by forgotten early 1970s British progressive rockers Flash! Following them was M.F.G., who performed a set of all-original rock. Joining the group's founding core of guitarist/singer John McKelvey, drummer Skip Fisher and singer, guitarist and keyboardist Bobby Gates were Steve Campbell on bass and backing singer Lane Williamson. M.F.G. did numbers from their two CD's, including "Don't Kill the Moment," "Lauren," "Lucas and Me," "Starfish," "Brighton Girls" and more. And providing the sound system this day, This Albatross capped the day, quickly filling the dance floor as they performed upbeat favorites from Kenny Loggins, Joan Jett, Madonna, Billy Squier, Stevie Nicks, Blondie, Shania Twain and many more. The day also saw an appearance by Miss Pennsylvania International 2019, Ashlyn Riccione, who is actively working to help connect veterans with services available to them. Vets Fest saw good attendance, and the day was successful.
The second annual Altoona First Frontier Festival took place in late July, with events at both downtown Altoona's Mishler Theatre and Heritage Plaza. Two concerts happened at the Mishler; a Friday night concert featuring The Clarks and Bill Kirchen, and a Saturday night concert featuring the Steep Canyon Rangers and Elizabeth Cook. I caught half of the Saturday afternoon outdoor concert at Heritage Plaza. Stephanie & the Wild Hearts and R2B2 performed before my arrival, but I got there in time to see Miss Melanie & the Valley Rats and Jim Donovan & the Sun King Warriors. One of the joys for me of seeing Miss Melanie & the Valley Rats is witnessing first-time observers whenever they hear "Miss Melanie" Morrison Zeigler's incredible voice for the first time…Such was the case this day, as I saw awestruck expressions when Melanie belted out her potent voice on the group's mix of blues and soul originals and select covers. And Jim Donovan & the Sun King Warriors closed the afternoon with their energetic mix of original rock, vintage rock and "2 tons of drums." The group's namesake, Jim, led the group on a number of original tunes off their two CD's plus a few new compositions as well. The group also did select covers from The Record Company, Golden Earring (with bassist Kent Tonkin singing lead on "Radar Love," and for the encore, Violent Femmes' "Blister in the Sun" and Rusted Root's "Send Me On My Way."
Johnstown's Flood City Brass closed out the summer concert series last month at Altoona's Valley View County Park Amphitheater. Ten musicians filled the stage this day – singers Natalie Kurchak and Tom Pavic, the brass contingent of sax players Jen Schrift, Greg Maiocco and trumpeter Dan Perich, lead guitarist Randy Rutherford, rhythm guitarist John Kurchak, keyboardist Luis Gonzalez III, bassist Andy Heinze and drummer/singer John Homerski Jr. Flood City Brass made it fun for the large contingent of onlookers in attendance, who thoroughly enjoyed the group's wide assortment of brassy classic rock, pop, soul, funk and blues favorites. Natalie's powerful and soulful voice grabbed everyone's attention right off the bat as she led the group on the opening rendition of Aretha Franklin's classic "Chain of Fools," and the group fired up the brass party from there with tunes from the Sanford-Townsend Band, Quarterflash, Chicago, Bruce Springsteen, Doobie Brothers, Donna Summer, Steely Dan, Sly & the Family Stone, Delbert McClinton and more. Highlights included Jen's sax solo work on Quarterflash's "Harden My Heart," Greg's sax solo on Billy Joel's "Just the Way You Are," Randy's scorching guitar solo during Gary Moore's "Still Got the Blues" and more. Coupled with perfect weather, Flood City Brass' performance provided an excellent way to spend an early Sunday evening
I also took in the final day of last month's annual St. Bernard's Homecoming celebration in Hastings. Performing as I arrived and quickly procured one of the church's legendary hot sausage sandwiches was Rick Ramsey. Rick always delivers an entertaining performance; this day he performed his anything-goes mix of grunge-toned rock'n'roll, country, blues, soul and more. Not using a set list, Rick goes where the muse carries him – this day it was Johnny Cash and old-school country into 1970s, 1980s, 1990s tunes, oldies, TV show themes, 1980s Brit pop and more. Unexpected twists and turns provided some highlights – including turning a request for ZZ Top into a mash-up of "Cheap Sunglasses" into the traditional "Man of Constant Sorrow," an Elvis medley suddenly veering into an Elvis-flavored take on "The Jeffersons Theme Song (Movin' On Up)," "Hee Haw" tunes and many more. PT Cruiser then provided the nightcap. This group has a new guitarist since I last saw them, with Rob Sottile now handling guitar and vocal duties alongside bassist/singer Bill Kibler, singer/guitarist Mike Hoover and drummer/singer Rick Morealli. PT Cruiser sounded great on their wide-ranging variety of rock and country favorites from the 1960s to now. These guys were tight and sharp on their instruments and vocal harmonies, and they kept their variety of tunes flowing smoothly; including numbers from Lynyrd Skynyrd, Van Morrison, Roy Orbison, CCR, The Contours, The McCoys, Beach Boys, BTO, Rolling Stones, Billy Idol, Luke Bryan and many more.
The Random Hubiak paid a visit to Webster's Bookstore and Cafe in State College last month. A Pennsylvania musician and Penn State graduate who now calls the Jersey shore his home base, Random sang and played keys as he showcased a selection of his original compositions. His music and style were captivating; he blends the quarkiness and whimsical tones of Randy Newman and Harry Nilsson with hints of Billy Joel, Elton John, David Bowie, Tom Waits and Ben Folds Five to create a distinctive sound all his own. His original tunes display detailed melodies, intricate piano work and fast-firing, busy lyrics. Random mixed songs from several of his CD's, with a slight emphasis on his 2013 album "Memoirs of a Manwhore: The Reeling Waltz of a Drunken Lothario." Some of the numbers included the title track to his latest EP "Sad Sack," "Jump into the River," "Snarky Kiss-Off Song," "Anchors Aweigh," "Affected Disaffection," "My Fix," "The Trick," "The Politics of Pleasure," the new number "These Are Trying Times," "Halcyon Daze" and more. Random told stories and shared inspirations for each song he played, and the Webster's audience – many enjoying a Sunday brunch – liked his performance.
Other performances I saw recently included visits by New York horror punk rockers Chesty Malone & the Slice 'Em Ups, Toledo blues-rock trio Jojo Stella, Syracuse-based 'heady' metal rockers One Step From Falling and Pittsburgh's Young Lungs at McGarvey's…Felix & the Hurricanes as they opened for an Altoona Curve baseball game at Altoona's People's Natural Gas Field…And while I vacationed at North Carolina's Outer Banks last month, I saw Atlanta-based funk group Voodoo Visionary at the Tap Shack in Duck, NC, and acoustic performer Gary, who plays six nights a week at Jimmy's Seafood Buffet in Kitty Hawk…So many shows, but limited space!
The local and regional music scene were saddened by the passings of more friends and members in recent weeks…Alex Richardson, the former bass player of Johnstown-based hard rock band Silver Screen, passed away unexpectedly on Aug. 9. Also known by his nickname "Tuba," Alex was 24 years old…Scott Sprankle, longtime sound engineer for Harrisburg-based hard rockers Steel, passed away on Aug. 13 following a battle with cancer. He was 52…And longtime popular State College performer Ken Volz passed on Aug. 20 after his battle with cancer. Ken was 63. During the past several decades, Ken became popular singing and playing guitar as a solo artist, in collaborations and with the popular band The Screaming Ducks. We at the "Homegrown Rocker" extend our heartfelt sympathies to the surviving families and friends of all three men.
News and notes…The Clarks, Jim Donovan & the Sun King Warriors, Brownie Mary and the Jukehouse Bombers will be among the performers at this month's Northern Appalachian Folk Festival, happening Sept. 6-7 in downtown Indiana…The 15th annual Greenwood Furnace Folk Gathering takes place Sept. 6-8 at Greenwood Furnace State Park near Huntingdon…After a few years of hibernation, area rockers Roadkill will reconvene for a special 30th anniversary benefit event on Sept. 13 at the Slovak Club in Osceola Mills; proceeds benefit the Lisa's Ladybugs Patient Care Fund. Roadkill will also release a new CD, "Still Alive And…Well?"…The former Crowbar in State College has reopened as a new live music venue, the Re//Bar; Lenina Crowne, Green Eggs and Giants Of Science performed to help launch the new venue in late August…Naildriver has closed the book following a 12-year run on area stages; band members will be moving on to other projects…Chris Vipond & the Stanley Street Band is reportedly working on new music; the group recently added guitar player Ben Eberhart to their roster…Pittsburgh rock'n'soul group The Commonheart released their second full-length CD, "Pressure," last month…
Please send correspondence and recordings to: Jim Price, 1104 S. Catherine St., Altoona, PA 16602. You can also e-mail me at jptheprofessor@gmail.com. And if you're into social networking, look me up on Facebook. SUPPORT LOCAL MUSIC!