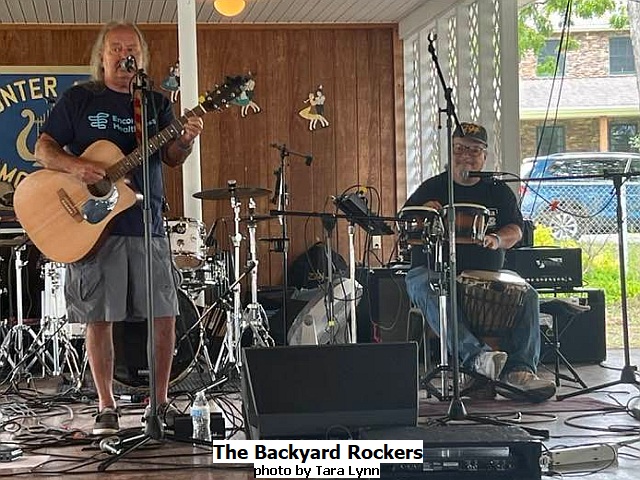 ---
By: Jim Price
Where did summer go? It seems like just yesterday that I was looking ahead to the busy slate of summer live music events I would either be attending, emceeing or otherwise participating in, and the resumption of my fall teaching duties at Penn State Altoona seemed far away. But – just like that – I'm back in the classroom and almost all of those live music events are now in the rearview mirror, with autumn making its arrival later in mere days. Time certainly does fly when you're having fun!
Part of that fun for me happened early last month, during that seemingly rare phenomenon in my life called "vacation." But although I was escaping for nine days on a journey to North Carolina's Outer Banks, I did not escape from live music! My beach travel crew's usual routine is to start the trek on Friday and overnight in southeastern Virginia (the Newport News vicinity) before finishing the journey into the Outer Banks (and the beach house) on Saturday. We learned beforehand that one of this summer's big concert tours – the "Live & Unzoomed" Tour pairing Styx and REO Speedwagon with Loverboy – was playing near Virginia Beach on that Friday night, so we procured tickets to check it out! Loverboy opened the concert, taking place at Veterans United Home Loans Amphitheater, and played eight songs from their early 1980s heyday. Still with four of its founding members, Loverboy – singer Mike Reno, guitarist Paul Dean, keyboardist Doug Johnson, drummer Matt Frenette and bassist Ken "Spider" Sinnaeve (who joined in 2001 following the death of founding bassist Scott Smith) opened with "Notorious," and followed with "Lucky Ones," "Queen of the Broken Hearts," "The Kid Is Hot Tonite," "Lovin' Every Minute Of It," "Hot Girls in Love," "Turn Me Loose" (launched with a drum solo from Matt) and "Workin' for the Weekend." The group sounded strong, and Mike showed he could still reach the high notes. Styx soon followed with a dazzling set containing many of their classics plus a few newer numbers. Nowadays the cast of founding members James Young on guitar and Chuck Panozzo on bass, along with lead singer and guitarist Tommy Shaw, bassist Ricky Phillips, lead singer and keyboardist Lawrence Gowan, drummer Todd Sucherman and additional guitarist Will Evankovich, Styx opened with "The Fight Of Our Lives," the opening track from their latest album from last year, "Crash of the Crown" (which Will produced). Styx then quickly delivered some classics – "Blue Collar Man," "The Grand Illusion" and "Lady," before playing the new album title track "Crash of the Crown." They then ventured back to the 1975 "Equinox" album for "Light Up" (and our noses soon told us that a few folks did 'light up'), followed by another track off the new album, "Sound the Alarm." The classics continued with "Rockin' the Paradise," "Fooling Yourself (The Angry Young Man)" and "Too Much Time on My Hands." Lawrence's keyboard instrumental "Khedive" then led into "Lost at Sea" from the new album, which then led into "Come Sail Away," with the large crowd singing along. Beckoned to do an encore, Styx answered with "Mr. Roboto" and "Renegade." Styx delivered it all with abundant enthusiasm and artistry; their musicianship and vocals were dead on, and Lawrence – who replaced Dennis DeYoung in 1999 – was amazing as a singer and showman, maneuvering a spinning keyboard that he often would play behind his back. REO Speedwagon then capped the show with a full set of their classics. Keyboardist Neal Doughty is the current group's lone founding member; joined by singer and rhythm guitarist Kevin Cronin, bassist Bruce Hall, lead guitarist Dave Amato and drummer Bryan Hitt. Opening with "Don't Let Him Go," REO Speedwagon played hits and classics from their 1970s and 80s heyday; including "Take It On the Run," "Keep Pushin,'" "Live Every Moment," "Tough Guys," "Can't Fight This Feeling," "Like You Do" (dating back to the group's 1972 album "R.E.O./T.W.O."), "Time for Me to Fly," "Back on the Road Again," "Ridin' the Storm Out," "Keep On Loving You" and the finale, "Roll With the Changes." REO Speedwagon also delivered strong musicianship and enthusiasm, stretching several of their songs into longer, heated jams. And recently turning 70, Kevin happily moved about the stage like someone half his age. This was an excellent concert from start to end, and provided the perfect start for our vacation adventure! (And for western PA readers, the "Live & Unzoomed" Tour is coming to Pavilion at Star Lake near Burgettstown on September 10!)
It was during a previous Outer Banks vacation trip in 2013 when I first met musician Bill Downing, that year performing with a band called BC Powdur at Scarborough Faire Shopping Village in Duck. I've since seen Bill during subsequent trips, performing with his group Bill and Friends. As we were starting to arrive in the Outer Banks on Saturday this year, we stopped by Morris Farm Market, where I recognized Bill and discovered that Bill and Friends had just wrapped up their afternoon performance at the market prior to our arrival. Bill informed me that the group would be performing the next evening (Sunday) at The Jolly Roger Restaurant in Kill Devil Hills, just a few miles north from our beach house. So I headed there to check out the latter half of their performance on the restaurant's top deck. Bill sang and played bass, flanked by "Friends" Chris Francis on guitar, keyboardist Steve Utt and drummer Wayne Tympanic. Together, they played a tasty blend of rock'n'roll plus touches of jazz, folk and soul. They did tunes from their soon-to-be-released new album such as "Love Comes Along" and "Pretty Girl," and did a past number, "I'm Doing Fine." Bill and Friends also pulled out versions of Irving Berlin's "Russian Lullaby," James Hunter's "Carina," and honored requests for the Rolling Stones with renditions of "Brown Sugar" and "Gimme Shelter." Bill and Friends kept the mood pleasant and the music smooth and solid; they rode a few numbers into captivating jams, with Chris and Steve displaying sharp solo skills on their respective instruments. It was good running into Bill and Friends once again, and I look forward to hearing their new album when it comes out this fall.
And on a stormy Wednesday night during our Outer Banks stay, several of us headed to the Outer Banks Brewing Station in Kill Devil Hills to see a band double-bill. We arrived in time to catch the last few songs of the openers, Washington, DC-based reggae rockers Dale and the ZDubs. Five members strong, this group was executing a reggae spin on the Allman Brothers' "Jessica" as we first arrived, followed by a couple of their original songs including "Oxygen," and a feisty take on Red Hot Chili Peppers' "Give It Away" to end their set. From South Florida, Artikal Sound System soon followed with their set, mostly showcasing reggae/pop/funk-geared original songs. Singer Logan Rex fronted the group with her hearty and sassy singing style; flanked by guitarist Chris Montague, bassist Fabian Acuña, keyboardist Christopher Cope and drummer Adam Kampf. The group's original songs hinted a slight No Doubt flavor, and shifted from milder pop-geared odes to rowdier numbers such as Logan's rant against a former ex-boyfriend, "You're An A**hole," which finished with a death metal-flavored flourish. The group also did the occasional cover song, including their reggae-driven take on Fleetwood Mac's "Dreams."
I enjoyed plenty of musical highlights before and after my vacation, too…Weather changes can often cause chaos during outdoor live music situations, but sometimes that can set the stage for special moments. Such was the case during Pure Cane Sugar's performance during a late-July edition of the Tussey WingFest at Tussey Mountain Amphitheater near Boalsburg. I arrived in time to catch the last few songs of the Triple A Blues Band's opening set as they warmed up the audience with pleasant jazzy-flavored blues, followed by Anchor & Arrow's between bands set (with emcee Ricky LaPean coordinating child and adult tug-o-wars in front of the stage while the duo played). As Pure Cane Sugar's performance drew closer, small dark clouds started appearing in the distance. These grew in size as they approached, and sure enough – three songs into Pure Cane Sugar's set – the tempest blew in with wind and driving rain, quickly wreaking havoc and sending musicians and sound crew rushing to protect equipment, and the large crowd scurrying either to their cars or the nearest shelter (also effectively ending the "wing" portion of WingFest as the wing vendors shut down their operations). But a few hardcore fans remained in front of the stage; hula-hooping, dancing and sitting to wait the storm out. Eventually the storm cleared, water was mopped off the stage, tarps were removed and Pure Cane Sugar – inspired by the folks who stayed and awaited their performance – returned to play their hearts out for those who endured the tempest. Singer and acoustic guitarist Kate Twoey, singer Natty Lou Race, guitarist Brian Cleary, bassist Bob Hart and drummer Daryl Branford made it count as they mixed original songs and select covers. Hula-hoopers, dancing children and fans populated the area in front of the stage as the group played their distinctive folk-rock renditions of Dolly Parton's "Jolene," the Motown classic "Ain't No Mountain High Enough," the Brian-fronted take on the Beatles' "Money" and more. They also performed their original song "Get A Leg Up." The energy between band and audience rode at a high level, leading to the climactic finale when – after the band thanked the crowd for staying and weathering the storm – guest Jenn Dashem of Anchor & Arrow joined Kate and Natty Lou for an uplifting rendition of "Down to the River to Pray" (popularized by Alison Krauss in the film "Oh Brother, Where Art Thou." A most memorable evening!
After an 8-year absence, the Blair County African American Heritage Festival made a glorious return in late July outside Altoona's Railroaders Museum. Food, arts and other vendors, historical displays, children's activities and live music all combined to make this a special weekend, as a wide variety of folks came out to support and enjoy the two-day festival. I attended during the first day, Saturday. Following opening comments from festival organizer Paige Lightner (who largely led the efforts to bring this festival back), State College's Eric Ian Farmer kicked off the afternoon's music. Backed by Mickey Klein on bass and Josh Troup on drums, Eric demonstrated his distinctive and delicate musical style on several folk and R&B-toned original numbers plus a closing rendition of Bill Withers' "Lean On Me." Next was the Talent Showcase, as a variety of performers displayed their unique skills on and off the stage; performers ranged from hip-hop and rap artists to dancers to soul and funk performers. Clearfield's Innocent Sin then took the stage, performing their mixture of blues, soul and rock. Singer and guitarist Adam Caldwell, bassist Robert Misho and drummer Adam Moore broke out renditions of Bill Withers' "Use Me," Guy Clark Jr.'s "Low Down Rolling Stone," the Allman Brothers' "Whipping Post," Black Pumas' "Colors" and more. Seven members strong, Pittsburgh's Ibeji Drum Ensemble then demonstrated their brand of West African drum music and dance. Armed with djembes and doundouns (African bass drums) the group quickly had audience members tapping feet, grooving and dancing. Soon, one of their members stepped out in front of the stage and triggered a large and lively West African street dance party with coordinated group dancing and individual dancing displays. Scheduled to close out the music, The Pennsoulvanians barely got started before a windy thunderstorm arrived and quickly ended their performance and this day of the festival. (Sunday's half of the festival featured a Gospel Music fest.) The return of the African American Heritage Festival was a big success, and dates have already been announced for the festival's continuation next summer!
The Rockin' The Yard summer concert series continued through August with three more concerts at the upper lot of Altoona's Jaffa Shrine. I was able to attend two of them…Half Tempted and Guns N'Roses tribute Get Your Guns provided the rocking fun during the late July concert, which took place almost exactly on the 35th anniversary of Guns N'Roses' release of their "Appetite for Destruction" debut album on July 21, 1987. Get Your Guns celebrated this anniversary by performing all the songs from "Appetite for Destruction," as well as a generous dosage of tunes from Guns N'Roses' other recordings. Highlights included crowd sing-along renditions of the Gunners' "Knocking on Heaven's Door" and "Used to Love Her," the face-melting guitar solo by the group's "Slash," Jimmy Robinson which led into "Welcome to the Jungle," Jimmy's "Godfather Theme Song" guitar solo leading into "Sweet Child O'Mine," and the energetic encore rendition of "Paradise City." Half Tempted opened this show with their sturdy set of hard-rocking classics from Kiss, AC/DC, Thin Lizzy, Ramones, Jimi Hendrix, Black Sabbath and many more…I also caught the Rockin' the Yard regular concert series closer in late August, featuring Felix & the Hurricanes and The Launch. Opening the show, the Hurricanes reliably fired up the crowd with their mixture of classic rocking favorites and original tunes; doing numbers from ZZ Top, Ted Nugent, Allman Brothers, Molly Hatchet, James Gang, Blackfoot and others. They also did original numbers such as "Black Widow," "Coming Home" and "Walking a Straight Line," and capped the set with their blistering rendition of Focus' "Hocus Pocus." From Philadelphia, The Launch performed two sets – the first celebrating Boston, and the second paying homage to Styx. The group's lead singer and guitarist, Dan Caguiat, showed an amazing voice that could handle the vocal challenges of the Boston and Styx song material well. Flanking Dan were guitarist and singer Fran Galanti, bassist and singer Stu Franks, keyboardist William Earle and drummer Kevin Keefe. The Launch energized the crowd with Boston classics such as "Rock and Roll Band," "Smokin,'" "Piece Of Mind," "Amanda," "Foreplay/Long Time," "More Than a Feeling," "Don't Look Back" and more. And they brought to life Styx classics such as "The Grand Illusion," "Blue Collar Man," "Fooling Yourself (The Angry Young Man)," "Suite Madame Blue," "Mr. Roboto," "Come Sail Away" and others; and to finish the night, saluted the Altoona Area High School Class of 1982 – celebrating their 40th anniversary this night – with their class song, Styx's "The Best of Times." (I missed the early August concert, featuring Sweet Desire and New York-based Pink Floyd tribute Us and Floyd.) Rockin' the Yard will present one final event on Sept. 17, an Oktoberfest edition featuring music from Matt Wagner, Uptown Jazz and the Hurricanes.
The PA Roundhouse Rally continued in late July with another two-day weekend series at Roundhouse Harley-Davidson near Duncansville. The Friday concert celebrated the blues – Felix & the Hurricanes led off this night more original tunes and classics, this night doing blues-driven numbers from ZZ Top, Lonnie Mack, Lynyrd Skynyrd, Spirit, Lightnin' Hopkins, Johnny Winter and others; along with more original tunes such as "Beale Street," "Cut That Line," "Free," "Issues," "What's Going On" and more. Celebrating their 50th anniversary as a band this year, Washington, DC-based blues and roots legends The Nighthawks then introduced the Roundhouse Rally crowd to their invigorating brand of original music plus distinctive takes on select covers. Founding member, singer and harmonica player Mark Wenner, guitarist Dan Hovey, bassist Paul Pisciotta, and drummer and singer Mark Stutso played songs from throughout their career, including tunes off their latest album, "Established 1972." They did songs from the album such as "Nobody," "I'll Come Running Back to You," "Johnny Too Bad," "Ain't That Lovin' You" and "Gas Station Chicken," and also broke out numbers such as "She Looks Good," "Leave My Woman Alone," "Tiger in Your Tank" and many more. The Nighthawks packed groove and swagger into their performance; Mark Wenner put on a clinic with his seasoned harmonica playing, Dan displayed excellent guitar work, the rhythms from Mark Stutso and Paul packed punch, and all four musicians displayed strong voices and harmonies…The Saturday side of this weekend featured three performers, starting with acoustic duo Lauren & Joe. The wife-and-husband pair of Lauren and Joe George warmed up arriving visitors with a wide variety of rock, pop, folk and country numbers, including music from John Mellencamp, John Prine, Spin Doctors, Amy Winehouse, Miranda Lambert, Black Crowes, Pat Benatar, Elle King, Jefferson Airplane, Chris Stapleton and many more. Altoona's Jack Squat brought the rock with their mix of hard-hitting classics from the 1970s, 80s and 90s. Singers and guitarists Scott Imler and Ron Dalansky, bassist Todd Batzel and drummer Dan McConnell fired folks up with tunes from Scorpions, Tesla, Thin Lizzy, Whitesnake, Judas Priest, AC/DC, Cinderella, Nazareth, Jackyl, Billy Squier, Def Leppard, Krokus, Dokken and others. That Arena Rock Show then took the crowd on a high-energy journey through 1970s and 80s arena rock and metal. Five members strong, this group portrayed some 17 different bands and artists of the arena rock era; providing nonstop music, frequent costume changes, unexpected TV and movie characters appearing on stage (Wayne & Garth from "Wayne's World," Beavis & Butthead) and more. Opening with Motley Crue's "Kickstart My Heart," That Arena Rock Show fired through tunes from Poison, Alice Cooper, Pink Floyd, Quiet Riot, Bon Jovi, Aerosmith, AC/DC, Cinderella, Ozzy Osbourne, Whitesnake, Twisted Sister, Van Halen, Queen, Def Leppard, Guns N'Roses, and for the finale, KISS's legendary "Rock and Roll All Night." The group's musicianship was powerful and tight, and their singer's vocal howl and range capably handled all of the vocal styles that the setlist demanded. The PA Roundhouse Rally wraps up their 2022 season Sept. 2-3, featuring the Pennsoulvanians, Shallow 9, Rodeo Radio, Octane and Aerosmith tribute Last Child.
Donny Burns & the 3rd Degree provided the music during the Altoona Police Department's annual National Night Out event, which took place early last month at downtown Altoona's Heritage Plaza. Namesake Donny on lead vocals and guitar, Nick Stahlman on guitar and vocals, bassist James Arroway and drummer Rob Chisholm provided a rocking backdrop to the festivities with their variety of tunes spanning the 1970s to today. They did numbers from Weezer, Red Hot Chili Peppers, Tom Petty, Sublime, 4 Non Blondes, Queen, Foo Fighters, Steppenwolf and many more. They threw in a few surprises, such as their version of The Knack's "My Sharona" gearshifting into Lipps, Inc.'s "Funkytown," Nick mixing scat-singing with lead guitar on Amy Winehouse' "Valerie," a take on Billy Joel's "We Didn't Start the Fire" and more. Donny Burns & the 3rd Degree has established themselves as a favorite of this event, and the Altoona Police have invited them back to entertain this event in 2023.
The annual Vets Fest event returned to Altoona's Unter Uns Musical & Entertainment Society last month to raise awareness and support area veterans via the Vietnam Veterans of America Blair County Chapter 967. After singer Anna Oberneder led off the afternoon with her rendition of "The Star Spangled Banner," the Backyard Rockers kicked off this year's band slate, returning from action following nearly a year on the disabled list. Guest John McKelvey joined singer and guitarist Rich Dasch and a "Professor" on djembe for the set-opening rendition of the Beatles' "While My Guitar Gently Weeps." The Backyard Rockers followed with acoustic classics from The Band, Steve Earle, Tom Petty and more. Next was The Stiffs, the new original rock project featuring longtime area musicians John McKelvey on guitar and vocals, Lane Williamson on lead vocals, guitarists Tom Brown and Craig Albright, bassist Dave Ebersole and drummer Rick Guyer. They performed many original songs such as "On Your Side," "Scars," "In My Dream," "Ghosts of the Past" and more, as well as select covers from Fats Domino and Jimi Hendrix. Bone Jacked continued the rock with their set of strong, straight-up-the-gut rock'n'roll), before surprise guests Hanna Barakat and Lisa Fazenbaker took the stage to perform a quick acoustic set before returning back home to Austin, Texas. Recognizing the occasion, Felix & the Hurricanes started and ended their set in a patriotic vein with Charlie Daniels' "In America" and SSGT Barry Sadler's "The Ballad of the Green Berets" respectively, and filled up the dance floor with their brand of rock'n'roll in between. Autumn Rising kept the dance floor party going with their uptempo set of rock, pop and country favorites. Vets Fest also featured guest speakers, an onstage group photo of all the veterans in attendance, a basket raffle and other drawings, guest speakers plus more. When all was said and done, $4,319 was raised to help out area veterans.
I caught my first look at Acoustic Express – the father-and-son duo of Jack and Richie Servello – as they entertained on the lawn of Altoona's Baker Mansion during a muggy late July Sunday afternoon. Jack sang and played acoustic guitar, with Richie playing drums, entertaining a nice-sized audience positioned underneath the Mansion's various shade trees. The pair did a wide variety of classic hits and favorites, spanning Elton John, the Beatles, James Taylor, Garth Brooks, John Denver, Badfinger, CCR and more. Jack kept the mood lighthearted by tossing in witty humor and jokes along the way.
Afterward, I headed to Tyrone's Reservoir Park to see musician and entertainer Zupe, part of the Park's summer concert series. Armed with keyboard, accordion and trumpet and sporting a dress suit, Zupe performed a wide variety of pop and early rock'n'roll standards, polkas, patriotic tunes, swing jazz and more. Zupe always delivers the energy, even on steamy summer days while clad in a suit – he performed songs from Bobby Darin, Elvis Presley, Louis Armstrong (demonstrating his trumpet skills and Satchmo growl on "What a Wonderful World"), Glenn Miller, plus songs from his "Na zdrwoie" album such as the title song "Nostrovia" and "Pitiful Pierogi," and did it all with a smile.
Other performers I saw in recent weeks included Jane Lee Hooker, The Jaded Lips, The Nerves and California's Family Dinner at McGarvey's; Jimmy Mowery & the New High at Altoona's 4D's Lounge; and JB, iSi Da Artist and others during a weekly Tuesday Open Mic Night at D'Ottavio's Gran Sasso in Hollidaysburg.
News and notes…Cresson native and finalist on NBC Television's "The Voice" finalist Josh Gallagher has signed a deal with Nashville-based Kobalt Music, a prominent independent rights management and music publishing company whose artist roster includes Childish Gambino, The Weeknd and The Chicks…Jeff Webb & the Delectable Sound, Habatat, Even The Odds, Silver Screen and Shiva Skydriver will perform at the 3rd annual Homegrown Music Festival, happening Sept. 10 at Lorain Borough Park in Johnstown; proceeds help out the Community Foundation…Roadkill has announced the new date for their Rot-Fest event; the music fest event will take place on Sept. 11 at the Morris Township Volunteer Fire Company Recreation Center in Morrisdale, and will be a benefit for the Harold and Carol David family…Guitarist, singer and co-founding member Tony Mollick is no longer with western PA-based Allman Brothers tribute band An Evening With…Guitarist Tommy Raab replaces Matt Day in the lineup of Dubois-based rockers DTK…Altoona-based hard rock band Dilemma is on indefinite hiatus as bassist Devin Conrad relocates out west to pursue a career opportunity…And the area music scene was saddened in recent days with the passing of Anthony "Tony" Seguin, a musician and one of the founders of popular eatery and music venue Boxer's Cafe in Huntingdon; Tony passed on July 27 at age 56 following a battle with cancer.
Please send correspondence and recordings to: Jim Price, 1104 S. Catherine St., Altoona, PA 16602. You can also e-mail me at jptheprofessor@gmail.com. And if you're into social networking, look me up on Facebook. Continue to SUPPORT LOCAL MUSIC!