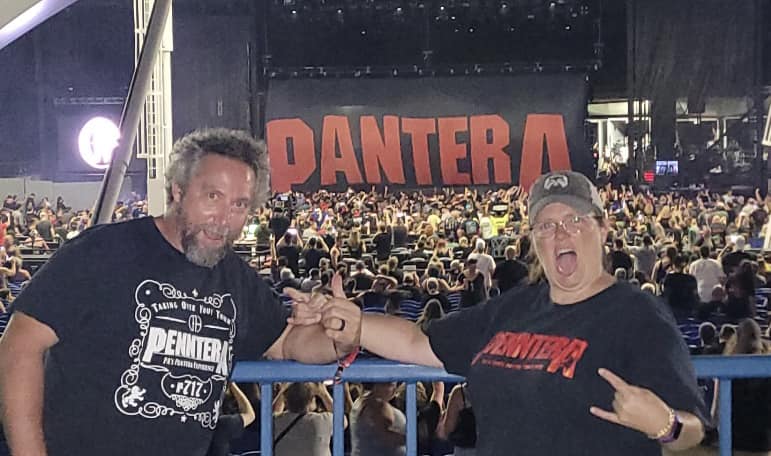 ---
Whoohoo!!! It's my BIRTHDAY!!!! I'm so excited. In Noll land, we don't only get a birth DAY, we get a birth MONTH. I'm the only one in the family with a birthday at the beginning of the month, everyone else was born at the right time, right in the middle. Most of my birthdays were spent either with Mom being completely exhausted from just completing two magazine deadlines, and/or we'd be on the road delivering the magazines. This isn't a bad thing, it's just the way it was. Mom always went out of her way to make sure I still had the best birthdays ever, with all of the most delicious food and tons of friends. I still don't know how she always pulled that off! The magazines never stopped for birthdays. They never stopped for anything. Every month, without fail. This magazine started when I was 3 years old!! The "PA Musicians, music stores, etc.." have paid for my food, clothes, and life in general for a very long time! Some people don't understand the concept of advertising and why we need paid to continue to have a magazine, why we don't run their ads for free or share their stuff on our Facebook page for free.. But that is truly why. To this day the magazine helps pay for my kids food, clothes, shelter, you name it! It's kind of magical when you think about it. We are a tiny, family run business, but we have done GREAT things. We wouldn't be able to do any of that without all of you, and for that I am truly grateful.
This month was another whopper full of craziness. I didn't have a single weekend at home, but yet I still managed to catch some live music here, there and everywhere! I was home during the week, so luckily I was able to catch a few acoustic shows. On a Sunday afternoon I made it home in time to go check out Big Hill Ciderworks for Matt Jameson's debut show. He didn't start til 1:00pm, but he had some fans show up at 11:30 to get a good seat! Matt is truly making strides and gaining some serious fans, like myself, that like to go support him whenever they can. Matt always announces at the beginning of his shows that one thing for sure is he is there to have fun, and have fun is exactly what we do! You seriously can't help but have a good time when Matt's behind the mic. A lot of his fans have also become my friends, so when I do miss shows it breaks my heart because I'm the one that gets to sit back and enjoy his shows while he does all the work. Cider was always one of my favorite drinks, so I have to admit it was a bummer not getting the opportunity to try their ciders, but I was able to get a couple good sniffs of their different ciders and they all smelled amazing. Big Hill Ciderworks is only a few mins off of 15, and it's well worth the drive to see their beautiful orchards and farm, and of course support their live music! I am truly proud of Matt and all he has accomplished with his music so far. I know Mom put in his cover story that I'm his manager, that is not the case, I'm just a good supporter. He does all of his own bookings, shows, etc. I'm just along for the ride! Speaking of bookings he is getting ready to crack his calendar for 2024. If you want him booked at your venue or special event, I'd definitely reach out quick! You can find all of his info in his ad in this issue.
The first weekend of the month BRP sent me up to Mt. Airy Casino to cover EnVogue. Yes, the original EnVogue! I really was a little hesitant going into this one, but the really crazy part was I was so impressed with their voices, I got goose bumps, and might've even teared up a little bit. Music moves everyone in different ways at different times and at first this really caught me off guard. After some thought I realized EnVogue was really one of the first powerhouse women artists that I really listened to. And let me tell ya, those ladies still know how to 'drop it like it's hot!' Holy camoley! They put me to shame! HA! What a great show. Once again, music never ceases to amaze me!
Talk about one extreme to the next… EnVogue was happening while PANTERA was rockin' Hershey Stadium, but I didn't let that stop me! Holly, Matt and I took a trip to Montage Mountain for the PANTERA show the next day. Montage is definitely an interesting place to see a show. The parking absolutely sucks, but the theatre is kind of amazing. I think it's a fine example of build it and they will come! HA! I've seen live metal bands before, but it had been a long time! Childbite kicked off the night and quickly had me jumping, dancing and having a good time. They did a great job getting the night kicked off right! Lamb of God, I was never really impressed with, but seeing them live was a whole different experience. Absolutely loved them and couldn't wait for PANTERA! In true support Matt and I wore our PENNTERA merch, and had quite a few people ask us about them, so hopefully Penntera gained a few new fans. From the first note it was a head-banging crazy good time! We started the night up on the Lawn, and even from the moshpit on the lawn I saw a guy have to medically transported out. Just watching them mosh made me want to get more "involved" so I headed down front. Holly and Matt watched from afar, but I had to get with the people.. Feel some sweat and have some serious fun!! Their tributes to Dime and Vinny were so beautiful, the behind the scenes clips of life on tour, and just life in general were truly beautiful. Gotta admit, when they cut it back with their acoustic snippet in "Cemetary Gates" I might've teared up a bit. It was truly awesome to headbang and gently mosh with so many people. I got in a group with 4 other women, and we had a blast! I love when you can feel the heat of the pyrotechnics! It was truly amazing seeing their Pantera banner burning! What an overall experience. Zakk and Charlie had big shoes to fill.. But I'd have to say they filled 'em pretty darn nicely. Watching people hike back up to their cars at the end of the concert looked like a crazy zombie apocalypse, but I'm happy to say we all made it out safely.
The next day we all took a Monday off to enjoy an adult day at Knoebels! So much fun. I absolutely love that park. It has just enough rides to keep it interesting, and the ability to buy the individual tickets instead of wristbands is amazing! While we were standing in line for the bumper cars I kept hearing a really good band, but I couldn't quite place them, finally I had to walk over, and was thrilled to see it was Light Up the Moon! I love those guys! Dazz and Rob were as equally surprised to see me out there watching them. Unfortunately shortly after my discovery, the rain and lightning chased us all away.. But hopefully our paths will cross again soon.
On a Wednesday I decided to zoom down to Sherwood Inn for Derek Henry Acoustic. It just so happened to be his birthday, so I thought of course he would want me to stop by and annoy the crap out of him for his birthday! HA! He was surprised to see me, but I'm never sure if he's happy-surprised, or horrified! HA! Derek has been playing tons of acoustic shows as usual, but I've also heard whisperings about a new video currently being made to fruition! I can't wait to see what he's up to with Observe the 93rd. They did have the amazing opportunity to be one of the winners to the CPMHOF contest, and they were able to play in Bret Michaels After Party-Gras at Hollywood Casino in Grantville. The other lucky winners were Blessing & Fowler, Youth artists: Alex Warner, Faith Noel, and Carmine Gontz. Actually getting the opportunity to join Bret onstage, was Dave Bray USA, Addi Grace, Shea Quinn, and Gun Metal Gray!. What an amazing opportunity for everyone. So bummed I had to miss it, but super grateful to everyone who shared pictures and videos of this awesome night of music!
The next night I had the opportunity to go to the Central Pennsylvania Youth All-Star Band's Release Party at the Englewood in Hershey for their World Premiere of their music video of The Who's "Baby O'Riley". The kids worked super hard and in just one day in Atrium Audio at Rock Lititz, Grammy-nominated producers, Grant McFarland and Carson Slovak recorded the audio. Chris Rider Photography captured the kids in their element, and Josh Nesmith from Nesmith Films filed the experience and created a kick a** music video to go with it. The project was sponsored by Members 1st Federal Credit Union who happens to be a Platinum Sponsor of the Central PA Music Hall of Fame Youth Artists. The CPMHOF is doing so many amazing things, but all of those "things" do cost money, and they need all of the sponsors they can get! Google the video and check it out! Make it go viral, it definitely deserves it! The Youth All-Star band consists of 8 amazing kids, ages 13-18 years old. It's awesome to see the hope for our future!
On a Friday night my friend Nikki who lives in Lititz wanted to meet for dinner so Holly and I decided to meet her at Mt. Gretna, lucky for us The Thompson Triplets were playing! I've heard of The Thompson Triplets, but it was my first time getting the chance to hear them play. They are a rockin' 80's party band! Their lead singer was having some issues with laryngitis, but with help from his band mates and wild fans, the music still went on! We had a blast hearing so many songs we love. So many laughs and such a good time!
The following weekend I had my first show mishap caused by mother nature. A casino was attempting to have a Food Truck Festival on a hot Summer day in Ohio, and mother nature threw us a curve ball with the threat of a tornado. The sirens were going off, hail started blowing sideways… 7 minutes before showtime. All the equipment was on the stage and we were told to leave the field and everything behind. Miraculously.. As far as we could tell no equipment was damaged, and the tornado touched down about 5 miles away. Way too close for comfort, but just so glad no one or nothing was hurt! Outdoor shows are always a huge gamble, but when the weather cooperates they are so much fun!
The following week I was finally able to catch Jason Carst at Boneshire. It's been quite a while since I got Boneshire pizza too, so it was a Win-Win! I love watching and listening to Jason grow his loops (is that the right words) into that big band sound. It's pretty darn cool! If you heard that loud crazy musician playing on the cliffs at Lake Raystown in August that would've been Jason. He got in all kinds of trouble from all kinds of authorities, but no one could figure out who could technically charge him for what! Luckily he got out of his mess, and wound up with about 1,000 more followers on Facebook because a post about the ordeal went crazy! Jason is always tons of fun with a wide variety of music for any occasion. If you get a chance to catch him playing somewhere, you won't be disappointed.
My family took a super fun but way too short adventure up to Cherry Springs State Park to see the stars! It truly is like you are sitting inside the Milky Way.. It's truly as amazing as people say it is. If you want to take your family, pay the extra bucks and do the North Star Tour. They give you access to a super cool telescope and can explain the different constellations. But if you don't have the extra money, it's also cool just plopping on a blanket and floating through the galaxy with your eyes too!
On a Wednesday I headed to the Blue Sky Open Mic with Matt and Erica hosting. It had been a few weeks since I got a chance to stop by and I'm glad I did. The open mic community is amazing. Everyone just wants to play music, jam and have a good time! Matt and Erica kicked it off, but then it was time for Brock, a new player to the open mic from Mechanicsburg. He set the guitar down for 20 years to raise his family, but now he's back writing songs and making beautiful music. His originals are pretty powerful. Another newcomer, The Millers took the stage next, a 3-piece rockin' group that's creeping out on the scene, they are definitely ones to watch. Rob totally surprised me. He has built up so much confidence. When he first started coming out he would play his guitar and hum along, now he's belting out the songs like a pro! Always a special treat! Derek Alan stepped up next. He's been coming for a while, but somehow I kept missing him when he was up, but this time I paid super close attention. His voice is like butter! He used to be the front man in Fight From the Kid, but he doesn't need a full band, he does an amazing job playing acoustic! Last but not least was Ben; he's another one that has come a long way. He used to play in bands years ago, but now he's also just out there spreading his love of music to anyone who will listen. It's awesome to see how excited he gets just talking about music! The open mic is always fun. The best part about open mics is it's a night of people who just love music; listening, playing, it doesn't really matter. The Blue Sky open mic is a very open format, any type of music, any talent, any age, etc.. Every Wednesday, sign ups always start at 6pm.
The following weekend I had to head to Hollywood Casino at the Meadows for their Corks and Kegs Festival, but on the way I made a couple stops! The first place was Wolf's Brewing again for Derek Henry. This time I finally got a chance to hang out with Angie, Michele, and Jane so that was a bonus! Derek was outside this time while Pat Cusick was playing inside. Two musicians one venue! Gotta love the convenience! I should've probably headed to Meadows at this point, but instead I decided to swing in to Hook & Flask for DMC Duo. Seeing those two is always a special treat! Darrell and Marisa are playing all the time, but a lot of the times they aren't in our area, so I'm glad I caught them this time! After their set it was finally time to hit the road. It always seems like such a great idea until you're only halfway there and you're absolutely exhausted. But alas, I made it without any problems, except the fact that it was 2am.
Corks and Kegs is a Food Truck Festival with Music, Booze, Classic Car Show, Vendors, and so much more. It was held at the Hollywood Casino at the Meadows in Washington, PA, but the true organizer of the event is a magazine called the Observer-Reporter. It was a much bigger event than I was imagining. BRP Entertainment helped book 6 bands for the event: Franchise Band, their energy is something else! They are a perfect band to kick off any festival! The Billy Price Band took the stage and it instantly gave you goosebumps because you knew they were going to be good, and they definitely didn't disappoint. The final band of the night was BonJourney, a Bon Jovi, Journey tribute band. Sunday kicked off bright and early with Twan Moore and the Party Train. Again another amazing kick-off band to any festival. When you hear these guys sing you can't help but join in on the fun! Six Gun Sally was the 2nd band of the day, I loved hearing some good Southern Rock! Hearing Molly Hatchet's "Dreams" again was just awesome! Especially on a sunny, beautiful day! The last band of the night was The Clintones, a 90s party band. These guys were having so much fun they didn't even stop for a break, they played straight through their 2-hour set! I was working with an amazing Flyspace Productions team: Jeremy, Turner, and Gracie. Those three were probably all young enough to be my kids, but they knew what they were doing, and they all ran a tight ship too. They were the perfect balance between fun and business, truly top notch! The entire festival was a huge success! Tons of people with perfect weather and plenty of good times were had by all!
I'm excited I finally made it to the end!! Before I go I have to throw a quick birthday shout out to my son, Zachary, he's going to be the big 21 years old on 9/11. Hard to believe my baby is going to be 21. I'm hoping I can convince him to come out and hang with his dear old Mom so I can pass the torch to the next "Noll". Ha! And yes, my silly body decided I had to share my birthday month for the rest of my life, but he's worth it! I love you Zack!!! Be safe and always have a DD!!
Well that's all for this month. If you see me Out and About, please stop me and say Hi. It's another crazy weekend month, but hopefully I'll see some of you at the Kipona, or other amazing places throughout the month. Don't forget to check out our new and improved website! www.pamusician.net. If you have any questions or suggestions, feel free to hit me up at RachelRocks@pamusician.net. Have a great month and get out there and Support Local Music!