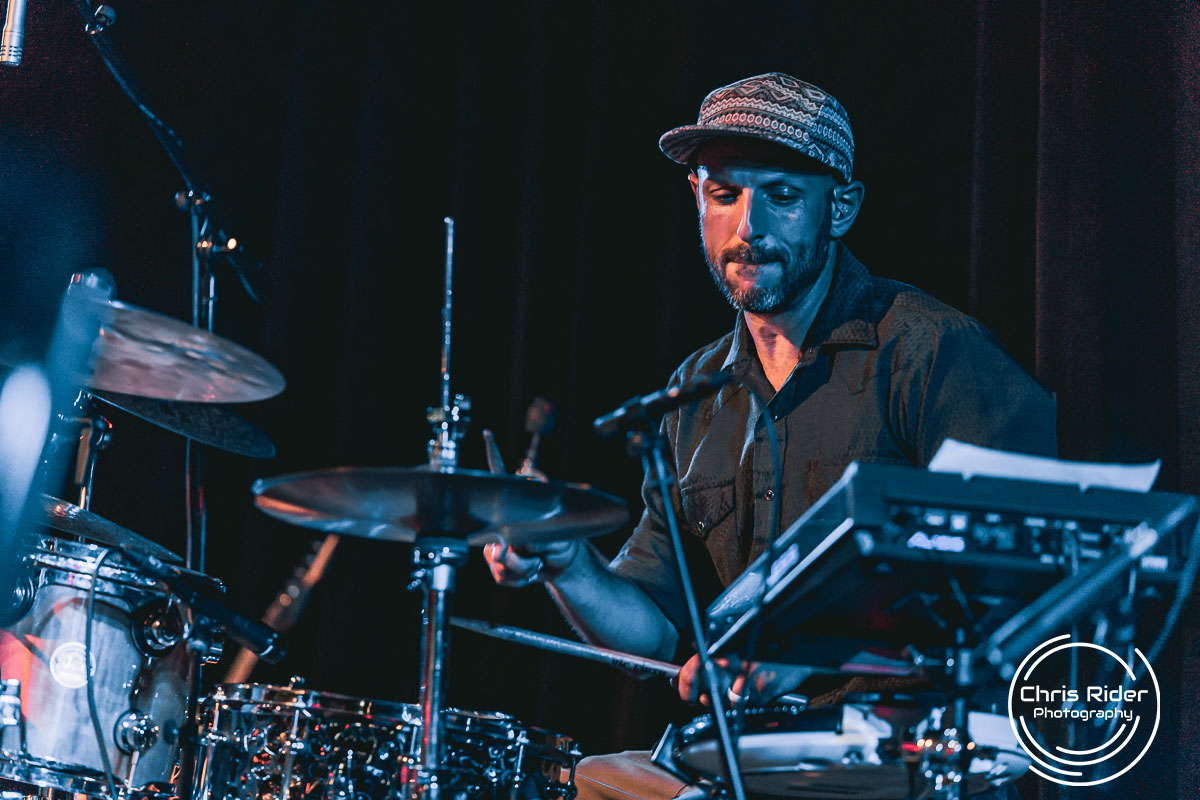 ---
Deja Vu is a thing…a month later, I'm sitting down to write this article with some tunes cranked and waiting to see if these thunderstorms develop into anything yet again. I love a good storm, although my roommates aren't as much of a fan LOL. It was a busy month again (shocking, I know) with eight trips out for a total of eleven bands as well as seven or eight artists at an open mic…not too shabby all things considered.
My first trip was down to the Roadhouse Pavilion for a duo that I've heard quite a bit about but had not seen until now: The LeBlancs. This husband and wife acoustic duo played a wide array of covers including Fleetwood Mac, REO Speedwagon, Bruce Springsteen, Zac Brown Band and more, as well as an original called The Cure that spoke (or sung as it were) about tolerance and understanding, delivering a great message. I was really blown away by both of their vocals and they did a great job of selecting songs that fit them really well.
Next up, I trucked on down to The Buck (remember the old commercials "I'll see YOU at The Buck!"?) in Quarryville to capture Chasin Whiskey's first big show opening up for Granger Smith and Justin Moore at the first WIOV I-105 Country Freedom Fest. My country music experience is lacking, but I'm getting there and was really looking forward to this show…and can happily report that it did NOT disappoint! Ryan and the boys in Chasin Whiskey crushed their set with their set that included originals like Red Dirt Road and Captain America. They played with a huge energy to a crowd that went nuts for every song they played. Big congrats to the guys on a job well done!
Third trip for the month was down to The Englewood in Hershey. While I was outside talking to Fred Pellegrini about some huge plans for the venue in the next few months (seriously, keep an eye open!), I heard a familiar voice singing down on the patio around back and had to check it out. I was pleased to see Addi Grace playing down there for a good crowd (including our very own Rachel Rocks!) and covering songs like Folsum Prison Blues, Radioactive and one of her originals called "Not Gonna Make It." Addi has a great voice and it'd been a bit since I'd seen her play, so this was a nice surprise for me.
Next I headed up to the main venue indoor for a show that promised to be interesting. Opening up the evening was Knorrwood, a tribal folk-rock duo featuring brothers Wes and Joey Knorr. Joey wasn't able to make the show, but Jeff Mann (Consider The Source) was filling in very well on percussion. I went in to this not really knowing what to expect, but they had a really cool and smooth vibe to their music that included acoustic guitar with a looping machine, a pedal board that looked like it could launch the Space Shuttle, a wild drum kit as well as a few other pieces. The music was damn near hypnotic and soothing: at once point I checked my watch and it showed my pulse at 68 LOL. They ended their set with an awesomely weird (I think I'm gonna trademark that phrase by the way) mashup of Rage Against The Machine and Led Zeppelin. I definitely look forward to catching these guys again in the future around here. Headlining the evening was Asheville NC based Toubab Krewe. I've listened to these guys for quite a few years so I was pretty excited to finally catch them live. They describe themselves on their bookface page as "International Country Music", but they're definitely much more than that. Blending styles and influences of country, blues, jam bands, rock and even African music; their sound is unique, psychedelic, and honestly just down right interesting. I was very happy to have finally caught them.
Our next trip up was to a place that Wendy & I had been wanting to check out for a while: McCleary's Public House in Marietta. I'm a sucker for a good Irish Pub, and McCleary's didn't disappoint. The food and driink was excellent (probably the best Shepherd's Pie I've had in the area), and the atmosphere was terrific. Playing that night was Albie & The Homemade Boogie Band. They covered a ton of classic rock and blues tunes with a funk/groove spin to make their own including Gimme Some Lovin, Werewolves Of London, Rocky Mountain Way, and a number of other great songs.
The following day I headed down to The Vineyard and Brewery at Hershey for Central Pennsylvania Music Hall Of Fame's 2nd Open Mic event hosted again by John Rossey. It was a tough day for an event originally planned to be outdoor as it ended up raining sideways, but the event was moved inside and everyone made the best of it. I enjoyed performances by John Rossey, Charlie Helman, Zach & Mike from Suspicion Of Guilt, Lunantous, Laura Laughman, Ronnie On Saturn, Ryan Willis and Joe Nguyen. Please be sure to check out the next open mic scheduled for August 13th from 2pm-5pm which will be hosted by Erica Lyn Everest and Dr. Nyce. It's a great way to spend a Sunday afternoon!
The following week I headed down to one of my favorite places in Perry County, Shermans Creek Inn, for music under the tent. This day's music was provided by Love Rocket (ok…HALF of Love Rocket LOL). The guys jammed out to covers of great tunes from the 90's and up including When I Come Around, Cumbersome, Radioactive, Lightning Crashes, Paralyzed, and a ton of other great songs. They did an awesome job interacting with the crowd and clearly had a lot of fun playing in spite of the 379 degree heat (artistic license allows me to make such a claim LOL).
A couple days later, I headed up to Spyglass Ridge Winery in Sunbury for a show that I've been looking forward to since it was announced months ago. Opening up the evening of Christian Rock tunes was Colton Dixon out of Murfreesboro TN. His music was upbeat, had a sort of pop/rock feel to it with a great positive vibe to it. Next up was We Are Messengers, who I've heard of but wasn't real familiar with. An Irish-American Christian band originally from Monaghan Ireland but based in the US since 2016, these guys rocked! They played with amazing energy and were a lot of fun to watch. Headlining the evening was Skillet. I first photographed their show two years ago here at Spyglass, and I still count it as one of my favorite photo albums. Husband and wife duo John and Korey Cooper lead this Christian Rock band that has been playing since 1996. This year's set was just as amazing as the last time I'd seen them: huge energy, amazing lighting, and really cool CO2 cannon effects highlighted this talented band while they crushed their set with songs that included Monster, Invincible, and ending the evening with an encore of The Resistance. I'm really proud of the photo album I created for this show: I can only include a pic or two here, so be sure to check out the album on my facebook page to see the entire thing!
Last night was my final trip out for this article…I needed food, I wanted some music, and the Doyle Hotel is just a few minutes from home so it was a pretty easy choice. Christian Yeager was playing an acoustic show (with his dad accompanying him as well) slinging his original country songs as well as a few covers including Neon Moon, Thinking out Loud & Friends in Low Places. Christian's got a great, soulful voice that made for a great evening of music. The Cubano sandwich I loved, it had to have half a Christmas ham on the thing LOL.
So there it is, my month of music through my eyes and ears. Just a reminder: if you've got a show coming up that I should see; make sure to send me an invite, shoot me an email or a message, let me know about it. Venues: please don't hesitate to reach out to me as well. The majority of the shows that I go and shoot I find out about through invites from all of you or your friends. Hit me up on facebook: @chrisriderphotography or email: chrisriderphotography@gmail.com, stop me if you see me around and say hi. Until next month…go find some live music and give them and the venue your support, they truly need it more now than they ever did.