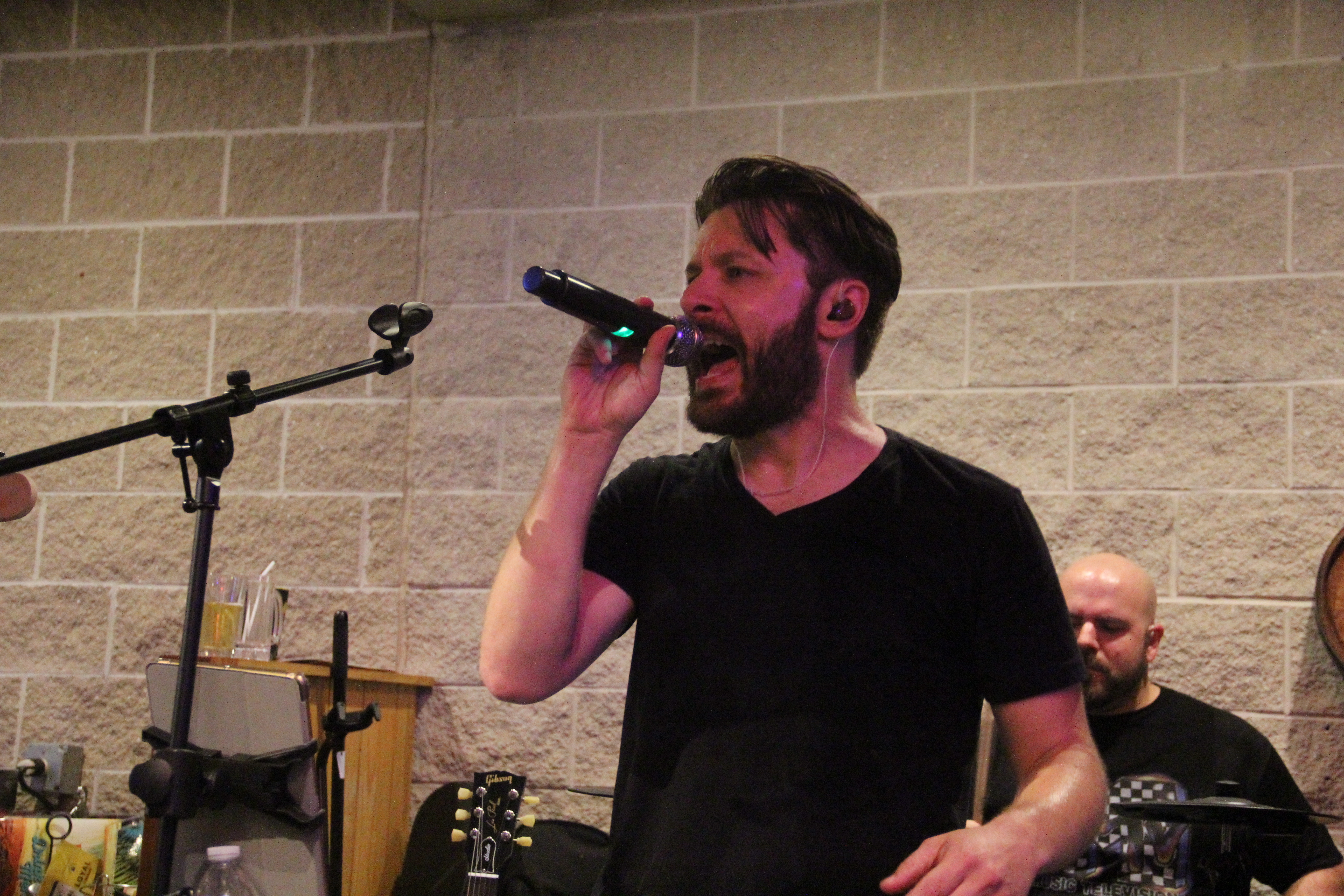 ---
By: Rachel Rocks
Slow down! I am not ready for Summer to end, there are still so many amazing things I want to see, do, and hear! To say this month was crazy for me is very much an understatement, but I'm surviving and still managed to squeeze in some live music. You may have heard that sleeping is for when you're dead… that's pretty much my life motto!
Due to way too much traveling and working on the weekends, I put out a plea asking for people to tell me where and when they would be playing during the week. Luckily, one person that answered that plea was Jason Carst. Jason was playing at the Knights of Columbus on a Thursday. Not only was I home, but it was right down the street! I never knew the Knights of Columbus have a big beautiful patio area with their own full bar. It was an absolutely gorgeous night, and when I got there Jason had the place packed and people were singing along. It was a gorgeous, perfect night to sit outside and listen to some music and hang out with friends.
On another Thursday I headed over to Boneshire with Holly and Matt to listen to John Rossey from Cold Spring Union play solo. John's has such an amazing voice, it's always a great pleasure to get to sit back and listen to him sing. I guess I missed some excitement, when he broke a string, but he didn't let him phase him, he had it changed out in no time, and was back playing in no time! John plays all over the place solo and with the band. If you see him around, make sure and stop and give him a listen.
On an odd Friday night at home I was able to catch Six Bar Break at Spring Gate. They are frequent flyers to the main location and Arcona. They were playing "out in the meadow" at Spring Gate on a beautiful night. I actually got Kris to come out with me to enjoy the music. Their equipment was just as surprised as I was because after we got there they were having some technical difficulties, but they were able to figure it out and continue their show. It was pretty awesome to see their drummer, Dave, and his son did a little Summer project of creating a light show to go along with Six Bar Break's music. His son was there running the lights, and it was pretty awesome. I wish it was a night time show so we could truly appreciate the full effect. I always love seeing kids embracing their Dad's special talents as musicians and being part of the show. Super awesome. Check out Six Bar Break's schedule in this issue or online at www.sixbarbreak.com and get out there and support these guys!
Saturday night I had the privilege to work for BRP Entertainment and I headed out to the Hollywood Casino at the Meadows for The Commodores. No, Lionel Richie doesn't play with them anymore, and hasn't for a while, but I'll tell ya, three original members are still with the band, Walter Orange, James Dean Nicholas, and William King, "Willy". I had a blast with Willy all day. I think one of the best parts of this job is working with the musicians before you get to witness their "magic" as Willy calls it, and let me tell ya it was MAGIC. Their dance moves were impressive! Their harmonies were spot on. Willy also wails on that Trumpet! After the show as he was walking to the shuttle I told Willy I sent my husband some video and said, "sorry honey, but I think I'm finally gonna run off with the band, unless he learns to dance like this!" Willy and I got our one last laugh before he headed off to the next town. If you want to see some National Acts in a climate controlled Event Center, check out the Event Calendar for Hollywood at the Meadows in Washington, PA. They have all kinds of shows coming up in the next few months, from country to rock, and even comedians! Sara Evans, Rick Springfield, WAR, just to name a few… I do absolutely miss my local scene, but it is an adventure that I've always been interested in, so I appreciate the opportunity from BRP Entertainment. If you're looking for entertainment for your special event, we will gladly help you find some awesome talent!
I had a rare Friday night at home, but ironically enough it was hard to find something to do on that Friday. I called all my friends that are usually in the "loop" on happenings around me, and we were all dumbfounded, and then we finally checked Duke's Facebook and found Deep Space 90s. After a delicious dinner, we headed out on the deck for some music in the sweltering heat. Even though it was killer hot, Deep Space 90s were playing every song I LOVE.. so of course I had to dance! It was amazing to finally be out with friends dancing to a full band and having a great time! Of course I was a sweaty mess, but when you're friends love you enough, it doesn't matter. HA! It breaks my heart that I don't see events on my Facebook page and I don't know what's happening all around me. I know there had to be stuff to do, but I seriously don't have time to check every page.. Trying to figure out if something is happening or not. PLEASE advertise in the magazine! It's only $30 for a business card sized ad. And if you can't afford that, then at least send me a personal message and let me know about your show. A Facebook evite isn't the answer.. I don't see those either.. If anyone wants to help me with my Facebook feed to make my life easier, hit me up! And I know I had options, like Racehorse Tavern, Fredericksburg Eagle Hotel, Union House, etc. but honestly my night got started late, and by the time I would've driven anywhere, I would've missed the show. Since Covid.. Bands don't play til 1am anymore.. Anywhere.. And I get it, but when you work til 6, get home, feed your family, clean the dishes, and play with your puppies, most shows are over… especially on a Friday. It sucks, but it's life.
The following day it was back out to Meadows for the Ultimate Aldean Experience and Luke Bryant. Yes, they are both tribute bands, but I've seen tribute bands before, these guys were on a whole new level, like they should've been called a "Duplicate Band" instead of a Tribute band. "Jason" got tired of people constantly asking if he was the real Jason Aldean, so he thought if I look so much like him, maybe I should try to sing and play guitar too, and look at him now, touring the country, making a living, as a tribute band. Pretty crazy. "Luke Bryant" mimicked the real Luke Bryan in his mannerisms, dance moves, etc. I mean it was impressive! Again, behind the scenes I found out "Luke" was going home to Vegas the next morning, shaving his face, fixing his hair, and then he was going to go marry some people in his Vegas wedding chapel as Elvis. Yes… Elvis. He said he doesn't really know who or where he is, until he feels around in his bed and finds his wife and his dogs. Again, super interesting and crazy at the same time. The women were swooning, and the guys posed for pictures with everyone after the show. Everyone had a blast! And as Luke, Greg, Elvis would say, "Thank you..Thank you very much."
On my way home from Pittsburgh, I had to head to New Oxford to do the Interview with F.I.G.H.T.E.R. which by the way, is quite interesting, make sure you check out their story in this issue! But before I went to the interview I also took a quick pittstop to the Sherwood Inn for Derek Henry. I knew some of my friends were going to be there, and it was fun popping in quick to surprise everyone. They were all very surprised so my mission was accomplished. Since I had limited time, Derek pretty much played every song I was requesting which was super nice of him. Believe it or not, it had been a super long time since I got to see him! In August Derek will be playing with Observe the 93rd at Tellus 360, and then will be opening for the Wallflowers and the Spin Doctors! I love all of these bands that are touring again! Check out his schedule in this issue, or at Facebook.com/derekhenryacoustic, or observethe93rd.com. Even though I missed it, Observe the 93rd did just release their new album "eeriness to everything". Don't be like me and blow a speaker on the first track, "Dopamine".. What can I say, it's a great song!
Last night I had a blast listening to The Verve Pipe and Five For Fighting at The Meadows. I gotta say, I was pretty excited for this show, since after all I love all things 90s! Both bands were absolutely amazing. Five For Fighting just released an amazing video for their newly released song, "Can One Man Save the World". The video was actually recorded in the war torn Ukraine. It is powerful with a powerful message. Check it out on youtube! The Verve Pipe opened the show, and afterwards I found out that their guitar player just played with them for the first time on Tuesday, after their actual guitar player had a little mishap running to a trash can at a rest stop. He was actually hurt very badly to the point where they had to call an ambulance! Luckily he will recover after a few reconstructive surgeries, but in the meantime, the show must go on! He luckily had a friend he knew could shred the guitar, so he gave him a call. The replacement lives in Michigan, he got the call at midnight, rearranged his life for the next four weeks of the tour, hopped on a plane (his 1st plane ride EVER) made it to Connecticut, arrived at the venue in an uber 10 mins before the show started, and played! He was listening to The Verve Pipe's music all day, cramming his head, and figuring it out, and he nailed it! I honestly had no idea he was THAT new, during the show, just minutes earlier. You never know when you'll get the call to jump on a tour with a band, but one thing for sure, always be ready! He's having the time of his life! Their guitar player's hands are fine, so he says he's going to get back out on the tour, but the guys aren't too sure. Never a dull moment in a rockstar's life.
Speaking of Rockstar! I'm having a blast rockin' the car BUYING world at Bob Ruth Ford in Dillsburg. HUGE thanks to my three friends, Dianne, Donna, and Kevin, that took advantage of my new role and sold me their cars. I'm definitely here to help you get out of a loan, or just get some cash for that car you never use. Want to trade it in on something special? Let me know what you're looking for, it doesn't have to be a Ford, I can buy it, and then you can trade in your car on the ride of your dreams. It's amazing what is out there and accessible! And how easy the whole process is! Hit me up on Facebook or at RachelRocks@pamusician.net. Sorry, but I had to put in the shameless plug!
Well that's all for this month. I gotta stop typing and get home so I can make it to XL Live tonight for Hot & Dangerous, Road Case, and The Famous!!! Oh, and I'll be starting at Jigsy's in Enola on their new amazing patio for some Matt Jameson Acoustic! There's so much happening the month of August, check out this issue and get out there and Support Live Music!! Want me to come to your show, hit me up at RachelRocks@pamusician.net.