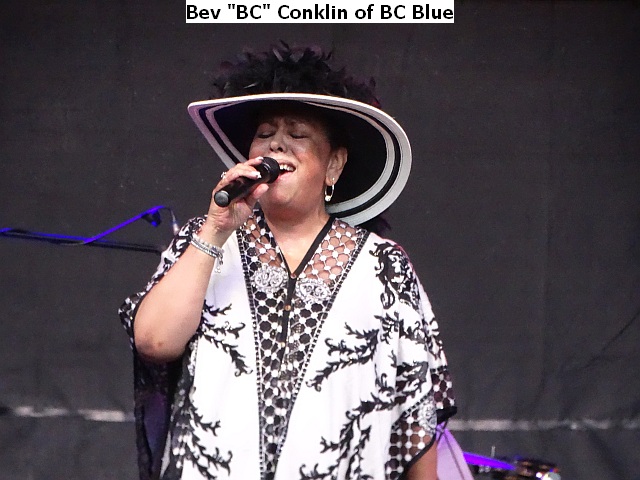 ---
By: Jim Price
The craziness of live music's outdoor season…As I go through the list of shows and performances I attended and covered for this month's writ, I count at least 63 different band and performers I saw in action – so my work is cut out for me to fit them all in!
Several of those bands and performers I experienced during the final weekend in June as parts of several motorcycle-themed events in west-central PA – dubbed "Thunder Weekend" after the biggest of those events, Johnstown's "Thunder in the Valley." Helping kick off that weekend on Thursday evening was Ebensburg's annual "Wheels & Wings" event, as downtown Ebensburg welcomed arriving motorcycle riders and enthusiasts with chicken wing and other food vendors, plus live music at several locations. I first visited the Ebensburg American Legion's parking lot, where Stacy & the Rejects set the party tone with their upbeat blend of classic rock and hits. I next walked to the area outside the Castle Pub, where the Giants Of Science entertained a large, festive crowd with 1980s era rock and pop hits. I then headed several blocks to the Lloyd Street Brewing Co., where Altoona-based 8-piece ska rockers Tom Nevers Field performed their energetic array of original tunes. And Cambria County heavy rockers Rust closed out the night in front of a jam-packed house inside the Castle Pub. Singer and bassist Mike Griffiths, guitarist and singer Aaron Wolf and drummer John Tedeski brought their own brand of thunder with tunes from ZZ Top, Judas Priest, Led Zeppelin, Bulletboys, Alice In Chains, Motley Crue, Dio and many more.
Roundhouse Harley-Davidson near Duncansville hosted the Pennsylvania Roundhouse Rally during Friday and Saturday of "Thunder Weekend." Friday's music kicked off with The Jaded Lips and their brand of rock'n'soul. Singer and guitarist Mike Wertz, bassist and singer Hunter Karns, and drummer David Applas mixed hard-edged chops and soulful swagger over their variety of original songs plus rock and soul covers. The group played many of their catchy originals, including "It's Not Me," "Hold On," "Whiskey Breath," the new "Whisper Warriors," "Souls," "Where Do We Run," "Testify," "Lockdown" and more. They also did numbers from Bill Withers, Stevie Wonder, Black Crowes and Led Zeppelin's "Kashmir," plus fused together Zeppelin's "Whole Lotta Love" with Bill Withers/Black Crowes' "Hard to Handle," The Stooges' "I Wanna Be Your Dog" with Franz Ferdinand's "Take Me Out," and James Brown's "Get On Up" into Prince's "Kiss." Pittsburgh-based Pearl Jam tribute The Ten Band then took the stage and delivered an amazing performance of Pearl Jam's music. Formed nearly two decades ago, The Ten Band stunningly recreated Pearl Jam's live sound – singer Nick Rhodes's voice was incredible in the Eddie Vedder role; you could close your eyes and believe it was Eddie! He, lead guitarist Brian Pardee, rhythm guitarist Billy Schneider, bassist Todd Kaczorowski and drummer Adam Sivitz performed Pearl Jam favorites such as "Animal," "Elderly Woman Behind the Counter in a Small Town," "Evenflow," "Dissident," "Daughter," "Better Man," "Why Go," "Black," "Jeremy" and the Pearl Jam version of "Last Kiss." They also broke out deeper Pearl Jam cuts such as "Porch," "Wishlist," "Garden" and others. When the Roundhouse Rally crowd demanded the encore, The Ten Band responded with four more songs – "Release," "Alive," their sing-along merging of The Who's "Baba O'Riley" with Neil Young's "Rockin' in the Free World," and "Yellow Ledbetter" to cap the night.
Saturday's half of PA Roundhouse Rally weekend launched musically with popular area acoustic duo Lauren & Joe. The wife-and-husband tandem of Lauren and Joe George did a variety of rock, pop and country hits from such names as Pat Benatar, Badfinger, Little Big Town, Fleetwood Mac, Amy Winehouse, Hall & Oates, John Prine, Adele, Janis Joplin and many more. Next was Avenue Of Kings, bringing hard rock and metal to the stage. Singer Matt Stoyanoff demonstrated his vocal power and range early and often via Iron Maiden's "Wicker Man" and "Two Minutes to Midnight," Judas Priest's "You've Got Another Thing Comin'" and "Hellion/Electric Eye," Dio's "Rainbow in the Dark" and more. Guitarists Chris Silva and Rob Sottile, bassist Beau Cabassa and drummer Randy Wilson brought the instrumental crunch and might behind him. Headlining this night was popular Los Angeles-based family rock and metal band Liliac. Other work duties kept me from staying to see their set, but eyewitness accounts were impressive as singer Melody, guitarist Samuel, drummer Abigail, bassist Ethan, keyboardist Justin and an additional violin player rocked the house with original songs plus numbers from Dio, Nirvana, Iron Maiden, Metallica and more. (I did get to hear Liliac during their soundcheck, when they did impressive work on Dio's "Holy Diver" and "The Last in Line.")
The Jukehouse Bombers performed three times during Johnstown's annual Thunder In The Valley motorcycle rally. I saw them as they helped close out 'Thunder Weekend" on Sunday at Johnstown's People's Natural Gas Park. The father-and-son tandem of Jimmy and Joe Roach on lead vocals and guitars, guitarist Kirsch, bassist Troy Laney, drummer Logan Yonkoske and guest keyboardist and singer Gabe Riva mixed blues and blues-rocking original songs with southern and classic-rocking favorites. The originals included songs from the Jukehouse Bombers' newly-released album "Joyland" as well as their previous song creations; and they also did numbers from The Band, Allman Brothers, James Gang, Led Zeppelin and more in their own distinctive hard-driving style. Jimmy wailed scorching harmonica throughout the performance, including the intro to Blackfoot's "Train Train," Logan cut loose on the drums during the group's rendition of Led Zeppelin's "Moby Dick," and Troy walked his bass strings on the Allmans/Molly Hatchet version of "Dreams I'll Never See!"
Following the Jukehouse Bombers' performance, I proceeded to Johnstown's Roxbury Bandshell to check out one of their weekly Sunday "Summer Concert Series" shows. Two bands performed – opening was the Pazzynski Family with Ukulele Eddie. Based in Pittsburgh and Johnstown, the Pazzynski Family features Janet on lead vocals and guitar, Frank on harmonica and Tyna Pazzynski Kaltenbaugh on backing vocals and percussion; Ukulele Eddie – obviously – plays ukulele. The group did an eclectic assortment of music; spanning Carl Perkins' "Blue Suede Shoes" to The Four Lads' "Istanbul (Not Constantinople)" to polkas like "Who Stole the Kishka," Cake's "Stickshifts and Safetybelts," original songs and more. Perhaps their most interesting song was a mash-up of Johnny Cash's "Folsom Prison Blues" with The Who's "Pinball Wizard" – the group sang the "Pinball Wizard" lyrics to the "Folsom Prison Blues" melody, and then did vice-versa. Following the Pazzynskis and Ukulele Eddie was Manic Mango, the acoustic pairing of Denise Krestal-Baldwin and Luke Rehm. Opening with their version of the Doobie Brothers' "Long Train Runnin,'" Denise and Luke shared singing duties as they did numbers from Crazy Elephant, Stevie Nicks & Tom Petty, Nilsson, the Beatles, Cage the Elephant and more. During their rendition of Elton John's "Madman Across the Water," Denise sang and played her electric guitar strings with a bow.
The July 4th holiday weekend was busy with live music, and the two events I attended that featured holiday fireworks both involved area baseball parks. After the Altoona Curve (Double-A affiliate of the Pittsburgh Pirates) defeated the Harrisburg Senators (Double-A affiliate of the Washington Nationals) 7-3 on 4th of July eve at Altoona's People's Natural Gas Field, Bedford's Coltt Winter Lepley entertained the large ballpark crowd leading up to the fireworks. Coltt presented a variety of acoustic classic folk, country, blues, early rock'n'roll and more. Coltt did a few American-flavored numbers such as Woody Guthrie's "This Land Is Your Land" and John Denver's "Take Me Home Country Roads," and also Waylon Jennings' "Luchenbach, Texas," Cab Calloway's "Minnie the Moocher," Tyler Childers' "Lady May" and "Follow Me to Virgie," Neil Young's "Heart of Gold" and more.
On July 4, State College's Medlar Field at Lubrano Park (home of the MLB Draft League's State College Spikes) hosted the annual Central PA 4th Fest. Three bands and a human cannonball led up to the popular fireworks display; the first of the bands was Joy Marie & the Gill Street Band. Joy Marie recently became the Gill Street's Band's new permanent singer, replacing Jackie Brown. Like her predecessor, Joy brought the soul and gusto as she fronted the Gill Street Band on brassy favorites from The Temptations, Earth Wind & Fire, Average White Band, The Commodores, Stevie Wonder and others. Happy Valley favorites for more than a quarter century, Velveeta followed with their celebration of "80s cheese," performing 1980s era hits and favorites from Tom Petty, Violent Femmes, Kenny Loggins, Rick Springfield, Hall & Oates, Poison, Def Leppard, plus non-80s fare from Blue Swede and Neil Diamond. Headlining the music portion of 4th Fest was Southside Johnny & the Asbury Jukes. "The Godfather of 'the New Jersey sound,'" Southside Johnny (John Lyons) & the Asbury Jukes have been closely aligned with Bruce Springsteen & the E Street Band since the 1970s, and Jon Bon Jovi toured with the band during 1990. Eight members strong with three-piece brass section, they performed a rousing set of rock, soul and blues; doing many of their established numbers. Southside Johnny brought the rugged blues growl and swagger up front on such numbers as "Cadillac Jack's Number One Son," "Talk to Me," "Love on the Wrong Side of Town," "Broke Down Piece of Man" and others, plus their popular covers of The Left Banke's "Walk Away Renee" and Bruce Springsteen's "The Fever." The group also broke out versions of the Rolling Stones' "Happy," and a set-closing rock'n'roll medley launched from Jerry Lee Lewis' "Great Balls of Fire." The Asbury Jukes – guitarist Glenn Alexander, bassist John Conte, pianist Jeff Kazee, drummer Tom Seguso, and the horn section of trumpeter Chris Anderson, trombonist Neal Pawley and sax player John Isley – displayed and blended their talents frequently throughout the performance. Following the performance and prior to the fireworks, David Smith Jr. – The Human Cannonball – provided thrills as he was fired from a cannon 80 feet into the air and landed safely into a net.
Entering 4th of July weekend, I finally got to check out Katz 22 when they performed at the Tussey WingFest at Tussey Mountain Amphitheater. I arrived during openers Ted McCloskey & the Hi-Fi's, who delivered an enthusiastic set rock and pop favorites. Singer Molly Countermine was delivering the sass on Lizzo's "About Damn Time," and the group proceeded with rowdy takes on numbers from Hall & Oates, the Rolling Stones, Amy Winehouse, Modest Mouse, The Killers, Clash and more. In between bands, Anchor & Arrow – the husband-and-wife duo of Matt and Jenn Dashem – entertained the wing-eating crowd with their blend of music and humor.
They mixed a wide variety of tunes, including numbers from Jefferson Airplane, Commodores, Dolly Parton, Simple Minds, Johnny Cash, the Beatles, Prince, medleys and more. They also traded lighthearted quips with show emcee Ricky LaPean and staged a hula-hooping contest for the youngsters. Katz 22 then capped the evening with their excellent set of classic, arena rock and more. Together five years, Katz 22 features four talented musicians – singer and keyboardist Zach Nyce, bassist and singer Rusty Fohner, guitarist and singer Kathy Grimm, and drummer and singer John Hawl. They quickly brought the WingFest crowd to attention as they did numbers from Journey, Cars, Kansas, Styx, Sugarloaf, Pat Benatar, Toto, Heart, Prince, Steely Dan, Head East and more. Katz 22 broke out a few surprises along the way, such as digging out Survivor's 1984 hit "I Can't Hold Back" and Three Dog Night's "Mama Told Me (Not to Come)," and merging Walk The Moon's "Shut Up and Dance" into U2's "Where The Streets Have No Name." Their vocals, musicianship and tightness were strong throughout the performance, and they were cordial and upbeat with the audience, which cheered approval throughout. Katz 22 slammed an exclamation point onto their performance with a powerful rendition of Boston's "Foreplay/Long Time" to cap the night.
Altoona's Rockin' the Yard concert series continued last month in the upper lot of Altoona's Jaffa Shrine. Their July 4 weekend edition was a country party featuring the Zac Grace Band and Pistol Peg & the Beer Kegs. Zac and his band kicked off the night with a set that blended a number of his original songs with popular country favorites. Zac on vocals, guitarists Brad Lego and Ben Eberhart, bassist Eric Wertz and drummer Matthew Stevens warmed up and rallied the arriving crowd into party mode with favorites from Rhett Akins, David Lee Murphy, Luke Bryan, Luke Combs, Morgan Wallen, John Michael Montgomery, Toby Keith and more. Zac threw in some of his own tunes as well, including "Worth the Wait," "Only Here for a Beer," his new "Firefly Sunset," his debut single about seizing the moment "This Is the Day," and toward set's end, his recent single "PPL I Drink With" and "Stay Here or Stay Gone." A big highlight during this set was the surprise onstage arrival of area musician and former NBC "The Voice" finalist Josh Gallagher, who partied down with Zac and his band on a Morgan Wallen number. Before Pistol Peg & the Beer Kegs started their performance, young Caitlyn McConnell sang a stirring rendition of the "Star Spangled Banner," while members of one of this show's beneficiaries, the Combat Vets Association, stood alongside her. Pistol Peg & the Beer Kegs then got down to business, lighting up the Jaffa Shrine concert grounds with a lively performance that quickly got people moving and cheering. The group fired through many country favorites over their two sets, showing love for the audience and generating happy vibes. With the sibling pair of Jill Renee and guitarist Mark Simanski singing lead, the group did hits from Miranda Lambert, Shania Twain, Maren Morris, Luke Bryan, Dixie Chicks, Little Big Town, Luke Combs, the Eagles, Sugarland, Nitty Gritty Dirt Band, Randy Houser, Alan Jackson and more. The group threw a surprise curve ball to the crowd with a strong rendition of Led Zeppelin's "Whole Lotta Love" toward show's end, with Mark giving his best Robert Plant howl. And Pistol Peg & the Beer Kegs got the large and festive crowd a-stomping with their established finisher, Alabama's "Mountain Music." Pistol Peg and company fired on all cylinders and sounded sharp throughout their performance. Perhaps most importantly, Pistol Peg & the Beer Kegs generated a feelgood energy that resonated throughout this audience, and smiles could be seen everywhere. While I took pictures, a man who had never seen the group before said to me of Pistol Peg & the Beer Kegs, "They made me happy!"
Also on July 4th weekend, the annual Wham Bam Mountain Jam provided a day of music at a remote location in the mountains west of Port Matilda. Twelve bands and performers kept the music continuous throughout the day and evening. Acoustic artists Steve Treado, Dylan Miller and Luke Cimbala each performed prior to my arrival; but I did get to see sets by psychedelic rhythm & blues-men The Roof; solo guitar performer Earthwax (the creative alias of Tim Higgins of The Perkolators); The Perkolators with their blend of rock, soul, reggae and funk; Port Matilda's homegrown rock'n'soul performers Homegrown; State College acoustic Americana artists Caledonia; the host band Donny Burns & the 3rd Degree with their high-powered and rocking set, Dauphin County hard rockers Broken Fayth; and State College indie-rock trios Dogwood Co. and Mellow Honey. Wham Bam Mountain Jam's musical menu had something for everyone, and this year's event saw the largest attendance yet.
Arts Festival Weekend returned to Centre County last month, as the annual Central PA Festival of the Arts and People's Choice Festival of Pennsylvania Arts & Crafts returned after a two-year hiatus stemming from COVID-19. I attended the Thursday leg of the Central PA Festival of the Arts and caught many of the performances, starting with The Jay Vonada Quartet at the Allen Street Stage. Namesake and bandleader Jay on slide trombone, Mac Himes on guitar, Rob Gardner on upright bass and Bobby Leidecker on drums performed smooth-sounding jazz compositions from Jay's albums, as well as his arrangement of George Gershwin's "Summertime." I then headed to the Festival Shell stage to see the 17-member Keystone Swing Band as they performed swing and jazz standards from names like Maynard Ferguson, Woody Herman, Duke Ellington, Burt Bacharach and others. Guest Elizabeth Webb contributed her bright singing voice on several numbers. I returned to the Allen Street Stage to see Revamped; the area husband-and-wife orchestral duo of Mark and Sally Williams Minnich took their violins through interesting arrangements and journeys, including renditions of Simon & Garfunkel's "Sound of Silence," "Over the Rainbow" and more. I next headed to Sidney Friedman Park to see Lancaster's Mark DeRose and the Dreadnoughts, performing roots and soul-based rock. Singing, playing acoustic guitar and keys, Mark led the group on a selection of original songs, including several from his latest album, "In Search of the Good Days," as well as select covers from The Band, Grateful Dead, Steve Miller Band and more. I then caught the latter portion of the JR Mangan Band's performance at the Allen Street Stage; JR on vocals and acoustic guitar, Veronica Auger on lead vocals, Mark Toci on lead guitar, Jason Ebersole on bass and John Lynch on drums played upbeat renditions of tunes from the Patti Smith Group, Redbone, Pretenders, Dusty Springfield, Carrie Underwood, Journey, Tom Petty and more. I caught blues next at the Festival Shell Stage, as Lehigh Valley based blues performers BC Blue performed their brand of soulful electric blues. Singer and namesake Bev "BC" Conklin, guitarist Joe Mac, bassist Bobby Soul, keyboardist "Chicago" Carl Snyder and drummer Glenn Spadone blended numerous original songs with blues standards such as Willie Dixon's "Hoochie Coochie Man," Albert Collins' "If You Love Me (Like You Say)," "Key to the Highway" and more. I returned to the Allen Street Stage one last time to catch my first look at Williamsport's Cass and the Bailout Crew. This group won new fans with their exciting set of original roots-based rock and select covers. Singer and group namesake Cass Chatham provided the fiery, sultry and emotive voice up front, alongside guitarist and singer Mike Steppe, bassist Nick Laylon, drummer Mike Wrench, Jr. and keyboardist Jim Lovcik. The group did tunes from their "Room to Breathe" album along with some newer numbers, and also performed songs from Grace Potter, Chris Stapleton, Tom Petty, Dwight Yoakam, the Jefferson Airplane pairing of "Somebody to Love" into "White Rabbit" and more.
The 10th annual Route 22 Rock & Blues Festival also happened during Arts Festival Weekend last month at the Lincoln Caverns Campground near Huntingdon. This year's event expanded to three days and included 20 different bands and performers. I witnessed them all – including Friday's slate of Hot Fudge Mondaes, Sunset Over Mars, Bad Luck Lover Boys, Treaties, The Snipped, Negan and Black Sun…The Saturday roster of Nik Mik, The Pines, Abstentious, Neon Hotel, JuJu Bone, The Jaded Lips, Maul, The Pennsoulvanians, The Roof, False Spring and Rick Ramsey & Friends (I was recruited to play congas as one of the 'Friends')…And the Sunday acoustic wind down with Brother Jack and Dylan Miller. Highlights abounded throughout the weekend, including Black Sun's extended otherworldly set of mystic and progressive doom metal, the "village" of musicians and other helpers who assisted in setting the stage for the Pennsoulvanians' soul-stirring performance after the event's primary sound engineer took ill and had to leave the concert grounds, and Dylan Miller saving the day on Sunday by bringing an alternate sound system after the main sound system had been broken down before the scheduled acoustic performers. This was the first year I camped out and stayed for the entire festival; it won't be my last!
For my first time ever, I checked out the annual Jackson Township Heritage Festival near Vinco (north of Johnstown) last month. I caught most of this day's musical slate at the festival; only missing the morning kickoff set by The Dillons. I arrived in time to catch a good portion of the set from Altoona's Bone Jacked; with Phil "Philly Grooves" Wagner handling lead singing and guitar duties this day, Bone Jacked fired up the rock'n'roll with tunes from Tom Petty, Kenny Wayne Shepherd, Lynyrd Skynyrd, Steve Miller Band, Steppenwolf and more. Next was the acoustic incarnation of western PA's Chrome Eyes (formerly Dive), who mixed original songs with classic and modern rock numbers from CCR, Matchbox 20, Greg Kihn Band, Sugar Ray, Tom Petty, Temple Of the Dog, Johnny Cash, and even a rendition of Rod Stewart and Faces' "Ooh La La." Following them was Westmoreland County foursome Milestone. Featuring singer, guitarist and fiddler D.J. Honse, guitarist and singer Jack Kollar, bassist and singer Dave Ridilla and drummer John Kot, Milestone did great work on a variety of classic rock and hits spanning the 1950s to 80s. They showed strong vocals, harmonies and instrumental skills on numbers from CCR, Santana, Tommy James & the Shondells, Jim Croce, Bob Seger, Charlie Daniels, Eagles, Willie Nelson, Roy Orbison, Loggins & Messina and many more. Fuse then took the stage and quickly fired up the Saturday night dance party. This show marked the official return of Tom Buck on lead guitar after a few months away, rejoining frontman Nick George, bassman Rick Hartman and drummer John Tedeski. Dancers quickly filled the floor as Fuse's opening number, Grand Funk Railroad's "We're An American Band," sounded through the performance tent. Fuse kept the tempo up and dance floor filled as they fired through tunes from Lenny Kravitz, Black Crowes, Aerosmith, Eddie Money, Tom Petty, J. Geils Band, Free, the Rolling Stones, Foreigner, Poison, Billy Idol and a lot more. These guys brought abundant enthusiasm and tight execution to their performance, and gave this festival crowd no reason to want to sit back down or leave the performance tent.
Other performances I witnessed in recent weeks were all indoors – including The Amish Outlaws' raucous party last month at McGarvey's in Altoona with Shallow 9 opening…also State College heavy rockers Goatsmoker and Frederick, Maryland-based metalcore rockers Who They Fear at McGarvey's in late June…And I saw – and participated in – the annual "Make Music Day" festivities in late June during "Open Mic Night" at D'Ottavio's Gran Sasso in Hollidaysburg. Thanks to James Grove for inviting me up to slap beats on my djembe!
News and notes…43 different bands and artists will perform through three days during the 3rd annual Mass N Tha Grass Music & Arts Festival, happening Aug. 5-7 at the Sinking Valley Fairgrounds near Altoona…New York hardcore legends Madball will headline the 31-band, 2nd annual Upstage Music Festival, happening Aug. 12-13 at the Clearfield County Fairgrounds, with proceeds helping several local charities…The Backyard Rockers, The Stiffs, Bone Jacked, Felix & the Hurricanes and Autumn Rising will donate their talents for the annual Vets Fest, happening outside August 14 at Altoona's Unter Uns Musical & Entertainment Society; proceeds benefit the Vietnam Veterans of America Blair County Chapter 967…Mama Corn, The Hillbilly Gypsies, Hickory Bottom Band, Centerfire Bluegrass and Tree will perform during the "Pickin' for Wishes" bluegrass festival on Aug. 20 at the Cresson Sportsmen's Club near Loretto; proceeds benefit the Make A Wish Foundation of Greater Pennsylvania and West Virginia…The songwriting duo of Bill Dann and Denny Pompa will hold a special video shoot event for their song "Wings Of Fire" on Aug. 20 at the Bull Pen Restaurant in Tyrone; the Bull Pen will introduce their new "Nuclear" wings, and special "Wings Of Fire" T-shirts with artwork by a pen-sketching Professor will be available for purchase…Members of Small Town Horror Show have formed a new Type O Negative tribute project; None More Negative will play its debut performance opening for Penntera Oct. 29 at McGarvey's in Altoona…Former members of Naildriver and This Calling have merged to form a new project called A Starlite Gray…Dave Wessels has taken over drumming duties for Centre County party rockers TV Blonde, replacing Blaine Martin…A Pittsburgh live music venue, Excuses Bar & Grill announced its pending closure last month after 34 years in business.
Please send correspondence and recordings to: Jim Price, 1104 S. Catherine St., Altoona, PA 16602. You can also e-mail me at jptheprofessor@gmail.com. And if you're into social networking, look me up on Facebook. And continue to SUPPORT LOCAL MUSIC!