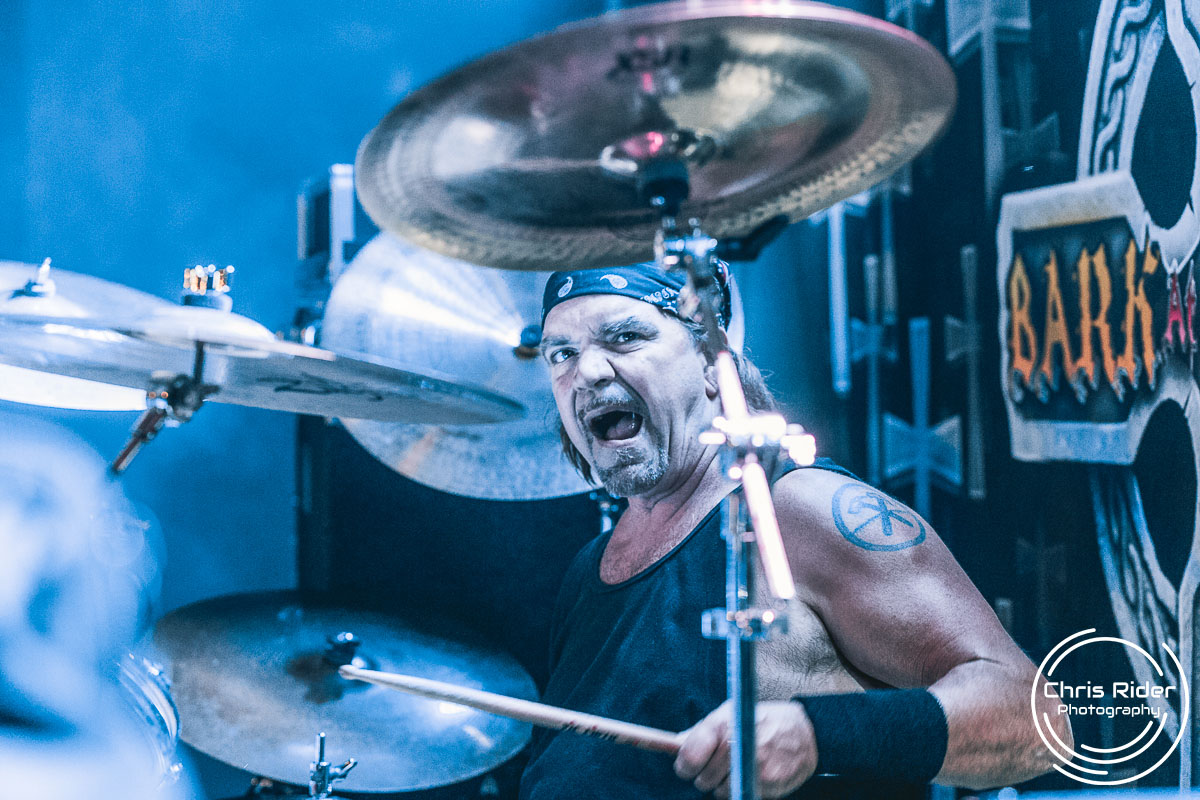 ---
By: Chris Rider
July's been a typical hot month…both the weather, and the music. While I won't wish the summer away, I won't be upset when cooler temps come in the Fall that's for sure. This month I made it out to seven or eight venues and saw 37 acts. That number sounds huge, but consider that a lot of these were during open mics (see below LOL) that had a lot of acts rotate through within just a few hours. That being said, I was introduced to a LOT of new faces and music this month, and you can't beat that with a stick.
First up was a trip up to Iron Vines Winery for some wine and tunes. Playing that night was a solo acoustic act out of Lubbock Texas, Pat Hardy. I got to speak to Pat for a bit prior to him picking up his guitar, and he's a genuine and very laid back individual that I really enjoyed talking to. He has an indie style with a bit of southern country playing originals and a few covers from The Cure & Guy Clark. Pat's music can be found on most streaming music platforms.
Wendy and I's next trip out was a last minute stop on City Island at the Harrisburg Beach Club. I've seen a lot about this, but it was our first trip there. They've got a great setup going on for outdoor music, two bars serving a good variety of drinks, and lots of relaxed seating. This evening we got to listen to Cody Kilburn play a mix of covers with a great voice that was smooth and maybe a little haunting (in a good way!). He had a wide variety of songs that evening like Billie Jean, Folsum Prison, Dancin In The Dark, House Of The Rising Sun, and even a few originals.
A few days later I headed down to Lovedraft's Brewing in Mechanicsburg for 717 Entertainment's "Ozzfest". I got there in time to see eight of the ten bands scheduled that day. The first four bands were original metal and metalcore bands, followed by six tribute bands.The bands I got to see were Evil Like You, Humanity Decayed, Negative Steal (Type O Negative tribute), Closer To Deth (Megadeath tribute), Hate Grenade (doing a Limp Bizkit tribute that absolutely RIPPED!), Stricken (Disturbed tribute), Penntera (Pantera tribute), and Bark At The Moon (Ozzy tribute). All I can say is that this show just kicked ass. Nick, with 717 Entertainment, did an awesome job putting together this event. He's putting together a lot of the shows at Lovedraft's and I can highly recommend checking them out!
Even though it'll be a little out of order, I'm going to combine two of my trips into one. The Central Pennsylvania Music Hall Of Fame has started an Open Mic night, hosted at HMAC in downtown Harrisburg. Hosted by Board of Directors member Todd Bedard, this is an open mic night to showcase local musicians of all genre's giving each 15 minutes or so to play a few songs for the crowd. Please visit the CPMHOF Facebook page to see the announcements for future Open Mic's and get signed up to perform. A house band is provided if needed (but not required), and I have to say that it's just a great time. Over these two nights I got to enjoy music from twenty-three different artists, some of whom I've seen once or twice, but many of which were new to me. Several of the performers are CPMA nominated and winning musicians as well including (but certainly not limited to) D-Bo!, Addi Grace, and Nathan Merovich. Playing music in all genres from Blues, Rock, Country, Hip-Hop, and even Classical Guitar, it really does make for an awesome evening.
My next trip out was up to Sunbury's Spyglass Ridge Winery. Opening up the evening was North Carolina based five-piece Indie/Americana band Mipso. Playing all originals with great melodies and harmonies, these folks were awesome to listen to and watch perform on stage. Headlining the evening was none other than Sheryl Crow. Sheryl came out on stage looking great and sounding even better. I'll admit that her music is a bit of a guilty pleasure of mine…she's just got an incredible voice. Playing a lot of her popular songs like Leaving Las Vegas, Strong Enough, and Favorite Mistakes; it was easy to see how she has done so well over all of her years performing. Not only did she sound great, but her stage presence and crowd interaction were awesome to see and we had a great evening.
My last evening of music to write about ended up being to two different venues. First up was a trip back to Lovedraft's Brewing on a heavy recommendation from an old co-worker of mine Doug. Since we have very similar tastes in music, I couldn't pass up on a band that was reported to me as "amazing, with very musically talented individuals." Flapjack Jones and The Bender Brohs, a Harrisburg based six piece Rock/Jam band very heavily influenced by one of my absolute favorites, The Allman Brothers. The guys covered a number of ABB songs including Midnight Rider, Ballad of Elizabeth Reed and Jessica…a few other covers such as Doctor My Eyes, I Know A Little Bit, Life in The Fast Lane, and a few originals. Impressively, they had no setlist. These guys made up their setlist as the evening went along, and it flowed beautifully. They've got a new CD coming out in a few months and I'm really looking forward to picking it up.
Final act for the month was a stop at Sherman's Creek Inn on my way home to see Liquid Courage. This female fronted five-piece rock cover band played a wide variety of songs like "What I got", "What's Up", and "My Own Worst Enemy". They had a great crowd, and had a lot of them up front dancing and singing along with them. It was a great way to end the evening.
So there it is, my month of music through my eyes and ears. Just a reminder: if you've got a show coming up that I should see; make sure to send me an invite, shoot me an email or a message, let me know about it. Venues: please don't hesitate to reach out to me as well. The majority of the shows that I go and shoot I find out about through invites from all of you or your friends. Hit me up on facebook: @chrisriderphotography or email: chrisriderphotography@gmail.com, stop me if you see me out & around and say hi. Until next month…go find some live music and give them and the venue your support, they truly need it more now than they ever did.