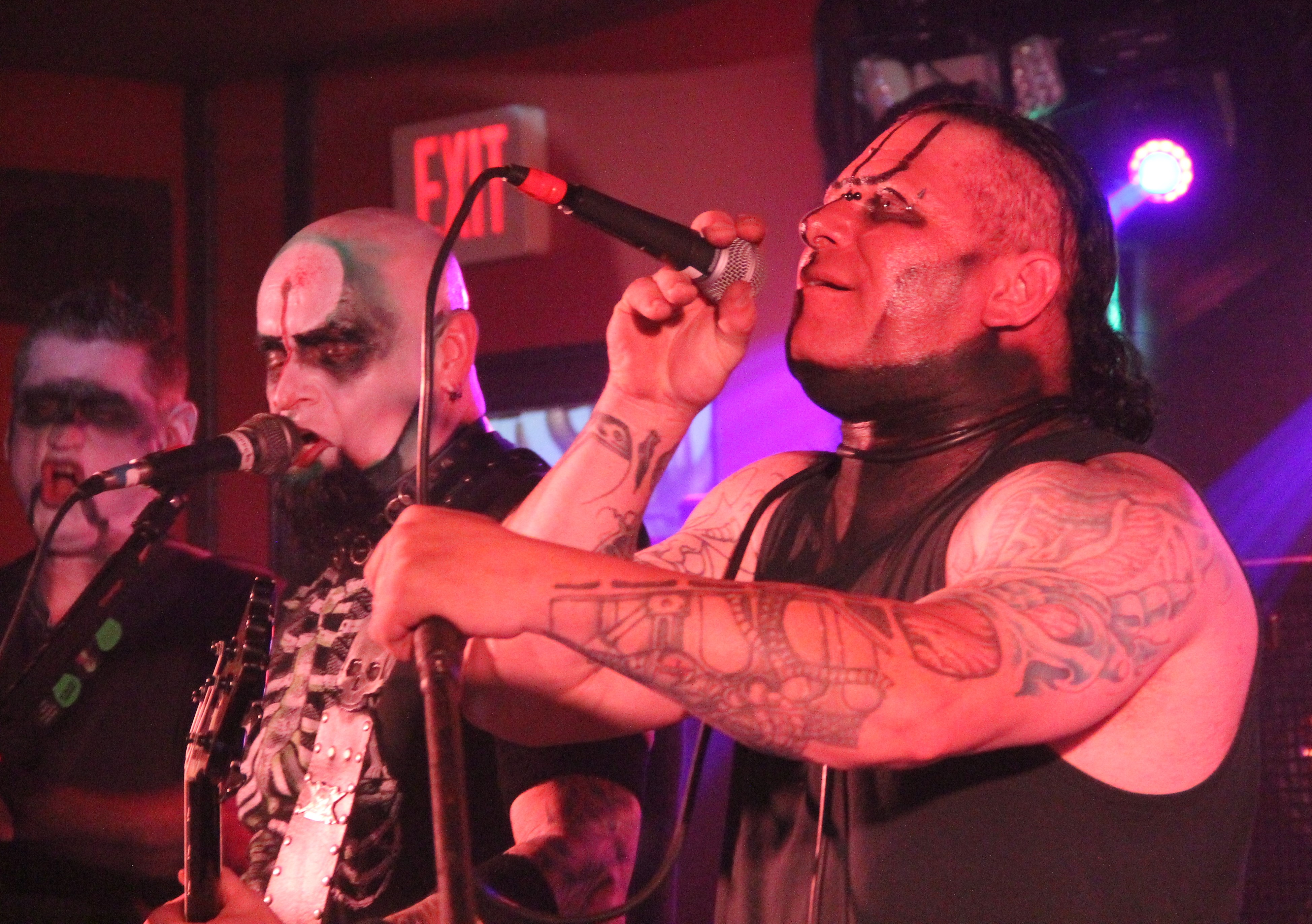 ---
 Summer is simply flying by with so much music, fun and adventure!! July was a super busy month, but I managed to squeeze a lot into it, so here goes!
Matt Jameson was back at the Copper Pub on a Thursday night, so with it being close to home I convinced my whole family to come along with me for some free dinner. The Copper Pub was absolutely packed inside out and outside, and we had a blast with so many friends and family. Two of those amazing friends were Roger Bowyer and Addi Grace who also took a turn at entertaining us during Matt's breaks. It's always super fun, when you get bonus talent at any show. Roger played an amazing version of "Purple Rain" and Addi Grace played "Every Rose Has Its Thorn" which she will be playing on stage with Bret Michaels on August 26th at his Hollywood Penn National show! Addi Grace is phenomenal and only 13 years old! Check out her ad in this issue and get out there and support her. You'll be glad you did! I know your pickins are slim this month with Matt's schedule, he only has 18 shows to choose from! Ha! I thought of another reason why I love going to Matt's shows, so many of my friends are his fans, so not only do I get to hear great music, but I also get to hang with so many great people too! And even if you are hearing him for the first time, I promise you'll be back!
My next night out started with Jack Malehorn's 50th Birthday Bash in his backyard oasis. He has an awesome set up for bands, and hopefully he will take more advantage of his set up and have even more parties! The party started with Steel rockin during the daylight, which is always weird, but always fun! It was quite the party with so many people I haven't seen in a while. We all had tons of fun singing dancing and eating way too much food! Jack and Lisa also have an amazing pool, so we were able to take a dip to cool off, while we were in the pool it unfortunately started raining, but that didn't stop us from having a good time! After Steel, Mike Musson from Love Rocket played a solo show. It was his first solo show in a long time, but he was in a safe place with all of us music lovers. He played all 90s and he quickly had the crowd singing along to his songs, even from the pool! It started absolutely pouring and we were dancing in the rain! I've heard so many things about Love Rocket but somehow our paths haven't crossed yet.. Hopefully soon!! Thanks Lisa and Jack for hosting an amazing party. I had an absolute blast!! And I'm definitely ready for the next one!
You would think my day was over, but at work all week I was working on Advancing the Draw the Line, and Aerosmith Tribute show at Hollywood Grantville, and I have to admit I was intrigued! After I did a quick clothing change at the rest stop on 81, I ran into the casino for the end of their show. I know some people get annoyed by all of the "tribute bands" but I personally think they are awesome! "Steven" really had an amazing voice and even had all of the dance moves down! Chances are super slim I'll actually get to see Aerosmith, so why not enjoy the next best thing! Hollywood Grantville has so much amazing music every weekend. August 6th PA natives, Halestorm will be there, outside on the big stage with Volbeat opening! They have so many amazing shows scheduled this summer, definitely check it out inside and outside, and everywhere, York, Morgantown, Grantville, and even Meadows in Washington, PA. And if that's not enough for you, check out Mt. Airy too! This month, I'll be working with EnVogue at Mt. Airy on August 4th, followed by just enjoying Pantera at Montage! What a combo!! Something I love about my job is how different all the music is that I get to enjoy! I am one lucky girl in all of my jobs! 
On a Thursday night I finally made it out to the Englewood's patio for an acoustic show by Addi Grace. I know I already mentioned her, but I'm telling ya, she's worth mentioning again. It was awesome to once again see her best friends out supporting her and making sure to post her videos and pictures on social media. Addi has been working with Derek at Green Room Recording Studio working on recording some original music! This girl's talents are never ending! She has quite a few shows coming up this month, check out her ad in this issue and get out there and see her wherever you can, you won't be disappointed.
The following weekend, was full of adventure. My husband and I had a great night at Rocky Gap Casino Resort in Maryland where I had to "work" for BRP Entertainment and cover the Earth to Mars show. These young guys did an amazing tribute to Bruno Mars. Rocky Gap is an absolutely amazing resort! They have their own beach, boat rentals, etc.. They also had an acoustic musician outside by the pool, Jason Teach. We were able to sit and enjoy the view of the lake and listen to him play some awesome original music. The next day we headed out to Ohiopyle to celebrate Holly's birthday, and do some white water rafting! It was our 3rd year, and it's crazy how it's so different every time you go! It's so much fun and just the chill time that we needed!
On a beautiful Wednesday I headed up to the Dauphin Carnival for Midnite Riot. I always love being able to hear music every day of the week and carnivals are a great place to find some awesome entertainment and delicious food! Midnite Riot quickly got everyone's attention and before ya knew it the lawn was filled with chairs and people chilling out and enjoying the show. Midnite Riot is really bringing the party back to the stage and helping people let loose and have a good time, everywhere they go! Check out their schedule in this issue and get out there and have a "Riot" with them!
Chris Woodward and Shindiggin' were rockin' the Susquehanna Valley Harley Davidson stage on a Thursday night. I stopped by after work, and I'm glad I finally got a chance to check these guys out. Their website explains them best, "A Rockin' Country Party" that's exactly what they are. They play all of your favorite rockin' country favorites, and then they even throw some original music into the mix that will quickly get you hooked! What a great show!
On a beautiful Friday afternoon I got a little distracted with a nice long solo kayak float down the Swatty. I got so distracted that it took me about 3 hours longer than I thought it would. I didn't get everywhere I wanted to go that night, but I did have an absolutely amazing float! Once I did finally get off the water I did make one stop out to Hollywood Grantville for Emily's Toybox in the H-Lounge. With Grantville so close to home it definitely does make it super convenient to stop in, especially when I know they always have great entertainment! Emily's Toybox had Rick Lienhard playing bass, I'm not sure what happened to Millhouse, but even though it was super strange to see him with a bass, he did an awesome job and it was cool to see him back on stage again! ETB rocked the stage all night long and had people dancing and partying along.
Saturday was yet another super long, but yet super amazing day… It started out bright and early with a trip down the street to Copper Pub for Roger Bowyer. It was my first time seeing Roger at his own full show, he was playing inside because of the heat, but he had the place packed! Next I zoomed up the road to Shermans Creek Inn in Shermans Dale for Hot and Dangerous and Road Case. When I saw both of these two were playing together I knew I needed to get there for sure! Hot and Dangerous are always an absolute blast. I love dancing and singing along with them! And Road Case, it's been way too long since our paths crossed, but I'm so glad they did. I had a blast, and it was hard to leave, but I had one more stop to go. Last but not least I ran back down the mountain to XL Live for Back in Black. I haven't been to XL for a while, and it was nice to get back there for a full band. The fact that it was Back in Black was icing on the cake! Such a great show. I'm so glad I was able to zoom all around and see so much amazing entertainment in one night!
Unfortunately this month Matt Jameson was a little under the weather and he couldn't make it to two of his shows. Luckily he was able to find replacements for both. Roger Bowyer somehow managed to agree to play at Fredericksburg Eagle Hotel on a Sunday afternoon at 3:30, and be there, freshly showered and ready to rock by 4:30! I was shocked when I got there at 5:00 and I already heard him playing! So grateful Roger was able to help out, and I was still able to go to the Hooootel for some delicious wings and live music. Derek Henry had a little more notice, but was also able to cover Matt's show at Cold Springs Inn on a Tuesday. Again I was able to still go to that show and have a beautiful evening with friends along the Yellow Breeches. It's awesome when you see how the music community supports each other any way possible. Luckily with a few days rest, Matt was all healed and ready to rock!
The following weekend Matt Jameson had his first "beach" show, and of course anything that comes close to the beach means I am so there! Holly managed to find the perfect AirBnB in July super close to his show at the Oasis Bar & Grill in Whaleyville. His show was great and we met some new awesome people. It's always fun seeing someone hear Matt for the first time, it's refreshing and rewarding for me, I can't even imagine what it's like for him. Saturday we actually all took a chill day! Quite shocking for all of us, but it was so needed and so amazing! Sunday they had to zoom home to get Matt to his next show, but I was able to have another meandering beach day, looking for seaglass and checking out new beach spots on my way home. It was a glorious day. Then, I saw a post that Derek Henry was playing in Milton, DE at Twin Branch Winery, and I knew I had to stop in and surprise him. When I got there Dave Gates was also there enjoying the show. I'm glad I stopped because Dave already told Derek that I was in Bethany, and I would've been on the doo-doo list if I didn't stop and say Hi. It was definitely an amazing weekend for sure. Music, Beach, Music, Beach! I'd have to say that's pretty much a perfect weekend for me!
On a Thursday night I took a trip up to Shy Bear with Matt Jameson, and since the owner Jason was out of town, Matt asked me to help him with the sound. Luckily Jason has an amazing system and I was pretty much just adjusting the volume, and together we made it through the night! Shy Bear is such a cool venue with literally one of the nicest stages around. It's such a cool place just to hang out and chill, and again meet some awesome people!
Luckily I get off work early on Fridays, because it was another busy one! Mom needed some help with technological gadgets so I ran up to her house to help her out, then to take full advantage of the trip North I also took the dogs so we could all take a dip in the river in this heat! The dogs and I had a lovely evening in the Susquehanna, but alas, I really had some bands I wanted to see, so away I went… My first stop was out to Racehorse Tavern for the Suicide Puppets. I haven't seen these guys in a long time, so I'm glad I finally got the chance to rock out with them again! It was awesome to see the Goblin Alchemy crew out supporting them too. The Suicide Puppets gave us a special treat and extended their show with a couple of brand new songs, that they haven't ever played before. Both the songs I heard were awesome. Suicide Puppets will be playing in a benefit on August 18th for the Broad Street Market that recently lost one of their buildings in a devastating fire that was filled with regular vendors, one of which was Goblin Alchemy. Metal for the Market starts at 5:30pm, so don't be late or you'll miss it. Come on out and support so many small businesses that really need our help!
After the Suicide Puppets I zoomed across town to Hollywood York for Katz 22. I totally forgot all about the York Fair happening when I attempted to do this drive, so it unfortunately took me a little longer than I wanted to cut through town, but I at least made it for the last set of Katz 22. Luckily Hollywood York recently changed their band times from 9pm-12. Katz 22 had a great crowd with people dancing and having a great time. Katz 22 brings so much energy and excitement to every show. It is very important to make sure you have your dancing shoes on before you come to their show. You can check out Katz 22's schedule in this issue and get out there and dance away your troubles!
The last night of the month started super early and with another amazing kayak trip. This time I floated with Cocoa Kayak on the Union Canal through the oldest transportation tunnel still in use in the US. It is a National Historic Landmark, so the only way to take this special tour is through Cocoa Kayak. They offer the tour usually once a month, but it sells out super quick! They have all kinds of tours that they do. If you ever wanted to take a kayak trip I highly suggest using them! After the trip I had to zoom to work at Hollywood Grantville to cover the Stephanie Grace Band. It was my first time hearing them, and I have to say I was pleasantly surprised. They really put on a great show with killer harmonies and a lot of energy. It was awesome to see such a young band take their craft so seriously. I'm sure you'll be seeing their name more often in our area. 
After their first set I zoomed to Flinchy's to catch my buddy Markus's last PA show. I had the privilege of first hearing Markus Pearson play an open mic, but I was instantly hooked! His wife is a traveling nurse so we all knew their stay was only temporary. After he got quite a few gigs in the area I was excited, thinking they would be staying in the area longer, but when duty calls it's time to move on. Their next stop is Montana where Markus will once again share his music with new people and hopefully new fans! Markus also has a 9 month old baby girl, so he started a new Facebook page called "Morning Jams with Markus & Lena". It's so stinkin' cute and puts a smile on your face every morning. I am definitely a huge fan and will follow Markus and get ready for new music coming soon!
Like I said it was definitely a month full of music and adventures! I am so lucky to have all of the opportunities that I do! August is another super busy travel month. I will be keeping my eyes on weekday shows for sure! If you see me Out and About please stop me and say Hi! Don't forget to check out our new, fancy website, www.pamusician.net. Thanks for reading and for supporting the PA Musician Magazine!