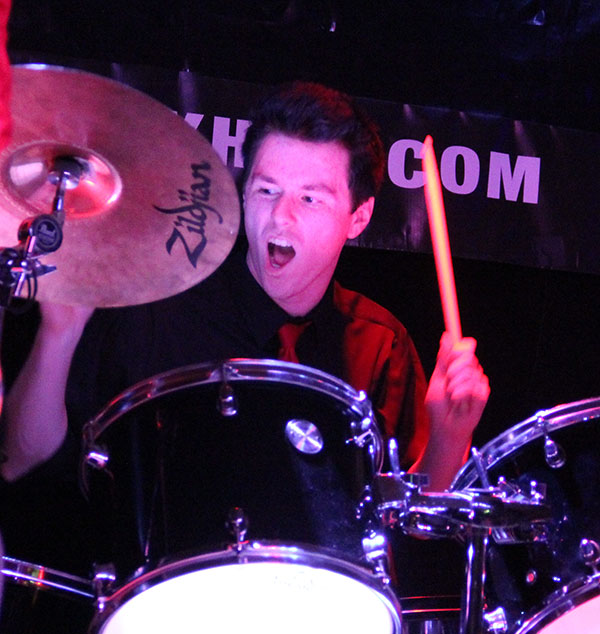 ---
By:Rachel Rocks
I survived MMC 23! Barely, but I did. So much music to write about, and such limited space. I'm extremely bummed that I missed Lancaster Roots and Blues, I heard that was super intense too. I was determined to have the energy to go down to Lancaster Sunday, but it didn't happen. I saw some pictures and videos and it looked like everyone was having a good time. Now time to get to what I did see.
My month started many moons ago with a 717 Entertainment Show at HMAC with Thousand Pound Destruction, Defiant, Bleed the Dream, and Wrath of Typhon. Nick from 717 Entertainment was quiet for a while, but now he's back with a vengeance; booking bands like crazy and bringing back HMAC! HMAC is a great venue with 3 different stage areas that make it a great and very versatile venue for any show.
I got to the show in time for the last few songs of Thousand Pound Destruction. These guys are more of thrash metal band, but yet you can still understand what Ryan is singing. It was awesome to see their fans thrashing around and having a great time. It was also awesome to see Ryan's son up there singing along. Defiant took the stage next, it's awesome seeing Defiant's schedule getting more and more shows added to it, hmm it's almost like it must help to advertise in the PA Musician Magazine… It also helps Defiant knows how to rock! Every time I see them, they hit the stage with so much intensity! Their sets are never long enough, it seems like as soon as the craziness gets started, their set is over and it's time for the next band, but that's also what makes you want to keep coming back for more! Defiant will be opening for L.A. Guns on April 20th at the Chameleon, and they have a few other great shows lined up, check out their ad in this issue and give them a call to buy tickets! After Defiant I had to head to my next adventure, but before I left Wrath of Typhon gave me one of their new CDs, I'm definitely intrigued and I want to check those guys out soon.
My next stop of the night was over to Club XL for Small Town Titans. It was awesome finally seeing these guys on a stage where they could move around and have a great time. Even though there are only three of them they really need a lot of space to move! It's cool to see the hype of the Grinch move on to their originals. "Junkie For You" is one of my faves followed with "Dragonfly" depending on my mood. It's awesome seeing Small Town Titans music explode throughout the world. We're all watching and can't wait to see where they go!
Even on a Thursday night, there is still music to hear, Nate Myers and the Aces at Boneshire Brew Works. It's awesome how Boneshire has music on Thursdays. Boneshire isn't huge, but it's very homey and it's one of those bars where everyone knows your name. Nate and Pete were just playing acoustic, so again it was a perfect chill night with great music and friends. Thanks Nate for playing "Beauty All Around" at the end, you know how much I love that song… Check out www.natemyers.com to see their full schedule and plan your next night out on the town.
The following weekend was also nice and calm with Sweet Corn & Peanut opening for Six Bar Break at the Mechanicsburg G-Man. Sweet Corn & Peanut are such a sweet little duo with such an amazing vibe and a one of a kind sound in every song. I actually saw Six Bar Break twice this month, once it was only RT and Ben at Spring Gate, and now this time at the G-Man. Every time I get a chance to catch Six Bar Break I know it will be a nice chilled out night with great music! They have a new super cool camera to help record them while they play. If you want to see some cool gadgets that help DIY musicians' lives be a little bit easier come check out Six Bar Break's set up at their next show. You can check out their ad in this issue and get out there and support live music.
The following Monday I had a very special treat, I was invited to be a special guest on Lurch's Lair! DJ Addam has two shows every week streaming on Neue Regel Radio, Sunday nights he has a Free-For-All where you can hear a little bit of everything. Monday nights have 3 hours of Independent and Up-N-Coming artists. Both shows start at 6pm. I was on the show for two hours talking about the MMC. DJ Addam had me send him a list and I was able to introduce each artist and hear some of my favorite bands get some air-time! You can still listen to my guest appearance on the website, or tune in live and listen or visit the chatroom at www.neueregelradio.com. I'm hoping to get invited back to the Lair soon!
Well it's finally time for the Millennium Music Conference #23 coverage. The MMC was again another super amazing weekend filled with fantastic music, friends, and very little sleep! These are the weekends you really live the words, "I'll sleep when I'm dead.." When there are 2.5 nights of music and over 300 bands to see how can anyone possibly sleep! Congrats to Josh for surviving his first MMC as the boss. I was quite impressed with his trade show skills. Michele and Chris also survived their first MMC. I was thrilled they were hanging out at the trade show with us, between Jim and Michele I don't even have to write about or take pictures of all of the trade show performers! I'm telling you, I really felt like I was on vacation this year at the MMC. It's good to have a great team, and we really do!
So let me back track a bit, the MMC officially kicked off with the Thursday night bag stuffing. I was picking up my good friend CK from Boston at HIA, so it's very sad, but I missed stuffing bags this year, but it was cool to see so many people there helping when I arrived. After the stuffing it was time for the Kick-Off Party inside Blarney's Pub Stage. The bar was busy all night long which is awesome for a Thursday night.
The first performer of MMC 23 was Chelsea Takami from NY. She was a great opener, she quickly had us all sucked in and appreciating her music. Her lyrics were very meaningful and I know they rang true deep into my soul. I also appreciated how Chelsea worked the room before and after her performance. At big festivals you can quickly get lost in the shuffle, but Chelsea made sure she made an impression on everyone in the room, not only Thursday, but the whole conference.
Another solo artist from NY, Abby Lappen took the stage next. Abby has more of a folk music sound to her music, but it was a good mix to truly showcase all of the different types of artists there are at the MMC. Abby also played on Rock Mill Studio's Day Stage on the trade show floor, so we were able to see her and hear her even more. She was also Jim's first caricature of the conference. It's awesome watching him sketch his subjects!
Next up was a 3-peat MMC performer, Autopilot from Canada! Autopilot is an alternative rock band that are very passionate about their music and their performances. These guys are literally some of the hardest working musicians I know. There must not be much to do in Saskatoon because it seems like they are always on tour somewhere down here in the states, lucky for us MMC is one of their tour stops. If all goes well they will also be at the Jersey Shore Music Festival, once again on tour, and I will see them there!
The Bad Verbs from FL took the stage next. They have a very spunky front lady, Gaia Jones. Gaia has a crazy set of pipes and some really intense dance moves. The Bad Verbs are more of a very danceable, electro-rock band. Every song they played had an addictive beat that quickly had you bopping or even dancing along.
One of last year's most shocking bands were back again, all the way from Scotland, Single by Sunday. These guys are at the perfect age to entertain the masses and they have the energy to do it. All of their songs have so much energy and they are so catchy you are quickly dancing and singing along. They are also another super hard-working band. They were actually over here on our side of the pond for 9 months out of 12 since the last MMC. They made some amazing connections at the MMC they couldn't resist. They've been all over North America, playing for anyone who will listen. On a softer side they love playing at schools and teaching kids about bullying through music. They are not only great musicians, but also just great people!
The Park Inn learned last year that musicians aren't very quiet when they are trapped in their rooms, so they were kind enough to open the Ballroom up for an after party every night. Hopefully that cut down on the ruckus in the rooms. We try to be quiet and well-behaved people, but it can quickly get out of control. After some late night antics it was time to call it a night, and prepare for another fun day.
The trade show this year was awesome. Rock Mill Studios did an amazing job at hosting the open mic stage this year. They were definitely way more experienced and had all kinds of gadgets and gizmos. Michele and Jim were both doing a great job at taking notes and Chris was taking pics, so it was definitely a vacation for me. Just a few of the Day Stage performers I really enjoyed were, Miguel from Middle Theory from KS, the acoustic version of Running Late from NJ, Allwin from Sweden, Justin Angelo and Matt Tarka who are both from Lancaster. You'll have to read all of the details about the trade show stage in Michele and Jim's articles. (Jim will be writing about the MMC in April). I always have fun catching up with everyone during the trade show, but this year I feel like I could have actual conversations with people. Thanks for stopping by and thanks for being awesome!
Friday night it was time to hit the showcase venues. I hung out in the Pub Stage long enough to hear Laura Cheadle from Philly. Laura quickly captivated the audience with her bluesy, soulful self! She will be playing at Singer-Songwriter Cape May. That's another festival I'd like to check out sometime. After Laura I zoomed down the road to Dead Lightning Distillery to catch Jake Puliti's set. Jake was on our cover back in August, and he will now be on the new season of American Idol starting March 3rd, I can't wait to see if he gets a Golden Ticket!! Jake now has 3 original songs recorded, out there for everyone to enjoy. I'm glad I was able to catch Jake again before his stardom starts! Good Luck Jake!!
After Jake I zoomed back to Blarney's to pick up my friends, but before we left I was able to catch a few more bands. Stephanie & the Wild Hearts from PA were playing on the Deck Stage. Josh always said they were good, but I'm glad I finally got a chance to catch them, they are amazing! Wow! What a tight knit great group of musicians. Stephanie has some awesome vocals, and the guys do a great job backing her up. I'll definitely be keeping an eye on Blarney's schedule to see when they are coming back, because I'd love to catch a full show!
Kali Ma and the Garland of Arms from Wilkes-Barre were playing in on the Pub Stage. KMGA doesn't sound like you're average PA band, they are definitely different. When I looked at their "About" section they describe their music as "Neo Psych Space Pop" it's different but very well-orchestrated. They just released their first album and they are hitting the road. Throughout March and April they will be leaving PA and heading as far North as VT and beyond, so keep an eye out for them in your town!
Once my friends were ready to start hopping around to showcases we headed out. I dropped them off at Savannah's for Single By Sunday and The Bad Verbs while I went across the street to Keller Williams and The Accidentals. Michele and Chris were again doing a great job covering Club XL so after I picked up my friends we headed to Midtown Tavern to catch the end of Autopilot's set. Some year I'd love to see Autopilot at a different venue, but they at least know what to expect at Midtown Tavern and obviously it does help build the crowd up when the bartenders know the band and can tell their regulars about them before they get there! After zooming around it was time to go back to the hotel and wind down with friends.
Saturday the trade show always brings out more locals who don't have to work. We had some visitors stop by to say Hi and had some local musicians play on the day stage too! III for the Road did a great job as a duo even tho they usually play as a trio. I love when bands get creative so they can play the Day Stage. It was great hearing AJ and Jackie Cassatt, I haven't heard them for years even tho they play locally. It was also great to see The Foxfires again! We always have a blast with those crazy guys. We also had a special treat from WV, the Sour Mash String Band. Josh was so impressed he went to see their full showcase later Saturday night.
Saturday night was a bit more complex even though it was tons of fun! I think you get to the point of panic because you really want to see EVERYBODY, but unfortunately as one person that is just not humanly possible. We started off our night with Observe the 93rd at Club XL. My out of towner friends haven't seen Club XL yet, so it was cool for them to see it. Plus, OT93 is one of our favorite bands so it was cool to see the guys kick off the local band showcase at XL. They just released "Alive" and I highly suggest checking out their song "Cartoons". After their set Jose and I went across the street to River City for Nothing Planned. These guys are a young party punk band from Shippensburg. They had people on the dance floor rockin' out and they even had people there wearing their merch. I'm sure we'll be seeing more from Nothing Planned soon. After their set we headed back to XL to get our friends to go see Sunset Kings from Boston at Ever Grain. The Sunset Kings are another band that has their own unique sound with a blend of different instruments and vocals. Everyone at Ever Grain seemed to be enjoying the music which was very encouraging to see. We need more breweries to start hosting more live music! There are too many breweries and not enough venues! While we were at Sunset Kings we got a call from Single By Sunday back at River City that the band left without letting them use their amp, and obviously they can't play without an amp. Luckily, I'm good friends with OT93 and I was able to hunt down Derek at Club XL and we were able to use their amp for Single By Sunday. Thanks Ryan for getting Derek's amp back to him safe and sound, and super huge thanks to Derek from Observe the 93rd for letting us borrow your amp. After everything was situated we headed down to HMAC because Jose wanted to see Small Town Titans. I went so many different places and all of them had a decent crowd. It was awesome to see so many people out supporting live music. After STT I headed back to River City to pick up my friends and it was finally time to head back to the hotel for the after party. See.. sleep.. Who needs it? HA!
Overall, I once again had a blast at the MMC. I hung with old friends and met plenty of new ones. John Harris and his team once again outdid themselves organizing so many different bands at so many different venues. I also heard a lot of good feedback about the panels, and every time I went to the mentoring room to see Heather, that looked busy too. Kudos to all of the sound guys for keeping things running smoothly and all of the venues for opening up their doors to some live music.
One person I did meet this year was Indian from MotorMedia. He hosts two music festivals a year, one in Mesa, AZ in November, and another one is the Jersey Shore Festival May 17th and 18th! This is the 12th year for the Jersey Shore Festival in Seaside Heights. I absolutely love the Jersey Shore so Indian told me, no excuses, be there! You can still submit your band for FREE at jerseyshorefest.com. I would LOVE to be able to see some of my PA Bands jamming out on the Jersey Shore. It's not only a music festival, there are all kinds of activities from BMX to Monster Trucks to Free Surf and Paddleboard Lessons. I talked to bands that have played there and everyone said it's pretty amazing!
Well that's all for this month. Josh is going to FREAK out when he sees this article.. HAHA!! If you want to let me know about your show or better yet let me know how awesome I am, please email me at RachelRocks@pamusician.net. Don't forget to support local music! And check out our website, www.pamusician.net. There is no possible way we can fit all of our Hot Shots in the magazine, so please make sure and Like us, facebook.com/pamusicianmagazine, that is where I put all of our shots in color! When you see me Out and About please stop me and say Hi!