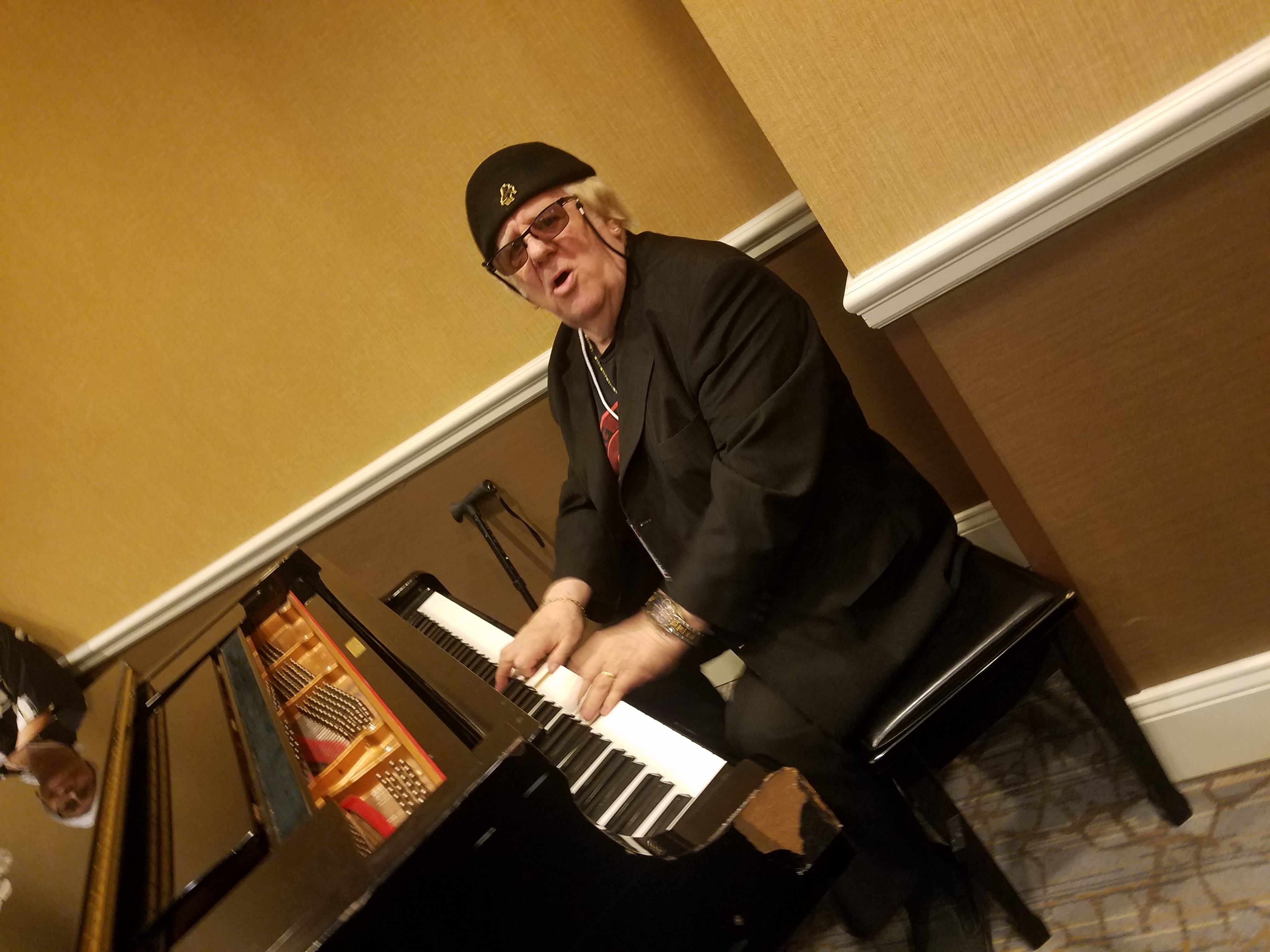 ---
Wow. I don't think anyone possibly imagined this lockdown would last this long. For someone constantly on the go, and out with friends, this truly seems like an eternity. Compassion, patience and understanding are not an easy thing for a lot of people, but at this time it is what we need. Don't judge the person who has a cart full of groceries, who knows how many people they are trying to feed. Don't raise a hairy eyebrow at someone not following the arrows in the grocery store.. Have compassion be kind.. If you are out there struggling to make ends meet, please reach out, I am more than happy to lend a helping hand, and have lots of friends all over the state that are ready to help me, help you. Feel free to email: RachelRocks@pamusician.net or call or text: 717-580-1939.
So anyway, enough rambling, now on to the fun. I've had a blast watching all of the live streams and recordings on Facebook, Twitch, and all of the other platforms. Watching the streams change from full bands to solo musicians was a little sad, but it is very interesting seeing all of the creative ways musicians are using their talents to keep us and them entertained. Jason Carst has been streaming almost every day, on April 22nd he posted that after 29 streams in 31 days, (51.75 hours of live music) he was finally taking a night off, but he was right back at it the next day. He live streams for like 3 hours, taking requests and partying the night away. He also has different themes on different nights. On Easter Sunday he even took his concert to his front porch. He lives down the street from me, so when he said 2 more songs, I zoomed over and did a drive by. It was cool to see all of his neighbors out sitting on their front lawns enjoying the music. There was at least one other guy sitting in the middle of the road in his pickup truck too! I can't wait til the weather warms up again, and hopefully we can sneak in a few more outdoor social distancing concerts. If you want to watch some entertainment you can check out Jason's new streams and old streams from his Facebook page Jason Carst Music.
It seems like most concerts and shows are being pushed back and rescheduled to September at the earliest. I'm really hoping they will open venues and let live music return before that, but we will just have to wait and see. I know the big Summer Kick Off party, the DAM Party has been postponed until Sept. 11th and 12th with Steel and Back in Black on Friday the 11th, and Road Case and Jimmies Chicken Shack on Sept. 12th. I'm just glad that a lot of the shows are trying to postpone instead of completely cancelling, unfortunately for the venues with national acts, like XL Live, Chameleon, HMAC, Harrisburg University, etc. it is even more complicated because the bands are rescheduling full tours and trying to make it all happen. With most venues they are honoring the previously purchased tickets for the upcoming rescheduled shows, so hold on to your tickets.
Obviously, I couldn't go out and see live music, but I decided to flip through our latest issues of the magazine and support those that support us, by writing about every advertiser and then some. We greatly appreciate everyone who has stuck by us during this quarantine and our online only issues. Here is a little spotlight for all of you…
Spyglass Ridge Winery in Sunbury still currently has their big concerts kicking off June 6th with their big Live United Live Music Festival has been brought to you by the The Greater Susquehanna Valley United Way to benefit youth mental health. This concert has some awesome bands from 12noon – 11pm. A full day of amazing 80s music with bands like Lynch Mob, Firehouse, Warrant, and Dokken closing out the night. They have a full line-up of entertainment from live music to comedians, to wine bingo! You can check out their full schedule and see all they have going on at www.spyglassridgewinery.com. To keep you entertained during the quarantine they've also been hosting live shows by different musicians through their Facebook page. It's giving the musicians a different platform to use and hopefully helping to fill their virtual tip jars!
Reverb in Reading has a full schedule of shows, the first show currently on their schedule is Quiet Riot on Friday, June 19th. Then on June 21st it is Fit For a King: Dark Skies Tour. Reverb has a full schedule listed on their website, www.reverbconcerts.com. If you've never been to Reverb, it is very easy to get to, right off the highway with plenty of free parking. Once you are inside it is a nice spacious room with big screen TVs on the wall and a nice big bar in the back of the room. There is also a great smoking section patio outside. A lot of their shows are also all ages, so it's a great way to introduce your kids to the world of live music!
The Central Pennsylvania Music Hall of Fame along with Keystone Amplifiers has been hosting a Quarantine Live Stream almost every day since April 1st. It's awesome because they also have a virtual tip jar to help support each musician as they are playing. All of their live streams start at 7pm. It's awesome to see how the CPMHOF continues to support local music any way they possibly can, and they supported the magazine by advertising their live streams! Once we can get things back to operational again keep a close eye on CPMHOF, you never know what tricks Brandon, the president, has up his sleeve! You can keep up to date on everything CPMHOF related on their Facebook page, or on their website, www.cpmhof.com.
Goblin Alchemy the creator of amazing Meads: Dragon Heart, Siren Song, and Blackberry Fairy is bottled and distributed by Deerfoot Vineyards and Winery in Shoemakersville, PA. They have been quarantining, but also offering curbside pickup and shipping throughout the state of PA. Goblin Alchemy also currently sponsors two bands: Suicide Puppets and Stricken. Suicide Puppets have been kept busy developing new merch, you can check it out and even donate for a chance to win their super special custom created bowling pin, at www.puppetmerch.com, the lucky winner will be picked on May 31st. The first show currently on Suicide Puppets schedule is June 27th with them along with False Icons and Spinebelt at Johnny Joe's. Stricken has also been doing their best to keep learning new songs and getting themselves pumped up to play music for the masses. They are psyched that during this pandemic they have already hit 4,000 likes on Facebook. The love they get from all of their fans is awesome. They currently have on their schedule that their next show is May 29th at the Racehorse Tavern with Decipher Life opening for them.
Ed Varner just started advertising with us a few months ago, I caught him playing once down here at Boneshire Brew Works Thursday night live music nights. He's a great solo performer who loves to have his crowd singing and dancing along. He plays all of your classic rock favorites from the 60s, 70s, and 80s plus more! He's a 30+ year musician with one heck of a repertoire of music in his head. It always amazes me how people request such random songs from many different decades and he can switch gears and rock out. If you want someone to liven up your acoustic music night at your venue, give Ed a call and get him booked! It looks like his next show is supposed to be at Newfangled Brew Works on May 16th, but I would be shocked if that one still happens. Keep an eye on his Facebook page, Ed Varner Music, for any schedule changes, and of course he's been streaming different live shows as well.
If you've read my article lately, chances are you already know all about Defiant. They are a high octane, hard rock band from Mechanicsburg. But even Defiant has their limits of being "defiant"… their ad last month said, "Now is not the time to be defiant… stay safe and we will be back!" Defiant has been posting old flashbacks of great shows they've played, check out all of their videos on Facebook, especially their Official Videos of their original songs: "Wendy" and "He's Watching". Their next show for now is August 14th with Escape the Fate at HMAC. Keep an eye on their ad or their Facebook page for more updates and entertainment.
Dead Cowboy might be another newer advertiser, but they definitely aren't new to the music scene. They've been playing all around central PA since around 2008. I know I saw them once many moons ago, hopefully after this is all said and done I will be able to catch them Out and About again. Their last show was at the Racehorse Tavern with Alice In Sane on March 13th. It looked like one heck of a party, but unfortunately, I was home sick. Dead Cowboy plays all of your favorite rock and metal covers, with a few great originals mixed in between. You can learn all about them if you go to their Facebook page and click on the link to Ian Strong's podcast "Strong Words" where he sits down with all of the guys and talks about the origin and evolution of the band.
Nate Myers and the Aces: Energetic, original music based in roots and blues… Nate has been playing solo, and even though he's doing a great job he's missing his band mates. They've been trying ways to be able to collaborate and record music together, but they haven't been able to figure out the perfect set-up yet. Nate Myers and the Aces haven been working on a new album, they hoped to have it complete by now, but since the pandemic put a hold on production, they decided to release a sneak peek of one song "Check Taylor" this is a song that they originally released 15 years ago and they play it at most shows because it is a crowd favorite, it's usually just played with Nate and Pete acoustically, so it's a cool mix hearing Chad on drums and Chris on electric guitar. I know I'm excited for their new release! They currently don't have any shows listed until the quarantine is released, but keep an eye on their website, www.natemyers.com for updates on upcoming shows.
Friend of Bob, another newer advertiser, I never got a chance to check these guys out and about, but hopefully will sooner than later. They have a cool contest going on right now on their Facebook page, if they hit 2,000 likes by May 8th, they are awarding one lucky fan a private backyard concert! I don't know about you, but I am ready for live music, any time.. anywhere! Another fun fact of Friend of Bob one member is Darren Cohick, one of the members of the band The Inciters, which is the first band I ever saw live at The Metron, sitting on a bar stool being babysat by Angie Gramm Finney.. the first bartender to serve me a drink.. a Shirley Temple with extra cherries!! A night I'll never forget…
DJ Addam is still live every Monday from 6-9pm on Lurch's Lair working hard to bring you the best original music out there! One song he played on his last show, April 27th, was "Autumn is Burning" from Images of Eden. They are currently finishing up production of their latest album "Angel Born" but they did an early release of this song with an official video. You can listen to the song along with a lot of other great music on the Lurch's Lair website, www.LurchsLairRadio.com. If you're tired of listening to your same boring playlists, checking out his website is a great way to keep yourself entertained during the pandemic, and even when you're free, sitting outside around a camp fire!
I recently saw The Juice! as part of Gettysburg Rocks. They were the first band of the night to get the people up dancing and having a good time. They play all of your favorite classic rock, blues, and even a few originals. They are lucky that so many of them take turns at the lead vocals, it really helps open up their set list to a great mix of music. With Tammy as the main vocalist they are able to nail a lot of great female vocalists like Stevie Nicks, Sheryl Crow, etc. They play as a full band, but also have the option of Acoustic Juice, of the husband and wife duo Randy and Tammy can play the smaller more intimate venues. The Juice! is ready to rock your venue, so give them a call and get them on your schedule!
Once this crazy quarantine is over and the venues get to reopen, we will all be able to check out the electric jam at Champions in Highspire hosted by the Blues Society of Central PA every Thursday. So far I've only made it to one jam, but it is pretty awesome. Everyone shows up and lists which instruments they play, and then they mix things up and get the jams started with a variety of musicians. It's awesome to see people just jamming and having a good time! In the summer months at Champions they are able to open up their deck doors and let the fresh air in, it's a cool place to hang and listen to great music with friends.
Big Bang was on our cover in August of 2019, if you want to read all about them, you can check out our Archived issues on our website, www.pamusician.net. They are an 80s cover band playing all of your favorites. They do a great job mashing songs together and making them their own to keep things entertaining and interesting. They are another group of seasoned musicians that have been playing for so long, it's hard to throw a request at them that they can't handle. They've been laying low during the quarantine, but they hope to be rockin again on May 30th at Riverbillys Grill and Bar in Huntingdon. Keep an eye on their Facebook page (bigbangpa) for any updates to their schedule.
We all know how much I love my merch. Well, our amazing merch people are Artistic Image Screen Printing & Embroidery. They are located in Newport, but they can ship merch anywhere. You can check out their website, artisticimagescreenprinting.com, check out their great deals, and do your whole order online! Technology is a beautiful thing. Obviously the more you order the cheaper your merch is. My favorite order was when I called and talked to one employee, Jonny from Suicide Puppets and said I'm sick of wearing black, which of course he couldn't understand, but he just randomly went through their extra pieces and sent me a bunch of cool colors of our merch. Now I don't feel like I'm wearing the same clothes every weekend. HA! Thanks Artistic Images!
The South Bound Band is Central PA's Tribute to the Allman Brothers Band. SouthBound strives to capture the essence and spirit of the Allman Brothers Band in admiration of one of the most influential bands in modern American music history. During this pandemic they've been busy getting ready for the future, they just put together a new Demo video, they are ready to get out there and book some shows and play some music! They've also been posting videos of previous shows to keep their fans entertained. Please check them out for yourself at www.thesouthboundband.net. They hope to be playing at least by June 6th at the American Legion in Stewartstown.
Tax Time!! What's that? How do you do that?? Well, this year everything is even a bit crazier with the extension to July 15th, but have no fear, The Bookkeeper, Rita Casey, is here! Rita specializes in accounting, payroll, and bookkeeping services for individuals and small businesses. Her husband is in the band Defiant, so chances are she also has experience on how to get a band organized to file properly. Don't stress about the words "tax time" just take your messy box of receipts and what nots to Rita, and let her help get you organized and get all of the deductions you possibly can!
JT Thompson is a piano/keyboardist that you can catch playing out around the Altoona area in a variety of bands. His main band is JT Thompson and The Denicats, but he can also be seen playing with: Natascha & The Spy Boys, Jackie Brown and the Gill Street Band, The Triple A Blues Band, Maxwell Strait, or many more. JT has been playing all around the US since the 70s but in 2002 he found his way back to his hometown of Bellefonte. You can now find him entertaining people all over the Centre Region from nightclubs to restaurants to private gatherings. If you want him booked at your venue, check out his website, www.jtblues.com.
Maiden America is ready to rock our faces off!! We just have to get these crazy venues open! It has not been easy for any band to have to cancel so many shows, one way to help them is to still order their merch. Maiden America just released a new super cool shirt. You can see it for yourself on their Facebook page. They are only $25, which includes shipping.
Penntera has also released new merch, including women's tank tops just in time for Summer. Their new shirts are only $20. You can check out the new designs on their Facebook Page. Penntera is also going Live from Quarantine, Saturday, May 2nd at 7pm. If you miss it live, it will still be on their page to view later. They will be performing your favorite Pantera tunes and taking requests, plus they will have a live Q&A. It's a virtual happy hour where you can hang out in real time. They are hoping it will be a "Germ Free Stream!" Again, the way the bands are getting creative is very interesting, I know I can't wait to check out that stream!
Close to Consideration is still hoping to play at the Weekend at Wofie's, a 3-Day camping and music festival June 11-13 at Fort Royale Farm in Bedford, PA. You can check out more info about this crazy festival at www.bumpinugliesmusic.com. Chad Wright and Austin will be joining forces once again with some special guests to bring you a special CTC set that you won't soon forget! If CTC isn't enough "Austin" for you, you can also check him out playing in his other band Blind Accuracy. Both of Austin's bands are full of crazy energy that will have their fans up moshing and dancing along!
Six Bar Break was the first band I watched streaming live to Facebook as part of the Quarantine Live Streams. Their first live stream was the full band, but unfortunately due to all of the lovely regulations, Ben was soon jamming alone. He does a great job at keeping Six Bar Break in your newsfeed with Quarantine Live Streams at least once every week! If you have a couple bucks when you're enjoying all of the live streams, please consider adding some money into their virtual tip jars. Some bands have lost 10, 20, or even more shows because of this crazy quarantine, that is a lot of money lost! They need all of the help we can give them. Their next show is currently listed as May 8th at The Porch in Myerstown, but it will probably more likely be May 29th at Spring Gate Winery. Keep us a close eye on them at www.sixbarbreak.com.
Prairie Dogma's Facebook page is a perfect example of we are all in this together. Even though they'd rather be playing, their page is filled with posts promoting all of the businesses where they regularly play. Letting people know the businesses are still open for curbside pick-up, delivery, or whatever the case may be. Prairie Dogma is a quartet that plays a bunch of covers mixed in with some great originals. All of them perform vocal duties which helps make their set list even more diverse. You can check out videos, songs, etc. on their website, prairiedogma.net. They hope to be playing the Hepburn Twp. Vol Fire Co. Carnival on May 14th, but chances are their next show will be May 30th at the Isle of Que Brewing Company in Selinsgrove.
Latimore Sky finally has a full band and they are ready to rock and roll, and then the Pandemic hits! It is so frustrating for anybody, let alone a band that just wants to play! Latimore Sky regularly takes off for the Summer, so chances are they won't be playing again until Fall unless something pops up for them. PJ, their lead singer recorded a special Inside the Song video about their song "Just a Devil". I'm hoping he keeps making videos and entertaining us even though they aren't playing out. I love it when bands take the time to explain the meaning behind their songs. I know songs can mean different things for different people, but I like to see what they were thinking as they wrote it. Thanks PJ for explaining your song to us. Hopefully we get to see you rockin' again soon. You can watch PJ's video on their Facebook page.
The Cadillac Cats are doing their best to keep the blues alive in PA, but this quarantine is making it very difficult. Bands work so hard to get any gigs that they can, and then watching as all of them are getting cancelled is unbelievably frustrating. They are holding out hope that they will still get to play their show at Riverside Campground on Sat. May 9th, or maybe at the Red Run Gun Club on May 16th. You can keep an eye on everything The Cadillac Cats are up to on their website, thecadillaccats.com.
Derek Henry was just getting the groove of doing his own solo shows, plus playing with Observe the 93rd, throughout the months of March and April he lost 24 shows. Derek has been playing "Live from his Living Room" on Thursday nights at 7pm. His shows turn into a happy hour of sorts. We are all used to being together at shows, so at least when he's live it gives us all a place to gather and check in with each other. Derek takes requests through his live stream, and does his best to keep his fans happy. Derek has also been really promoting Observe the 93rd merch. At one point he was even hand drawing doodles to send with the merch purchases to add in a special personal touch! You can check out OT93's merch on their website at www.observethe93rd.com.
Katz 22 is bummed they can't all be together rockin' out and fine tuning more new songs, but they are making the most of this craziness. Kathy has been doing some solo songs ripping away on her guitar and singing some great songs. A couple hundred people also tuned in to listed to Dr. Zach Nyce playing hymns on his piano on Easter Sunday. Zach has been playing on his personal page at least once a week, keeping everyone entertained. I've also seen their drummer John Hawk fine tuning his drumming skills and sharing his tricks with the world wide web. These guys and gal are constantly working, making their music the best that it can possibly be! They will hopefully be back at Duke's Riverside on May 24th just in time for Memorial Day Weekend. They also have a show coming up May 30th at Union House Taproom and Livery in Richland. Keep up with all of their events at www.katz22band.com.
Speaking of Union House Taproom and Livery, we are hoping they can get back to full operations again soon! They have been a great supporter of live music and of us, The PA Musician Magazine. It wasn't feasible enough for them to stay open for curbside pickup so they closed on March 16th. Hopefully they soon get the all-clear so they can open up again, and we can get back there to enjoy their delicious food, great music, and very refreshing drinks!
Stonewood is patiently waiting to get back out there doing what they do best, entertaining the masses. Their one guitar player, Kenny, has been recording and sharing a couple of teaser songs for us, but hopefully we will get to see the full band rocking again soon. Shannon is an amazing lead singer that loves to interact with the crowd and the whole band does a great job at keeping everyone entertained. They have a pretty full schedule kicking off May 8th at The Burning Bridge in Wrightsville. You can keep an eye on their schedule and their shows near you on their Facebook page.
Steel is ready to rock the Tourist Inn in Hallam on May 9th, but the big question is, will they be ready for Steel? We know that their DAM Party show has been postponed til September, but hopefully they get some more shows booked in between the two dates, it's been way too long since I've rocked out with my Steel family. You can keep up on all of their shows at their website, www.steelrocks.com, you can also purchase their merch, or order their original CD. Their CD is by far one of my faves!
X-Terra has been advertising with us for as long as I can remember. They have been rockin' it loud and positive since 1985. Bob and Anne both felt a calling to perform music that would have a positive message and glorify God, hence X-Terra was born. When the PA Musician Magazine asked for help, X-Terra was one of the first bands willing to step up and play. It was cool to be able to see them live. They are constantly writing new songs and recording CDs. You can listen to their music and find out more information at xterrarockband.com.
Bob Randall has written and recorded country music with an outlaw edge his entire life. He has played all along the East coast and in 2019 he was inducted into the New York State Country Music Hall of Fame. He's hoping to still have his show June 5th at Castlerigg Wine Shop in Carlisle. If you like Waylon, Merle, Willie, Cash, Coe and more, along with Bob's original songs, this is the place to be! You can check out plenty of music and videos on Bob's website, www.bobscountrymusic.com.
I've seen Calling Off Doug quite a few times, and every time I know it is going to be one heck of a dance party! Another very diverse band where most of them can take the lead on vocals and rock out to their own special songs. Stephanie does an amazing job at belting out all of your favorites, all while making sure the dance floor stays hopping! They hope to be dancing the night away at Sun Valley Campground in Narvon on June 13th, and then they will be returning to Chick's in Hummelstown on July 10th. You can "like" and "Follow" them on Facebook to keep up with all of their latest events, and they also have quite a few entertaining videos on there too.
The Eagle Hotel in Fredericksburg is still going strong with their Curbside Take-Out and Delivery of all of their delicious foods! You can check out their specials in their ad in this issue. They are having Sunday Funday with 10% off their entire menu! And Wednesdays, that Cheesesteak Special looks amazing!!! It's super sad to see they don't have any entertainment scheduled, but we know that Mike will get the bands, acoustic acts, and DJs back in there as soon as he possibly can. The Eagle Hotel is a great supporter of the community, racing teams, bands, etc.. Now it's time to pay him back. Check out their full menu online at www.fredericksburgeaglehotel.com and get your dinner from HOOOtel! All of their food is simply FABULOUS!
Yak Bone might be going a little stir crazy during all of this madness. I know for sure they are ready to party til the cows come home! They have a date scheduled for May 15th at Chick's Tavern in Hummelstown, I'm hoping it happens.. but we shall see! If you haven't seen it yet, you have to go to their Facebook Page and check out Ro's newest original "Corona Chubb". She is quarantined at home, so she plays guitar and sings along with her wife Cindi, it is hilarious and so true!! I definitely have some Corona Chubb going on. They are the first band I saw release a true "pandemic" song. Keep an eye on their Facebook page for updates about their show, and any new gigs they might add.
The Racehorse Tavern is also currently closed, but they haven't been sitting around, the entire bar has been scrubbed from top to bottom and they are making improvements and updating things around the bar to keep their patrons even safer when they get to reopen. The Liquor Control Enforcement paid them a visit and gave them props on what they are doing with the bar. All of the shows have been postponed for now, but they are in discussions with bands and promoters making sure they are ready to get dates finalized when they get the go ahead! Hopefully it will be sooner than later. Jimmy always treats his patrons like family, and he desperately misses everyone. Hopefully we will all be partying together again soon!
Noteworthy Guitars on Main Street in Mechanicsburg are also eagerly waiting the approval to be open full time specializing in repair and service of stringed instruments. Ed also has a store filled with Vintage and Used Equipment. You can buy or trade equipment. You can also kickstart your musical journey by signing up for guitar lessons. Noteworthy Guitars has over 30 years of expertise in guitar sales and services. When things get back open, stop in and see everything Noteworthy Guitars has available. You can also check him out online at www.noteworthyguitars.net.
Speaking of Vintage, once things are open, you can also take a drive over to Players Exchange in Lemoyne, his store is practically like a museum! Players Exchange has been open for over 20 years, he has all kinds of crazy cool vintage guitars and collectibles. He has affordable, quality, used guitars and amps. He also has Vintage Guitars that are just fun to look at! Scott has also been a bass player throughout PA and beyond for over 40 years, if you want to know the history of the music scene in central PA, Scott Frange, the owner of Players Exchange, is your man.
Who hasn't been amazed by the pictures Chris takes from Chris Rider Photography?!? Don't forget photo equipment is expensive. I know it's fun and easy just to share pics on Facebook and give it a big thumbs up, but if you truly love his "art" reach out and buy his work. He also schedules photoshoots for your band or business for a small fee. You can pay him to specifically come cover your show, or just shoot promo shots, whatever your photography needs might be, Chris is your man! If you like any of our photos, mine, Jim Price's, Eric's, Chris's.. all images are always for sale. Just send us a message on Facebook and we will be glad to hook you up. Jim Price will even print images of his caricatures, or he will even sketch you specifically if you ask him.
Another music store down in York that has a great mix of new and used instruments is Guitars on George, obviously located on George St., Jerry Duncan has a store full of treasures at great prices. When I sat down with Jerry it was cool to see him interact with his customers as they came in. They are all long term customers who know they need to stop in regularly to see what's new and maybe just to drool over something that's been hanging there a while. Jerry is also another musician that has been around and knows more about the local scene than the scene itself. Jerry posted on Facebook that when he is allowed to re-open it will only be by appointment or by chance. There will be no more scheduled store hours, so make sure and call before ya go! 717-650-2007.
You know Jim Price is a man of many talents?!? He does his article, hot shots, and caricatures, but he is also an actual Professor at Penn State Altoona, hosts his Homegrown Rocker show on Quik Rock 105.9, DJs Trivia at local bars, etc., and he plays in his own band, The Backyard Rockers, oh and the guy grows a garden! The guy is a beast and deserves all of the appreciation he gets. If you missed his article last month on his drawings, please check it out on our website Digital Issue archives.
Sterling Koch and the Freeway Jam are trying to stay busy during the quarantine. They have been posting flashback videos, but I hear they will be going live on their Facebook page This Sunday, May 3rd at 8pm. All proper social distancing protocols will be followed! The first event listed on their Facebook page is June 7th at Stone Mountain Wine Cellars in Pine Grove. Make sure and tune in to the live stream on Sunday, and if you miss it live, I'm sure you will still be able to watch the recorded show. Keep an eye on their Facebook page for any updates.
Creter Guitar Shop has been put through the ringer with strange floods and now a Pandemic, but no matter what Matt and his team don't give up! As soon as they are able, they will open their showroom to the public, but for now their repairs continue with curbside pickups and drop offs. They also have most of their guitar/amp inventory available to see on their website, www.creterguitarshop.com. When they are up and running again, they do have 4 independently contracted instructors that give lessons on Electric or Acoustic guitar, Bass, Banjo, and even Mandolin. They have limited time slots available, give them a call now to get your lessons scheduled, 717-865-3677.
We have a new advertiser this month, The Unforgettable Big Band. They were the winners of the Central PA Music Awards for Best Ensemble, and now they have been nominated for Harrisburg Magazine's "Simply the Best Directory" in the category of Best Local Band. Voting ends June 15th and you can only vote once per category during the voting period. So while you are stuck at home, go to the link on their Facebook Page and give them a vote, and while you're there check out all of the categories and pick your favorites. The Unforgettable Big Band is celebrating their 20th year anniversary, and they are so excited to be getting nominated and winning such amazing contests. It just all shows you that eventually, hard work does pay off. Hopefully they will be back playing out and about soon!
Guitars on Main also offers Sales, Lessons, and Service right on Main St. in Mt. Joy. Their showroom is currently closed, but they have a full store on their website, www.guitarsonmain.com. They've still been adding to their inventory and are constantly throwing up pictures on their Facebook page to keep everyone up to date. Guitars on Main was built on giving guitar lessons. They offer guitar, bass, ukulele, mandolin, and beginner banjo lessons. They teach all ages, styles, and skill levels. Your private lesson is tailored to your needs and interest. If you would like help along your musical journey give Bob a call at 717-823-6945 and he will be glad to answer any questions.
Data Music Services is another long time advertiser. Dr. David Vilani D.M.A – is the owner, producer and engineer. He has over 30 years serving the music community. He is also an Audio Engineering and Pro Tools Instructor at Penn State Altoona. You can reach out to Dr. Dave to learn pro tools for college credit! Feel free to email him at ADV2@PSU.EDU for all of the details. He is always seeking raw talent and great songs, and focusing on producing new artists and bands. Check out his studios online at www.datamusicsvcs.com.
Guitar Villa in Bethlehem is a music store and custom shop. Many years ago word got out that there was some bass guy out there that knew a lot about the nuances, features and set-up techniques for old basses and amplifiers. The vast list of visitors started growing and the realization that this might just be able to become a business was realized, and eventually came to fruition. He even wrote a column in Bass Player Magazine titled "The Great Basses" for 33 months. Guitar Villa has a very extensive website at www.guitar-villa.com where you can see their inventory or order your custom build. They also have a wide range of music lessons available, they are even set up to do online lessons during the Pandemic, so if you're bored and want to learn something new, get on their website and get your personal remote lesson scheduled!
Canadian American Records has also been an extremely long time supporter of the magazine. They are America's original indie label, celebrating 6 Decades of business! Joey Welz has been creating music longer than I've been alive. I heard someone wailing away on a piano at this past MMC, and I knew before I even saw him, it must be Joey. Sure enough there he was "Rockin Around the Clock". Let someone help you with your grunt work and getting your music released worldwide. Someone who has been there and has been working hard his entire musical career to get to where he is today. Check it out online at, www.canadianamericanrecords.net, or give Joey a call, 717-627-4800.
Chris Dellaporta is still working hard at Woodshed Guitar Works. The showroom is closed, but the work bench is open. If you need anything or need to stop off/pick up and repair/service work, they can meet your curbside. He's also not opposed to picking up or delivering if curbside is too much. They also have their website that they are updating daily, www.woodshedguitarworks.com. If you see something on there you have to have, don't hesitate to give them a call or send a message. The hours are definitely modified during the craziness, but feel free to also give a call at 717-422-5794. Together, we will get through the craziness!
Mike's Music Shop is your headquarters for Electric Pick-Ups. I've never seen so many pick-ups before then when I walk into his shop. He doesn't get a lot of foot traffic, but it is crazy to see how much he is shopping throughout the world. He specializes in Dimarzio and Seymour Duncan Custom Color Pick-Ups, he has over 7,000 guitar and bass pick-ups in stock, and he's constantly getting more and shipping more out. He no longer has regular shop hours, but you can check out his selection at www.mikes-music-shop.com or give him a call at 717-580-2621 to make sure he will be there to let you take a look at all he has to offer.
Aaron Zimmerman from Sonic Productions is also probably close to one of the longest advertisers of the magazine. Obviously he hasn't been working now, but when he is working, he puts on a great show and is very attentive to every detail! So many bands in the area have depended on Sonic Productions for years, and will continue to do so when all of this is over. I know Aaron can't wait to get out there running sound and lights, or better yet, shredding his guitar with Steel!
Harrisburg Scottish Rite Theatre has been bringing all kinds of amazing acts to the Harrisburg area. They are sort of out on their own as the only entertainment complex in uptown Harrisburg, it's like they have their own secret location. I always wondered what the big square building was on 3rd St. in Harrisburg, and when I went to interview Lee Boltz about the theatre I was amazed! It has nice comfy tiered theatre seats, so everyone has a great view of the show. Their next big event is Vegas McGraw, the Ultimate Tim McGraw Tribute Band, and on July 24th, Bennie And the Jets, the Premier Elton John Tribute. You can check out all of their shows and ticket prices on their website, HarrisburgArtsAlive.com or on their Facebook Page, Harrisburg Arts Alive.
Also, just as an FYI if you saw the event Charity Rockz that was to be held May 23, 2020 at XL Live, it has now been postponed until May 15, 2021. IT will still be an amazing event, we just have to wait a little bit longer.
Well, there ya have it. Just shy of 7,000 words. That's what I get for thinking I don't have anything to write about this month. I totally didn't realize we had 52 advertisers when I started this process! Thank you all for your support!! Please do your best to hang in there and be kind to one another! Remember we are not all in the same boat, but we are all struggling through the same storm! If you need any support, food, mental, etc.. please don't hesitate to reach out, RachelRocks@pamusician.net. I'm really hoping I can see you all Out and About again real soon!!! Oh and get ready.. because as soon as I can, I'm hugging EVERYBODY!!!!