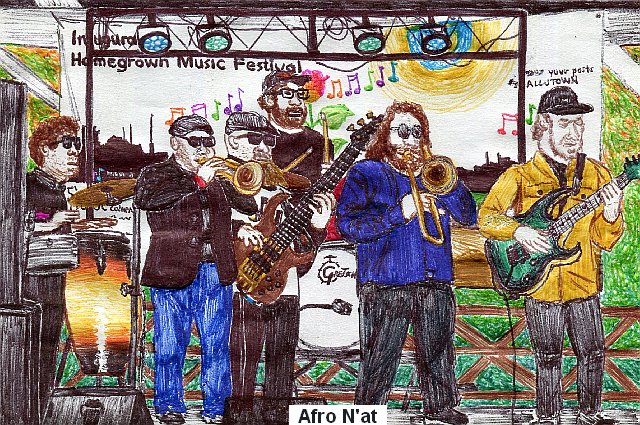 ---
November has arrived, meaning that Thanksgiving and the holiday season are just weeks away. While this has been a difficult and challenging year, I'll still take stock and be thankful for a number of things as we enter the season. Having just completed my 60th orbit around the sun last month, I'm thankful to have good health. (I just completed two lengthy hikes at Canoe Creek State Park and Kinzua Bridge State Park during the weekend preceding the writing of this article!) I'm grateful to still have employment. I'm thankful for the special folks in my life. I'm thankful for this area's resilient music scene, which has found ways to keep live music happening during this crazy year. And I'm thankful to be able to write about that live music in PA Musician, which has weathered the storm this year to mark its 38th anniversary this month! Thanks again to Josh Noll for continuing to provide this valuable resource to the state's music community, and for allowing me to continue to be a part of it!
Outdoor live music continued to happen throughout October. One outdoor highlight was last month's Inaugural Homegrown Music Festival at Johnstown's Lorain Borough Park. This was a great day, as this first-time event brought some great western PA-based music to the stage and raised nearly $2,500 toward the Community Foundation of the Alleghenies to help out area residents struggling due to COVID-19. The day's first group, The Ne'er Do Wells, were finishing their last song as I pulled into the parking lot, but started things on an upbeat note with their brand of indie Americana rock. Afro N'at took the stage next, and roused the audience as they stretched the parameters of their horn-driven funk and jazz fusion. Tom Foolery Buchko on trombone, Josh Covert on trumpet, Randy Penrod on guitar, Scott Jeffreys on bass, Elias Ghantous on drums and Mark Goncher on congas introduced a bunch of new original exercises, as well as tunes off their debut EP. The new material was adventurous and amazing, merging progressive jazz and rock elements with their brassy funk, jazz and jam flavors – envision Herbie Hancock and Santana meeting Mahavishnu Orchestra and King Crimson in a dark alley! Some of Scott's distorted bass lines were downright ominous and sinister, horns and guitar were mapping out interesting directions, and the percussion section was mixing up various rhythm patterns. The group often stretched out and explored these new sonic frontiers, all the while keeping the grooves steady. Afro N'at is working on a new recording, which should be available soon. Next up was Even the Odds, who brought a crisp-sounding mixture of melody-geared rocking covers and originals. Singer/guitarist Scott Roberts, guitarist Kurt Weidlein, bassist Jason Miller, keyboardist/guitarist Sam Adams and drummer Mike Hype sounded strong as they did numbers from the Talking Heads, Ramones, Don Henley, Men at Work, Dave Matthews Band, Foo Fighters, Weezer and more. They also did some of their own, introducing original tunes such as the reggae-toned "No Regrets," "New You" and others. Their execution was tight and clean, and Scott provided a clear and solid voice up front. Even The Odds showed constant enthusiasm, which helped trigger some dance floor action as they went along, and even prompted demands for an encore at set's end, which the group answered with a version of Weezer's "Undone (The Sweater Song)." As night arrived and the temperature started to drop, Van Waylon heated things up with their blazing set of classic rock favorites. Todd Harteis on lead vocals and bass, Sebastian Steele on guitar and Ben Ressler behind the drum kit quickly had folks dancing as they rocked tunes from Led Zeppelin, Tom Petty, the Rolling Stones, Black Crowes, Wilson Pickett and more. Van Waylon generated momentum with each tune; Todd was wailing on the vocal end, Sebastian was cranking out some fiery guitar solo displays, while Ben kept the beats steady and powerful. The group grooved up "Mustang Sally" to keep the dancers moving, took it slow and slinky on Ted Nugent's "Stranglehold," and closed the set with a blistering version of the Allman Brothers' "Whipping Post" to leave the crowd excited and happy. The Derek Woods Band picked up that happy vibe where Van Waylon left off, and carried it to the end of the show with their upbeat set as they mixed original Americana/rock-geared songs with various classics and hits. Derek on vocals and acoustic guitar, Joshua Carns on lead guitar, Joe Scheller on saxophone, Chris Schaney on bass and Chris Belin on drums kicked things off with Spencer Davis Group's "Gimme Some Lovin.'" They introduced several new songs that will be on their next recording, such as "Up in the Air," and they did tunes from their latest EP, "The Question," such as "Unforgiving Tree." They stirred up dancers – including the Celestial Fire Dancers performing outside the stage pavilion – with stirring renditions of the Allman Brothers' "One Way Out," Tom Petty's "You Wreck Me," Billy Preston's "Will It Go Round in Circles," Bob Dylan's "Like a Rolling Stone" and The Rascals' "Good Lovin.'" The Derek Woods Band kept it fun and charged, with Joshua firing off inspired guitar solo work and Joe delivering some tasty sax excursions along the way. They rode each groove to its limit, making the remaining audience members forget the colder temperatures and keeping folks moving on the floor. At set's end, they got called back for an encore, which they answered with a spirited version of Bobby Bland/Grateful Dead's "Turn on Your Love Light" to close out the night. The inaugural Homegrown Music Festival was a success with a good turnout, and this event will return next year at Lorain Borough Park.
Roundhouse Harley-Davidson, between Altoona and Duncansville, closed out their 2020 Pennsylvania Roundhouse Rally Concert Series last month with a three-day finale. I caught the Thursday and Friday musical activities…Thursday night was a special Veteran's Night concert, with Felix & the Hurricanes kicking off the music. Singer and guitar slinger Felix Kos, bassist and singer Jeff Clapper and drummer and singer Bob Watters already had the audience fired up when I arrived, as they stormed through renditions of Focus' "Hocus Pocus" and the Ted Nugent double-shot of "Stranglehold" and "Free for All" to end their set. After Typhani Russo sang the "Star-Spangled Banner," Ricky Lee & the Mustangs took the rest of the evening on a country-flavored joyride, mixing several of Ricky's original songs with country and rock'n'roll hits. Singing and playing acoustic guitar, Ricky was backed by his skilled Mustangs cast, including C'Jay Castello on lead guitar, Rick Wertz on guitar and vocals, Mary Villani on keys and vocals, Randy Rutherford on bass and Eric Wertz on drums. Setting the patriotic tone of the evening with his song "(America's) My Hometown," Ricky sang other original numbers such as "Back Then," "Somethin' Bout You," "God Bless America," "Who's Countin,'" "Home Free," the new song "One Day at a Time" and more. He and the Mustangs also did country hits from Craig Morgan, Jon Pardi, Big & Rich, Luke Bryan and others; and broke into rock'n'roll with favorites from John Mellencamp, Chuck Berry and Jimmy Buffett. Ricky allowed his Mustangs to shine as well, with Mary singing lead on Shania Twain's "Man I Feel Like a Woman," Rick Wertz leading the group on Wild Cherry's "Play That Funky Music," and Rick and C'Jay sharing some playful exchanges on their guitars. Ricky and the Mustangs kept the mood happy through their entire set, culminating with Ricky brandishing an American flag and running through the crowd during his set-closing original song "Looking for America." When the audience demanded more, Ricky and the Mustangs responded with their version of Elvis Presley/Travis Tritt's "T-R-O-U-B-L-E" to finish the night. And chili connoisseur that I am, I finally got to sample some of Ricky Lee's self-named brand America's Best Chili after the show – good stuff!
The PA Roundhouse Rally Concert Series took a heavier-rocking turn the following night, headlined by Los Angeles-based all-female Iron Maiden tribute group The Iron Maidens. Opening was Avenue Of Kings, who mixed hard rock and heavy metal favorites. This group has a new look since the last time I saw them; joining singer Matt Stoyanoff and guitarist Chris Silva are guitarist Rob Lynn, bassist Beau Cabassa and drummer Randy Wilson. Led by Matt's soaring voice, Avenue Of Kings did numbers from Megadeth, Scorpions, AC/DC, Judas Priest, Skid Row, Alice In Chains, Ozzy Osbourne and more. Matt displayed his singing acrobatics on versions of Queensryche's "Empire," Whitesnake's "Still of the Night" and a Helloween number. The group closed out their set with a powerful version of Metallica's "Master of Puppets," with Matt and Rob coming out in front of the stage to jam with the audience. After Typhani Russo sang "The Star-Spangled Banner," The Iron Maidens charged into their celebration of Iron Maiden music with "Aces High." Singer Kirsten "Bruce Chickinson" Rosenberg, guitarists Courtney "Adriana Smith" Cox and Nikki "Davina Murray" Stringfield on guitars, drummer Linda "Nikki McBurrain" McDonald on drums and Wanda "Steph Harris" Ortiz on bass fired through numbers from throughout the Iron Maiden catalog, showing ample skill and tenacity along the way. Their first show since February, The Iron Maidens mixed established and deeper Maiden classics such as "Die with Your Boots On," "22 Acacia Avenue," "Revelations," "Killers," "Phantom of the Opera," "Wasted Years," "Children of the Damned," "Two Minutes to Midnight," "Hallowed Be Thy Name" and more. Their instrumental skills were excellent and on target, especially the precision guitar leads from both "Davina" and "Adriana," and Kirsten displayed ample vocal range and intensity in the "Bruce" role. Some of the highlights included Kirsten donning red jacket and waving both the British and American flags during "The Trooper," the group's own 'devil' gracing the stage during "Number of the Beast," and – when the group was called back for the encore – their tall 'Eddie' mascot lunging around the stage during "Run to the Hills." ('Eddie' did lunge a little too hard at one point, though, decapitating himself and making a hasty exit from the stage.) The Iron Maidens' enthusiastic celebration of Iron Maiden's metal musical legacy brought unanimous roars of approval from the large Roundhouse crowd. The PA Roundhouse Rally Concert Series closed the book on the season the following night, Saturday, with Zac Grace, Zach Wade & the Good Grief and Creedence Clearwater Revival tribute group Green River. Watch for this concert series to return next year.
I enjoyed a special preview of a new western PA-based Allman Brothers tribute project last month in a rural setting near Saltsburg. The new project, An Evening With…, did a test run in front of an invitation-only audience of around 50 people. After some acoustic performers shared a few tunes to open the afternoon, Mount Pleasant-based quintet Contagious warmed up the onlookers with their set of rocking favorites. Lead singer Doug Halterman, bassist and singer Ed Secosky, guitarist and singer Bud Smith, guitarist John Brosh and drummer Jim Murray mixed up tunes from the Eagles, Spin Doctors, Tesla, The Hollies, .38 Special, Aldo Nova, Volbeat, Kiss, Skid Row and more. Contagious sounded strong and together, and they had fun rousing the audience with their hard-rocking sounds. Seven musicians comprise An Evening With… – including "Crawdad Joe" Dedon on lead vocals and bass, Tony Mollick on guitar and lead vocals, Matt Baranti on slide guitar, David Blake and Dave Resto on drums, Artie Lapka on hand percussion, and T-bird on keys. Kicking off with "Statesboro Blues," An Evening With… delivered a dozen heartfelt Allman Brothers classics, displaying excellent musicianship along the way. Among the Allman classics heard this night were renditions of "Midnight Rider," "Soulshine," "Blue Skys," "Ain't Wastin' Time No More," "Dreams," "Woman Across the River," "One Way Out," "Melissa," "Back Where It All Begins" and others. The guitar displays between Tony and Matt were stunning, Joe's and Tony's voices were strong, and this group clicked like a well-oiled machine, riding each tune to uplifting heights. According to Tony, the group will continue to add more Allman Brothers songs to their repertoire during the winter months, with the goal of being ready to bring their full-scale show to live concert and festival stages beginning next spring.
McGarvey's continued with more Sunday afternoon matinee live band performances in recent weeks, both outside and inside. Faded Flowers and Zach Wade & the Good Grief performed in the outside parking lot during the last Sunday in September. Under sunny skies, Faded Flowers opened the afternoon with their hook-packed, punchy brand of original modern rock. Michael Kensinger on the lead voice, Jarrett Bickel on lead guitar, Michael Wertz on rhythm guitar, Hunter Karns on bass and Randy Servello on drums enthusiastically presented their tunes to the gathered onlookers. Faded Flowers played at least a dozen of their original songs – including songs from their debut EP "The Side Effects of Living" such as "Stay," "Rollin' On" and "Do You Laugh When U Lie?" They also introduced newer numbers such as the funky-grooving "Black Lashes," "Where Do We Run," "Soul to Souls," "Out of My Head," "Tonite," "Can't Lose the Feeling," "Sunday," "Imagination" and "The Truth Hurts." The group injected two cover songs into this day's set, Stone Temple Pilots' "Vasoline" and their closing rendition of Queen's "Fat Bottomed Girls." This set demonstrated that Faded Flowers has a lot of forward momentum as they continue to develop catchy, quality songs and grow their fan base. For Zach Wade & the Good Grief, this was their first show since before all this COVID madness began, and they were clearly happy to be entertaining their fans and "fam" again. Namesake Zach on the lead vocals and acoustic guitar, Rogan Allen on lead guitar (playing a Gibson Explorer guitar for much of the day), Devin Pierce on bass and Keegan Allen on drums mixed up acoustic-rocking original tunes and select covers over their two sets. They introduced several new songs along the way, including "Phone a Friend" and "High Hopes," and also did tunes from their "@ the Bitter End" EP such as the title song, "Like a Coma," "I'll Survive" and the show-closing "Something Happened." They also did renditions of Prince's "Starfish and Coffee," plus tunes from the Foo Fighters, Stevie Wonder, Counting Crows, The Cure, Gin Blossoms and more. Like Faded Flowers, Zach Wade & the Good Grief showed they have creative momentum moving forward with their fresh cache of new tunes presented this day.
Chillier temperatures moved the musical action inside McGarvey's the following Sunday for a triple-bill. This presented my first chance to see new local rockers Lloyd, who opened the afternoon. This Tyrone-based foursome – Nick Munyons on lead vocals, Matt Savino on drums, Devon Johnston on guitar and Brandon Pry on bass – delivered a set of original emo-geared rock, punk and funk. Instrumentally Lloyd was tight and together, and laid down some interesting grooves, the launching point for Nick's agitated vocal displays. His style had a David Byrne quality to it, pushed to the next emotional level. Lloyd received a good response from the audience, especially on their last number, which rode a disco-styled rhythm before escalating to a total meltdown finish. Lock Haven-based trio Suburban Downgrade then took the stage to dish out their brand of thrashy, fast and furious punk rock. Zach "Spatz" on guitar and vocals, Andrew "The Eel" on bass and vocals, and Craig "Crater" on drums cranked out high octane, all-out assaults that brought the fury. Reckless abandon, feedback, spit and vinegar made this a fun set. And Mediocre Gatsby finished out the show with their punk-edged brand of melody-based rock. Kevin "Kevo" Quinn on lead vocals and guitar, Andy Mathias on bass and vocals, and Greg Brigham on drums did a number of original songs, including tunes off their forthcoming debut EP. Among their numbers were such tunes as "Candy Hearts and Razorblades" and their title song "Mediocre Gatsby," which ended the set; they also did their variation on Tom Petty's "American Girl." Mediocre Gatsby sounded solid and strong, and Kevin sang his words with edge and purpose. This was a good show, as all three bands brought distinctive styles and flavors to the stage, and those who showed up appreciated their efforts.
The ensuing Sunday's rainy forecast forced This Albatross' scheduled outside performance inside McGarvey's as well. The group nonetheless made it a fun time for the folks who attended. Singer Autumn Grooves Wagner, hubby and guitarist Philly Grooves Wagner, bassist PJ Kelly, guitarist Kirk Robison and drummer Shawn Gioiosa delivered three charged sets of favorites, mixing up classic rock, pop and country hits. While the Pittsburgh Steelers won the day's NFL battle of Pennsylvania against the Philadelphia Eagles on the wide screen televisions, This Albatross commenced their first set with Bonnie Raitt's "Something to Talk About," and continued with tunes from Gretchen Wilson, Aerosmith, Pat Benatar, Don Henley, John Mellencamp and more. The Black Crowes' "Hard to Handle" triggered the first dance floor activity, and This Albatross locked into their groove with the Joan Jett double-shot of "Do You Wanna Touch Me" and "I Hate Myself for Loving You," before ending the set with a surprise take on Whitesnake's "Still of the Night," highlighted by Autumn's powerful and soaring vocal heights. Resuming musical action with Joe Walsh's "Rocky Mountain Way," This Albatross proceeded in the second set with more great-sounding favorites, doing numbers from Walk The Moon, Pat Benatar, their excellent version of Stevie Nicks' "Edge of Seventeen," Blondie's "Heart of Glass," plus tunes from Madonna, Lit, Tom Petty and Lita Ford. Country sounds launched the nightcap set as This Albatross did Trick Pony's "Pour Me" and followed it with Shania Twain's "Any Man of Mine." After renditions of Kenny Loggins' "Footloose" and Joan Jett's "I Love Rock'n'Roll," the group welcomed Autumn's dad, longtime Altoona area frontman Steve Shiffler, up to sing lead on Georgia Satellites' "Keep Your Hands to Yourself." Songs by Billy Squier, Roxette, Pat Benatar and Tommy James & the Shondells brought the show to its close. This Albatross sounded strong throughout it all, playing their song selection with gusto and enthusiasm, and generating dance floor action several times throughout the performance.
[Just before this month's issue went to press, we received the sad news that Steve Shiffler passed away unexpectedly on October 28. Jim will share more about Steve and his memories next month.]
After Ebensburg's annual Potatofest got mashed for this year due to COVID-19, a smaller-scale event, the Spud Stroll, instead took place on the same day in late September with local businesses running sales and specials spaced throughout downtown Ebensburg. Live music was a part of the day, with performances at the Penn Eben Park's gazebo. The Matt Wagner Duo performed earlier in the day, and I caught much of The Boomers' performance later in the afternoon. Singer and bassist Bob Helbig, guitarist and singer Dave Nichols, and drummer, keyboardist and singer John Shimko kept an all-ages audience of music fans and passers-by happy with their blend of classic rock'n'roll hits. Their song selection spanned early rock'n'roll favorites like Roy Orbison's "Oh Pretty Woman" to the funky double-shot of Wild Cherry's "Play That Funky Music" into Parliament's "Give Up the Funk," to classic rock numbers from Bruce Springsteen, Lynyrd Skynyrd, ZZ Top and more. The Boomers' final set was highlighted by two lively medleys; the first saluting Tommy James and his second-generation Shondells (which The Boomers noted were from western PA) with "I Think We're Alone Now" into "Hanky Panky" and "Mony Mony," and the second stringing together The Hollies' "Long Cool Woman," The Champs' "Tequila," Tony Joe White's "Polk Salad Annie" and CCR's "Suzie Q" to end the afternoon. The Boomers are always fun, from their lighthearted personalities on stage to their instrumental skills, including John playing keys and drums at the same time and Dave's clean and inspired guitar solo work. The Ebensburg audience didn't want this party to end!
And after an afternoon of working out my PA Musician delivery muscles early last month (when the print edition returned after a few months away), I headed to Huntingdon to catch some food and live music with Dylan Miller at Stone Town Cafe & Gallery. This was a pleasant show, as Dylan entertained diners in the Café's outdoor courtyard. I ordered up a tasty dish of chicken parmesan over pasta as Dylan proceeded through his opening set, mixing original songs with select blues and other cover material – two of his covers early on included his arrangements of Bryan Adams' "Run to You" and Tommy Tutone's "867-5309/Jenny." As Dylan took his intermission break, he shared his stage with three students from nearby Juniata College – two ladies and a guy – who entertained the onlookers with a set of covers, many from the 1960s. I had a moment of pleasant reflection during one of their songs, when they broke into Simon & Garfunkel's "The Boxer" – as I watched these young musicians perform a song that came out more than 30 years before they were born, I thought about one of my earliest exposures to rock'n'roll music, when my mother used to play a Simon & Garfunkel (vinyl) album on the living room stereo when my age was in the single digits, and "The Boxer" was one of those songs I remembered hearing back then. I thought of how these young musicians were inspired to play one of the same songs that awakened me to rock'n'roll all those years ago! It was cool to hear this trio doing other songs from that era from Ben E. King, the Beatles, Elvis Presley, in addition to a number from Jeff Buckley and a rendition of Leonard Cohen's "Hallelujah." Dylan then returned to perform his nightcap set. He again did many original tunes, including one he co-wrote with Doug Forshey, and he also did songs from bluesmen Mississippi John Hurt and Lonnie Johnson, plus Hank Williams Sr.'s "Hey Good Lookin,'" Willie Nelson's "On The Road Again," Waylon & Willie's "Mamas Don't Let Your Babies Grow Up to Be Cowboys" and more.
News and notes…The public event cancelled for this year due to COVID-19, the Patched Together From A Distance: 2020 Concert happens online Nov. 13, with performances from Rick Wertz, Mellissa Vella and Matt Otis & the Sound to raise donations for Home Nursing Agency's Healing Patch program…After a successful first event in late April, Live United Live 2, an online fundraiser for Centre County United Way, will take place on December 4, and will feature at least 12 area bands and performing artists, along with opportunities for community members of the community to donate online; performers for the event will be announced later this month…Two area music names have earned nominations for the upcoming annual Hollywood Music in Media Awards (HMMAs); Zupe's Christmas polka song "Dasher, the Reindeer" has been nominated for Best Holiday Song, while the Derek Woods Band's song "Unforgiving Tree" has been nominated for Best Americana/Folk/Acoustic Song. The awards take place on January 27 at Avalon in Hollywood…Images Of Eden have signed an official recording contract with Pavement Entertainment for the worldwide release of their fifth album, "Angel Born," expected to be released in February…Another Pittsburgh area live music venue has shut its doors – Hambone's in Lawrenceville closed permanently following the passing of owner Jeff Holt in September and COVID-19-related debt issues with a bank…Bad Luck Lover Boys recently added Adam Lingenfelter on bass; the group is recording a full-length album expected out later this month…Tim Woods has released his new album, called "Vortex."
Please send correspondence and recordings to: Jim Price, 1104 S. Catherine St., Altoona, PA 16602. You can also e-mail me at jptheprofessor@gmail.com. And if you're into social networking, look me up on Facebook. Happy Thanksgiving, keep washing those hands and wearing those masks, and SUPPORT LOCAL MUSIC!
[all photos on pages 16-20 by Jim Price]