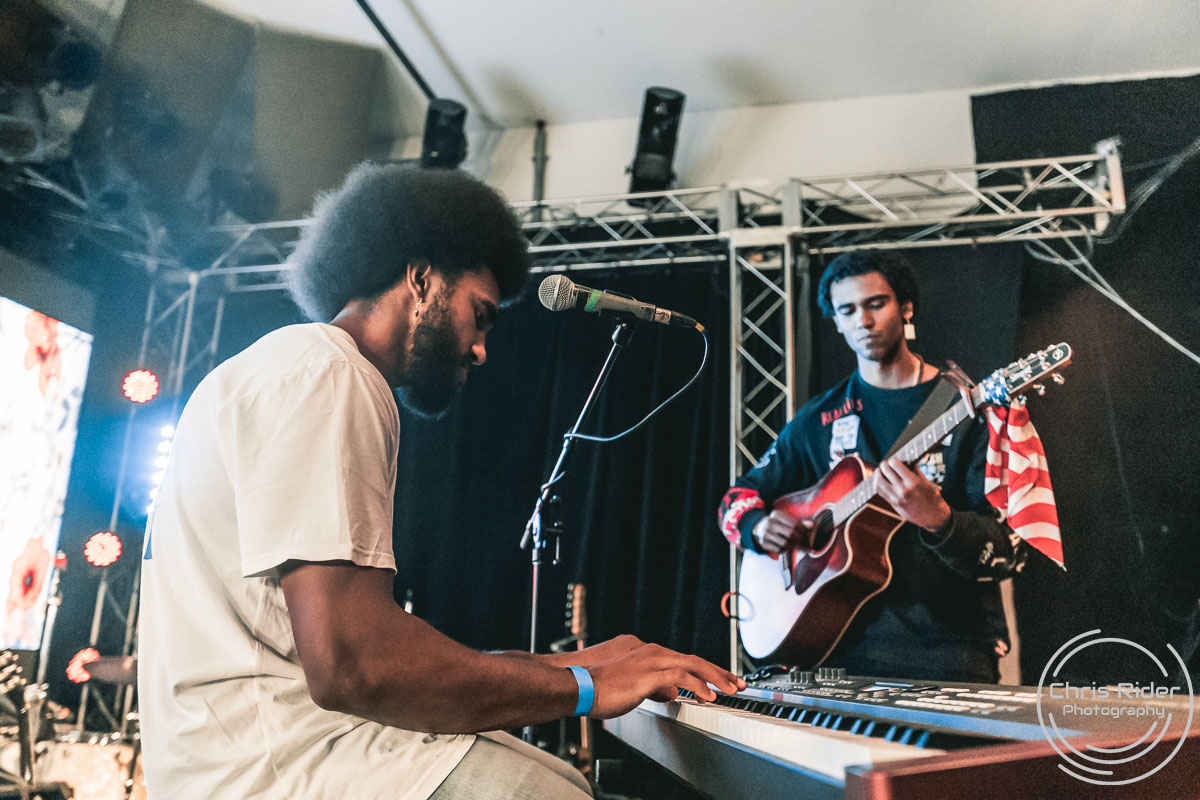 ---
By: Chris Rider
Jeans & Hoodie weather are here! Not gonna lie, I've been looking forward to it along with the associated bonfires, good friends, music, maybe a glass or two of whiskey or bourbon. September was another busy month covering 13 groups of various genres as well as a few promotional photoshoots. A number of the performers I saw this month were CPMA nominees and winners as well. In a few days I'm going to spend the day out in Landisburg at Tuscarora Records for Kingfish & Friends' 2nd annual Community Days promoting both myself and Pennsylvania Musician, listening to several handfuls of different musicians, and seeing a lot of other creative artists' vendor booths. Hopefully I'll see you there!
My first trip out was along the Yellow Breeches Creek to Cold Springs Inn for a solo acoustic performance by Colt Wilbur (CPMA nominee #1 for this month). Colt covered a slew of songs such as Long Haired Country boy, I'm On Fire, Rocky Mountain High, Folsum Prison as well as a few of his originals. Colt's solid guitar work combined with his powerful and booming vocals made for a great, relaxing evening along the creek.
The following night I made the really short trip down to Ferryboat Campsites here in Liverpool to see my buddy Dave Gates (CPMA nominee #2 for this month) play a show. I have to say, this was the first time I've seen a musician play a show on a stage surrounded by golf carts, all were lit up with a variety of LED lighting as though they were at a local car meet LOL. Dave played a wide variety of songs (seriously, check out his song list on his website: davegates.org) including Some Kind of Wonderful, All for You, All Along The Watchtower and of course one of my favorites: Riders On The Storm. Dave also took a number of requests from the crowd with only one of them being a song he wasn't familiar with. I also want to thank Jack-azz Distilling who brought their stand out of Spring Glen for the evening. I sampled a lot of their wide array of products and thoroughly enjoyed their Vanilla Malt mixed with root-beer!
A few days later I headed down to HMAC for a rock show that promised to have my ears ringing for a day or two. The first night of their Eastern US tour, starting off the evening was Lions At The Gate, an LA based 5 piece rock band that played with power and a ton of heart. Uncured took the stage next; a New Jersey based rock band that had awesome energy, lots of hair, sweet lighting and made an interesting mix of rock with some pop and metalcore mixed in for flavor. Third on the bill was a band I first saw play a year ago: dual-female fronted rock band Butcher Babies. Heidi and Carla took the stage and owned it from the first note with a crowd that love them. They have a powerful stage presence, infectious energy, and interact with their crowd constantly even coming down in to the photo pit to sing along with fans. Playing a few of their hits like Tight Rope and End of Time and also played a few songs that were, according to them, the first time they've played them live: Heaven's a Lie and Daylight Dancer. I've listened to Lacuna Coil for a long time, it was an amazing experience finally seeing them live. Studio recordings of Cristina's vocals just don't quite do her justice…she was simply amazing.
My next trip out was a bit further south for the Gettysburg Wine and Music Festival. This was my first time down for this event, but it certainly won't be the last. This was a large event with a ton of vendors sampling and selling wine, beer and distilled yumminess, cigars and many other things. They had three music acts lined up for this day (it runs for two or three days apparently) and started off with Corina Rose (CPMA nominee and Award winner #3 for the month) playing a solo acoustic set singing in her soft and sweet voice. Covering a nice variety of songs like What's Going On, Zombie and Mississippi Girl, Corina did a great job getting the crowd in to the stage and singing along with her. Second up for the day was my pal D-Bo! (CPMA nominee and Award winner #4 for the month). Playing a mix of originals like Seventeen Summers with a sort of reggae hiphop jam feel to it and an incredible Purple Rain. He even came out with the crowd to teach them the D-Bo! Dance. Ending the entertainment for the evening was a new band to me, The Regan Years: and 80's Party Band. Covering hits from the 80's like When Doves Cry, Hit Me With Your Best Shot & Living On a Prayer, these folks were an absolute blast and had the crowd dancing and singing along.
I ended up back at HMAC the following week for the Central Pennsylvania Music Hall Of Fame's Music Showcase. I was a little worried about turn-out as they had a big sold-out show upstairs in the Capitol Room, but they quickly vanished as I watched people rolling in to the Stage On Herr. PA showed up not only for the show upstairs, but also for our great local musicians as well! Starting off the evening was Brenda Brune (CPMA nominee #5 for the month). Brenda brought her solo acoustic Americana/Folk style to the stage with a strong and sultry voice performing all original tunes. Next up was Dandy (CPMA nominee #6 for the month), an acoustic duo that just recently added a drummer, this being their first performance as a trio. The guys had a great sound to all of their original tunes as well as a cover or two including Yellow. Number of the Sun (CPMA nominee #7 for the month) rocked the stage next with their alternative rock that had a definite psychedelic feel to it performing all original music. The crowd demanded an encore so the guys came back up and finished with an awesome cover of The World Is A Vampire. Headlining the evening was Joey Dalto (CPMA nominee #8 for the month) with his first live performance of his solo album released in 2020 "All For You". Joey has clearly surrounded himself with very talented musicians that played their hearts out while Joey belted out his gritty lyrics in an incredible performance. It made for a beautiful night of music. Keep your eyes open as CPMHOF already has their next Music Showcase planned out and based on what I've heard, it's gonna be an absolute banger!
My final trip of the month was to a private party in Dauphin County that had hired in a band. The Extractors hail primarily out of the State College area and do a really wide variety of covers. This evening they played 2 long sets of music including Just The Two Of Us, Two Tickets to Paradise, Reeling In The Years, and U2's With Or Without You. There was an awful lot of talent on that deck, I look forward to hearing more from them in the future.
So there it is, my month of music through my eyes and ears. It wasn't my plan going in to the month, but out of the thirteen performances I got to enjoy this month, EIGHT of them were CPMA nominees/winners. I think that says an awful lot about the caliber of our live music scene that we've got here. Just a reminder: if you've got a show coming up that I should see; make sure to send me an invite, shoot me an email or a message, let me know about it. Venues: please don't hesitate to reach out to me as well. The majority of the shows that I go and shoot I find out about through invites from all of you or your friends. Hit me up on facebook: @chrisriderphotography or email: chrisriderphotography@gmail.com, stop me if you see me out & around and say hi. Until next month…go find some live music and give them and the venue your support, they truly need it more now than they ever did.