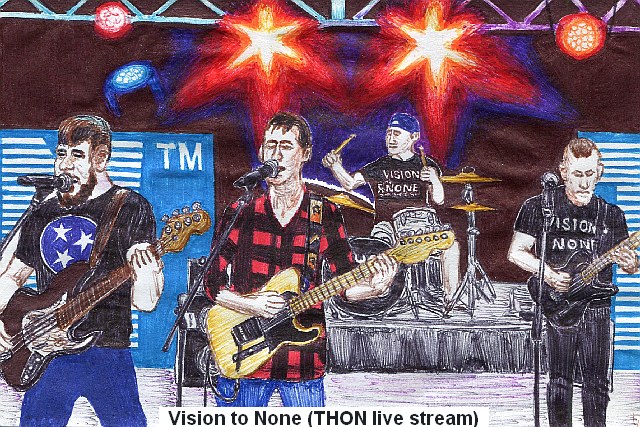 ---
By: Jim Price
With the easing of COVID-19 restrictions on the state's restaurants and bars early this month, more live music venues are starting to open back up, and the arriving warmer outdoor temperatures should open some outdoor options for live music to happen again soon.
At present, though, COVID-19 still continues to impact venues and events. One of those events was the 25th annual Millennium Music Conference (MMC) in late February. Usually staged in-person in the Harrisburg area, this year's MMC took place virtually via video-conferencing (Hio), Facebook and YouTube. It was a different experience, but it was still largely successful as visitors to the virtual conference could arrange private mentoring sessions with music industry representatives, visit the virtual trade show tables (thanks to all who stopped by the PA Musician table, and especially New Jersey-based singer and songwriter Amanda Rose Riley for the serenade!), and view streaming video presentations by conference panelists throughout both days on Facebook and YouTube. Also included was a keynote speaker, as Frank Schofield presented "Branding Harrisburg University: Live Entertainment," which focused on how he started the Harrisburg University Concert Series in 2018.
One of the more fascinating panelist presentations I saw was Dr. E. Michael Harrington's feature on musical copyrights in court. A professor in music copyright and intellectual property matters with Berklee Online, Dr. Harrington cited several high-profile copyright cases where musicians alleged that their creations had been copied. One was the 2014 case alleging that a part from the beginning of Led Zeppelin's "Stairway to Heaven" had borrowed heavily from Spirit's 1968 song "Taurus." Dr. Harrington pinpointed the passage in question as a descending chromatic pattern, and proceeded to play the similar passages from both songs. But he then established that chromatic patterns are not considered original or protected by copyright, and demonstrated this by playing clips of similar descending patterns from songs throughout music history, including "Chim Chim Cher-ee" from "Mary Poppins" and even a passage from a Johann Sebastian Bach composition. Dr. Harrington referenced other copyright court cases, and stressed that copyright lawsuits are expensive, time-consuming, and mostly unsuccessful.
The conference's musical showcases also happened virtually this year, with showcasing bands and musicians submitting recorded live performance mini-sets, which were compiled into longer-form video showcases shown on YouTube. I got to check out nearly all of these performance clips and encountered a wide variety of music, making several fascinating discoveries along the way. Some of the standouts for me included Boston-based a cappella R&B fivesome Ball in the House, who did everything by voice, including percussion and bass sounds! Also good were funky performances by Chicago's Adem Dalipi Band and Arlington, Texas 8-piece funksters Artemis Funk. I also enjoyed the uniqueness of Los Angeles-based Russian-American singer, songwriter and pianist Marina V with her gentle and personable blend of voice, piano and insight; Hungarian jazz artist Rozina Patkai with her distinctive pairing of jazz and European folk; Netherlands-based singer/songwriter Kralingen, New York-based electronica/pop performer dolltr!ck, and Georgia-based Americana/country group BoDean and the Poachers. Pennsylvania was well-represented in the video showcases, and I witnessed performances from western PA native (now living in Manhattan) Wojo; Chicago-based former PA folk and blues artist Roger Hammer; Philadelphia's The Great Enough, Aviance and Maro DeLo, York-based performers Chris Scheler and Garrett Schultz, Lancaster's Matt Tarka and Casey Walton, Pittsburgh's Trinity Wiseman and her band, northeastern PA's Blind Choice and Josh Brokaw (performing outside in the snow); Harrisburg area performers Buckskin Whiskey, Almost Honest, Madison Ryan and Six Bar Break; and from my west-central PA homeland, Hollidaysburg's Stephanie & the Wild Hearts. I liked many other performances as well. Hats off to John Harris, Brian Cronin and all the volunteers who made this conference happen in spite of the challenging circumstances. Hopefully the COVID situation will largely be in the rearview mirror by next February, and MMC can return to its in-person form.
Another annual event impacted by COVID-19 this year was Penn State's annual Dance Marathon, better known as THON. THON was also staged as a virtual event this year via the THON website, with student participants dancing online from home or other remote locations. The bands and other entertainers kept the dancers fired up throughout THON weekend by performing and live-streaming from the empty Bryce Jordan Center. I caught two of the performances, starting with Vision To None. In spite of no visible audience other than cameras, and playing during late morning hours, Vision To None – singer and bassman Eric McCrum, singer and guitarist Chris Welker, guitarist and singer Jesse Husted and drummer Katlyn Reitz – brought the musical fun and excitement with their mix of modern rock and pop/punk favorites. Some of their tunes this day included Smash Mouth's "All Star," Jimmy Eat World's "The Middle" and the set-closer, Fall Out Boy's "Sugar, We're Goin' Down," complete with Rage Against the Machine "Killing in the Name" stinger ending! These guys were clearly fired up and making it count, excited to be on a stage and making music as well as doing it for a great cause. Later that night, I saw My Hero Zero's set from THON. Lead singer and guitarist Jason O, singer and keyboardist Caryn Dixon, bassist Greg Folsom and drummer Ethan Stewart generated the online party with their upbeat mix of rock, pop, funk, country and more. A band favorite of THON for 11 straight years, My Hero Zero lifted dancers' spirits as they did numbers from Jason Mraz, The Killers, Dua Lipa, Amy Winehouse, Nine Days, The Lumineers, Shania Twain, John Denver, Fleetwood Mac and others. Other performers donating their talents during THON weekend included Lenina Crowne, Southpaw (hosting THON Idol), Corner Brothers, Lowjack, Go Go Gadjet, several celebrity guest performers and more. Virtual THON was a major success, raising more than $10.6 million toward fighting childhood cancer via the Four Diamonds fund at Penn State Children's Hospital in Hershey. Hats off to all the dancers, volunteers, bands and performers, and all who supported this event and made it successful in spite of the COVID circumstances. Where there is a will, there is a way!
The Palace Theatre in Greensburg has continued their weekly Thursday evening "Virtually in the Palace (VIP)" online concert series, and even added some additional concerts beyond the originally-scheduled end date in late March. I saw East Coast Turnaround's performance last month. The "Fathers of Trucker Rock," East Coast Turnaround took viewers through a powerful display of their original song arsenal, which blends elements of classic and southern rock, country and soul. Singer and guitarist Chad Fetty, lead guitarist Wayne Baker, bassist Jason Fetty, harmonica man Ray Kuchinka and drummer Dane Whatule played many of the songs from their 2012 full-length album, "American Outlaw" – such as "Cadillac, Cadillac," "Neon Church," "Only You," "Music Man," "Just Like the Rolling Stones," "Outta My Head" and "Southbound 75." They also introduced two new songs, "51" and "Outlaw," and did established favorites like "Love, Life and Murder" and the intensifying "Where's My Sunshine." For their finale, East Coast Turnaround unleashed "Say Yeah," which built toward a go-for-broke homestretch where Wayne and Ray dueled on their respective instruments, before Ray did a headstand back-to-back with Wayne and played harmonica upside down!
Members of the Altoona area's independent music and art community organized the inaugural Mass N Tha Grass music and arts festival in 2019. COVID-19 prevented the festival from taking place last year, but plans are in place to stage this year's festival from August 6-8 at the Sinking Valley Fairgrounds near Skelp. Benefit events to raise funds for sound, stage gear and other improvements are under way, including last month's "Rage of the Irish" pre-St. Patrick's Day event at JOOS in downtown Altoona. Although unable to attend in person, I was able to witness much of the event's performances via Facebook live stream (courtesy of Sascha Damon Frost). While artist Chelsea McMaster commenced live painting nearby, singer and songwriter John Peacefire kicked things off with his socially-charged brand of original folk and protest music. John musically sounded off about such topics as government corruption and manipulation, poverty, neglect of the environment, the human condition and more through numbers such as "War of Attrition," "Push Out the Pusher," "Like We're Still in Vietnam" and others. Next was half of Altoona-based foursome The Returners. Andy Witmyer on electric guitar and vocals plus Ian Wissinger on drums crafted a unique original sound; merging alternative, experimental, progressive and psychedelic rock elements into a constantly-moving, unpredictable soundscape. Some of their songs included the expansive "Artemis," "Annabelle," "Too Much Denial," "Until You Want" and a new number, "Colony." Singer, songwriter and Lloyd frontman Nick "Nik Mik" Munyons took the stage next to demonstrate his original indie folk flavors. Brandishing both acoustic guitar and ukulele, Nik Mik introduced several new songs on ukulele to start his set, before switching to guitar for more numbers. His songs showed simple yet catchy melodies, sudden instrumental and lyrical side journeys and more. Closing the show was Crazed Visions, the musical vision of show emcee Matthew Cain. Merging punk, folk and experimental flavors, Crazed Visions introduced original songs such as the darker "Catharsis" (dedicated to friends lost to addiction), "Rage with a Love War," "Curl Your Fingers," "Taking the Long Way Around Life" and more. Another Mass N Tha Grass-themed fundraiser concert, "Grass Roots," happened on March 30; the next show happens at JOOS on April 20.
Many will recall that the COVID-19 shutdown was suddenly imposed just before St. Patrick's Day last year, and the world quickly ground to a standstill. With everybody grounded for St. Patrick's Day, Boston's popular Celtic-geared punk rockers the Dropkick Murphys provided a much-needed lift with their free online "Streaming Up From Boston" concert, which drew a global audience numbering hundreds of thousands on both Facebook and YouTube. Still locked down and unable to stage a public concert a year later, the group did it again on St. Patrick's Day with their online "Still Locked Down" concert, streamed via their website and YouTube. Entertaining "Everyone out there in Computerland," the group again delivered a high-powered, raucous show as they played favorites from throughout their catalog, plus amped-up Irish/Celtic folk favorites, and select tunes from their forthcoming new album, "Turn Up That Dial," which will be released on April 30. Opening with "Hang 'Em High," the Dropkick Murphys fired through songs from the new album such as "Middle Finger," "Queen of Suffolk County" and "Smash S**t Up," and also introduced "I Wish You Were Here" after a tribute to two fallen friends of the band, Walter Glavin and Bill Dailey, Sr. The group also performed their versions of "The Fields of Athenry" and "Wild Rover," as well as their popular favorites like "Rose Tattoo," "The Dirty Glass" (with special guest singer Erin Mackenzie of The Doped Up Dollies) and "I'm Shipping Up to Boston." For the show's homestretch, the Dropkick Murphys fired "Skinhead on the MBTA" into AC/DC's "Dirty Deeds Done Dirt Cheap," before they closed out the show with their rowdy version of Sam Cooke's "Having a Party." The group invited viewer donations, with partial proceeds going toward their Claddagh Fund, which helps Boston non-profit organizations.
Sidelined last St. Patrick's Day due to COVID-19, area Irish-rock favorites Full Kilt played eight shows in nine days for this year's St. Patrick's season, including a post-St. Patrick's Day show at McGarvey's. The fully-kilted cast of singer and guitarist Mike Zerbee, bassist and singer Chris Myers, fiddler Mandy Passmore-Ott and drummer Jake Yarnish kept the festive audience happy with their mix of Irish folk, pub and rock favorites, Irished-up rock numbers, fiddle tunes, original songs and more. The group did favorites such as "Whiskey in the Jar," "Irish Rover," "The Night Paddy Murphy Died," "Darcy's Donkey" and others. They covered Dropkick Murphys numbers such as "Rose Tattoo" and "I'm Shipping Up to Boston," Flogging Molly favorites like "Devil's Dance Floor" and "Drunken Lullabies," plus numbers from Gaelic Storm, Great Big Sea and more. Full Kilt gave Irish treatments to non-Irish numbers too, such as Alabama's "Irish (Mountain) Music," Charlie (Mc)Daniels' "The Devil Went Down to (Dublin)," Queen's "Fat Bottomed Girls" and Smokie's "Living Next Door to Alice." And they did a couple of their own songs as well, performing "Plastic Paddies" and "Come Have A Drink With the Band." Both Full Kilt and the audience clearly appreciated this year's opportunity to celebrate St. Patrick's season in person.
I journeyed to Heroes Tavern in Nanty Glo for my first time last month to see singer and songwriter Callie Tomblin in action. This was the first I have seen Callie perform in-person after witnessing a couple of her live stream performances during the past year. Despite some technical difficulty, Callie still impressed with her hearty variety of folk and blues-infused music. Her performance contained numerous shining moments, as she did fresh-sounding versions of Bad Company's "Shooting Star," Bill Withers' "Ain't No Sunshine," the Rolling Stones' "Beast of Burden," Jim Croce's "Bad Bad Leroy Brown," White Stripes' "Seven Nation Army," Steely Dan's "Do It Again" and lots more. Callie showed a knack for taking her varied cover song selections and making each over into her own distinctive style and sound; I especially liked her incursions into Prince territory, as she tagged Gloria Gaynor's "I Will Survive" with Prince's "When Doves Cry" and later broke out her take on "Little Red Corvette." She also did at least one of her original numbers, "Satisfy Me." Callie successfully won new fans and applause as the night proceeded. Coupled with a tasty cheesesteak sandwich and the house's Heroes Lager (made by the Pittsburgh Brewing Company), Callie's performance made it well worth the journey to experience.
Besides Callie, I was able to see several other groups for the first time in recent weeks – including K4 Kountry, who entertained last month at Steele's Tavern near Hopewell. Consistent with their name, K4 Kountry – singer Jason Peterman, guitarists Mike Fox and Griffin Patterson, bassist Russel Patterson and drummer Ed Murvine – performed hard-driving country music favorites with some rock'n'roll thrown in along the way. They did country hits from Collin Raye, David Lee Murphy, Chris Young, Jason Aldean, Hal Ketchum, Toby Keith, Billy Ray Cyrus, Tim McGraw, Dwight Yoakam, Luke Bryan, Randy Houser, Johnny Cash and more. They also included some southern rock favorites like Marshall Tucker Band's "Can't You See" plus Lynyrd Skynyrd's "Gimme Three Steps" and "Sweet Home Alabama," and tunes from the Eagles, Kenny Loggins, Free and Chuck Berry. K4 Kountry sounded good, and played it all with joy and enthusiasm, keeping the audience happy from start to end.
Three-quarters of the line-up of Krazy Kat Daddies has re-emerged onto area stages as Freedom Rocks, who I caught in action last month during "Friday Wine Down" at Altoona's Oak Spring Winery. Singer Jo Ann Nardelli, drummer Mike Nardelli and guitarist Vic Sabo mixed up a variety of rock'n'roll favorites from the 1960s through 1980s. Freedom Rocks broke out early rock'n'roll numbers like Roy Orbison's "Oh Pretty Woman," the Isley Brothers/Beatles' "Twist and Shout," The Chantays' "Pipeline," The Crystals' "Da Doo Ron Ron," Kathy Young & The Innocents' "1,000 Stars" and more; also classic rock favorites from Stevie Ray Vaughan, Joan Jett, John Mellencamp, ZZ Top, Santana, Fleetwood Mac, AC/DC, BTO, The Doors and others. Freedom Rocks had fun through it all, encouraging seat grooving and receiving a good response from the audience.
During my first-ever visit to The Grove in Strongstown early last month, I saw both Stacy & the Rejects and Acoustic Fam Jam for the first time. The rhythm section of bassist Redawg Solinski and drummer Mike Davis powered both bands this night. Kicking off, Acoustic Fam Jam performed acoustic rock-geared favorites from the 1960s through 1990s. With Redawg and Mike providing the rhythms, guitarists Ray Davis and John Smith shared singing duties as Acoustic Fam Jam entertained with songs from REM, CCR, 3 Doors Down, Van Morrison, Sister Hazel, Stealer's Wheel and more. The wife-and-husband tandem of singer Stacy and guitarist Tony Feighner head up Stacy & the Rejects, with Redawg and Mike powering the party. Stacy & the Rejects delivered the rocking party, firing up the house with favorites from Duran Duran, Gretchen Wilson, Journey, Elle King, Wild Cherry, Pat Benatar, Blondie, Poison, Joan Jett, Loverboy and more. Stacy showed a great voice this night, dazzling as she belted on renditions of Pat Benatar's "Hit Me with Your Best Shot," Jefferson Airplane's "White Rabbit" and Guns N Roses' "Sweet Child O'Mine." The crowd enjoyed Stacy & the Rejects enough to demand two encores at night's end, which the group answered with Grand Funk Railroad's "We're an American Band" and Janis Joplin's "Me and Bobby McGee" respectively.
And I saw two more bands for the first time during a triple-bill at McGarvey's in late February, headlined by the PennSoulvanians. Opening was new young Altoona-based power trio The Pines. Comprised of Logan, Ben and Alex, The Pines instrumentally rocked favorites from Metallica, Black Sabbath, Rage Against the Machine, Led Zeppelin and more to awaken the crowd. Next was Clearfield foursome Innocent Sin, who dazzled on a mixture of soul, rock, blues and reggae. Featuring singer Carli Jones, guitarist and singer Adam Caldwell, bassist Robert Misho and drummer Adam Moore, Innocent Sin generated cheers as they did numbers such as the Allman Brothers' "Whipping Post," a grooving take on Roberta Flack/Fugees' "Killing Me Softly With His Song," Gary Clark, Jr.'s "Bright Lights" and more. Carli delivered excellent voice, Adam showed a strong voice and feisty guitarwork, and Innocent Sin generated the groove to fire the audience up. The PennSoulvanians kept that groove going during their nightcap set, keeping the crowd lively with their mixture of soul, hip-hop and folk-driven origjnal numbers. Both singer/guitarist Chet Denny and rap artist Michael Thomas again complemented each other on the vocal end, supported by guitarist Nate Nagle, keyboardist Brett Fanelli, bassist Mike Stanley and drummer Todd Harshbarger. The PennSoulvanians excelled on original numbers like "Day Has Come," "Pennsoulvania," "Won't Be a Third Time," "Strip Off All Your Clothes," "Forty Acres," "Girl You Deserve to Be" and more. Guests Danny Rivera and Todd McKeone helped with vocals on a couple of songs. The PennSoulvanians continue to grow their fan base and popularity with each show; if you haven't discovered them yet, make the point to do so soon!
After months away due to the pandemic, Felix & the Hurricanes resumed their Sunday night residency at Altoona's Black & Gold Tavern last month. During the Sunday I attended, the Hurricanes – singer, guitarist and lead 'Cane Felix Kos, drummer and singer Bob Watters, and – back in action after a recent illness – bassist and singer Jeff Clapper were clearly glad to be back in the house this night! Felix was generating some serious lightning on his seasoned Stratocaster guitar, leveling scorching solos and slide work, and making that instrument gloriously sing, scream and howl! The Hurricanes took the audience on an exciting musical joyride through lots of southern and classic rock favorites from the likes of the Eagles, Allman Brothers, Lynyrd Skynyrd, ZZ Top, Stevie Ray Vaughan, Chuck Berry, Molly Hatchet and many more. My favorite highlights included the band members' solo rounds to close out the Allman Brothers' "No One to Run With," Stevie Ray Vaughan's "Couldn't Stand the Weather" and Felix's powerful Strat-generated steam engine acceleration leading into the group's forceful rendition of Blackfoot's "Train Train." An unexpected pleasant surprise was the Hurricanes introducing and dedicating Glen Campbell's "Wichita Lineman" to bassman Jeff's parents.
The area and state music scene have been saddened by recent passings…The Altoona area music community mourned the passing of Steve Brulia on February 24 following a battle with cancer. Steve provided the drum beats behind many area bands over the past five decades, including the Rolling Rockers, FM, The Verge, Sidestep, Johnny Danger, Cosmic Lounge and others; and most recently, his duo with Matt Burns, Bodacious B. Steve also took part in a number of jam nights, and was an ardent supporter of the area music scene…And Eileen Hertweck, the wife of Rob James of The Clarks, passed away on February 27 following a two-year battle with leukemia. She was 42. We send our heartfelt sympathies to the families, loved ones and friends of both.
News and notes…The Board of Directors of the Central Pennsylvania Festival of the Arts in State College announced the cancellation of this year's festival in July due to continued health concerns regarding the COVID-19 pandemic…Likewise, the annual Philipsburg Heritage Days Festival, also scheduled for July, has also been cancelled due to COVID-19 health concerns…Altoona will see a new concert series this summer, as the Rockin' the Yard series takes place over six Fridays from June through September, and will be staged in the yard behind Altoona's Jaffa Shrine Center…The organizers of the SOSPGH Concert Series have announced Season 2 of the online concert series, happening four consecutive Thursdays in April; April 8 will be "Singer Songwriter Night," April 15 is "Blues Night," April 22 is "Jazz Night," and April 29 will be "Metal Night." Visit www.sos2020pgh.org for more details…The Allegheny Ukulele Collective's Virtual Allegheny Ukulele Soiree event takes place on Saturday, May 1…Jaren Love, the former frontman and guitarist of Altoona-turned-Pittsburgh-based indie rockers The Lampshades, has launched his new band project called Dream Home…Danville-based singer and songwriter Van Wagner has formed a new band, Van Wagner and Buffalo Valley Railroad…Local popular music duo Raining Blue announced they are going their separate ways after ten years of performing on area stages…And Johnstown rockers Silver Screen have announced the addition of a new member, guitarist Kody Ofsanko.
Please send correspondence and recordings to: Jim Price, 1104 S. Catherine St., Altoona, PA 16602. You can also e-mail me at jptheprofessor@gmail.com. And if you're into social networking, look me up on Facebook. SUPPORT LOCAL MUSIC!