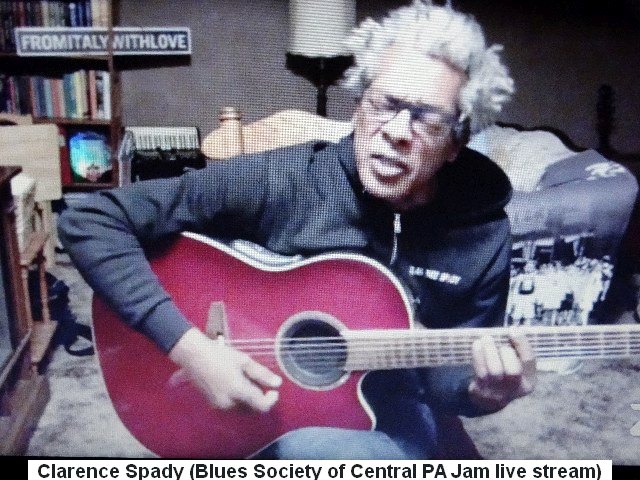 ---
THE PROFESSOR SPEAKS
By Jim Price
If you have ever listened to any of the "Year In Review Special" editions of my weekly local music radio program, the "Homegrown Rocker," I always open that program with a song created by my friend, musician and former radio colleague Mark Wesesky and his Mark Allen Project, called "Happy New Year (Toss Me a Beer)," an ode to the joys of staying home on New Year's Eve. As of the time I am writing this month's article, I face the prospect of spending my New Year's Eve at home for the first time in at least two decades, and any live music I might witness that night will be either from live-streaming or television. Hopefully 2021 will see us leave this pandemic and its restrictions in the rearview mirror permanently, and allow live music and the entertainment industry to get back on its feet. Here's hoping for a much better New Year!
And to musicians, music venues and music-related businesses – keep the faith. Once we begin to exit this pandemic and pandemonium, people are going to want to feel human again – many are going to want to be able to socialize with friends and colleagues, and music and entertainment will provide a major catalyst for that to happen. After many months of not being able to enjoy live concerts and festivals, many people – myself included – are chomping at the bit to get back to these happy events. Live music will be an important ingredient for bringing people back together, and also serving as a healing force after the ordeal that has been 2020 and the COVID pandemic.
Before the new wave of COVID restrictions again forced live music off public stages for the time being, I was able to catch a few live performances, all at McGarvey's in Altoona. Buckshot Tea Party brought the rock to McGarvey's stage on Black Friday in late November. RJ Payne on lead vocals, Rich Johnson on lead guitar, Sid Brandon on rhythm guitar, Bill Nusom on bass and Dave Russell behind the drum kit levied hard-rocking favorites with an emphasis on the 1990s. This group sounded strong as they did numbers from Foo Fighters, Fuel, Velvet Revolver, Creed, Collective Soul, Metallica, Seether, Tonic, Incubus, Jimmy Eat World and more. Some of the highlights included the Metallica take on "Whiskey in the Jar," dedicated in memory of recently-fallen musician "Big Jim" Ricotta; as well as their takes on Tonic's "If You Could Only See," the nightcap set-opening double-shot of Flock of Seagulls' "I Ran" into Dead or Alive's "You Spin Me Round (Like a Record)," and the surprise closing rendition of The Tragically Hip's "New Orleans Is Sinking." RJ and Bill handled the lead singing duties and both their voices were in good form; Rich's guitar leads sounded clean and precise, and the rhythm section provided the sturdy, rumbling backbone behind the entire performance. Once live music can get back on stage again, Buckshot Tea Party is well worth checking out for a solid dose of hard-hitting live rock!
RJ and Dave were back on McGarvey's stage in early December as local country favorites 100 Proof struck up the party with three sets of upbeat country favorites with a few rocking numbers mixed in. RJ on vocals, Dave behind the drum kit, guitarists Todd Belardi and Denny Yon, and Moose on bass kicked it off with Jason Aldean's "Just Getting' Started," and took the audience through rowdy country favorites from Eric Church, Luke Bryan, Jon Pardi, Randy Houser, Luke Combs, Brantley Gilbert, Big & Rich and more. The group also did their country-rocking slant on "Wagon Wheel," and provided a slow-dancing opportunity with their version of Luke Combs' "She Got the Best of Me" to close their first set. 100 Proof also broke out a few rocking tunes along the way, including Bryan Adams' "Summer of 69," Rick Springfield's "Jessie's Girl," and – the big surprise for me – Seether's "Remedy!" Other highlights included their take on Big & Rich's "Save a Horse Ride a Cowboy," which infused an "Uptown Funk" interlude midway through, and a version of Nathaniel Rateliff & the Night Sweats' "Son Of a Bitch" during their third set. When the McGarvey's audience called for one more at night's end, 100 Proof took it overtime with Toby Keith's "Should Have Been a Cowboy" to cap the night. These guys sounded sharp all the way; RJ's voice was strong, and instrumentally the group kept it punchy and exciting.
Many folks don't know Jack Squat…at least as of yet. But some music fans got to know them a whole lot better at McGarvey's early last month. The band name is fairly new, but the band members' names are established musicians of the Altoona area music scene – Scott Imler on lead vocals and guitar, Ron Dalansky on guitar and vocals, Todd Batzel on bass and Dan McConnell on drums. Jack Squat delivered a good-sounding mixture of 1970s, 80s and 90s rocking classics, including a number of tunes I haven't heard in ages from the Scorpions, Dokken, Honeymoon Suite, Cinderella – heck, they even teased Coney Hatch's "Monkey Bars!" They also did favorites from AC/DC, Boston, Judas Priest, Van Halen, Whitesnake, Tesla, Foreigner, Led Zeppelin, Kiss, Nazareth and many more. Scott brought the soaring vocal range and power throughout the night – perhaps exemplified best on Jack Squat's version of Vandenberg's 1980s classic "Burning Heart!" The group's instrumental delivery was tight, and their vocal harmonies shined. And the group welcomed guest Joe George up to take over bass duties on versions of Alice In Chains' "Man in the Box" and Grand Funk Railroad's "We're An American Band." As with the aforementioned Buckshot Tea Party, fans looking for a hearty dose of hard-hitting rock should get to know Jack Squat once live music returns to the stages!
Everything else I have seen in recent weeks has been through the computer screen…Prior to Thanksgiving, I saw State College-based singer and songwriter Eric Ian Farmer as he did a brief live stream a cappella performance plus a question-and-answer session on Zoom, both part of a Barnes & Noble-sponsored Bookfair fundraiser for the Mid State Literacy Council. Eric performed three songs – his original song "Mother's Wisdom," "I Want to Live" and "Perennial." He then fielded questions from online visitors about his music, creative process and the value of books and literacy. Asked about his "vocally grown" approach to music, Eric explained that he envisions his song ideas vocally, not with a guitar. Asked what song was closest to his heart. Eric said that there is always a song in his heart, but not a specific song. And when asked to identify his favorite book, Eric responded with two titles – "Being Peace" by Nobel Peace Prize nominee Thich Nhat Hanh, and "Follow the Rabbit–Proof Fence" by Doris Pilkington.
Also prior to Thanksgiving, renowned PA singer, songwriter and educator Van Wagner hosted a special live stream Zoom event, dubbed the "T'anksgiving Flatbottom Town Anniversary Strum & Sing Along with Van Wagner" concert and jam session. Coordinated with his fan group Facebook website North Of 80, Van performed an hour of his original songs including multiple requests, while visitors could enjoy the performance, or sing or jam along to the songs with their favorite instruments, as all songs came from a songbook that can downloaded for free from Van's website. (I ended up multi-tasking; enjoying the concert as a spectator, strumming along to several songs on my watermelon ukulele, and – of course, breaking out my sketch pad and ballpoint pens to capture Van in pen ink glory!) Van did favorites and requests from throughout his vast song catalog, including "Tioga County," "Churches and Bars," "Flat Bottom Town," "Shagbark Hickory," "Ash to Ash," "Ridge Runner," "Mountain Lion," "Where the Bears Dance," and the popular closer (and namesake song of the fan group) "North of 80." Van also shared with the audience a project he has been working on, carving a canoe paddle from chestnut; he said he plans to create a limited quantity of these to donate toward charitable causes (such as the Smoked Country Jam Bluegrass Festival). This was a pleasant performance, and informative as well, as Van – an educator about Pennsylvania, its history and attractions – shared insights behind some of his songs.
I enjoyed plenty of online Christmas-themed performances during the holiday season. Since I have never seen them live in concert before, I took the plunge and checked out the Trans-Siberian Orchestra's live-streaming concert last month. It was TSO's "Christmas Eve and Other Stories" live-streaming performance with full band, various singers, narrator, lights, lasers and more. With musical direction by founding member Al Pitrelli and Derek Wieland, the production featured the current band – Pitrelli and Chris Caffery on guitars, Wieland and Mee Eun Kim on keyboards, Asha Mevlana on violin, John Lee Middleton on bass and Jeff Plate on drums – plus storyteller Bryan Hicks and the vocal contingent of Russell Allen, Nate Amor, John Brink, Erika Jerry, Chloe Lowery, Georgia Napolitano and Jeff Scott Soto. Although lacking the live audience and in-person feel, this was still a great and powerful presentation, with the various lighting, camera angles and focuses bringing each performer's presence to the fore. It also served to remind me just how great an album Trans-Siberian Orchestra's "Christmas Eve and Other Stories" is. Back when I heard it for the first time in the 1990s, it was one of very few albums that could bring tears to my eyes – especially the song "Old City Bar." I still felt some of that emotion surge as TSO played the album in its entirety this night. Hopefully if Trans-Siberian Orchestra decides to tour again after we get past the pandemic, I might finally get to see the actual live concert; this live stream event clearly rekindled my interest in that possibility.
The Steel Blossoms also helped get me into the holiday mood with their special Christmas live stream performance early last month. Western PA natives (and former elementary school teachers) now living in Nashville, Hayley Prosser and Sara Zebley performed a pleasant, lighthearted set of folk and Americana-flavored Christmas favorites. Both women showed fine singing voices and bright harmonies as they strummed acoustic guitars, with Hayley even picking up the ukulele for a couple of tunes. They did popular carols such as "Angels We Have Heard on High," "Silent Night" and their set-closer "Oh Holy Night," as well as other holiday favorites like "Rockin' Around the Christmas Tree," the Hawaiian favorite "Mele Kalikimaka" (where Hayley first pulled out the uke), "Beautiful Star of Bethlehem," "Feliz Navidad," "I'll Be Home for Christmas," "Blue Christmas," and their blending of "White Christmas" with "Little Drummer Boy." Hayley and Sara also pulled out some holiday songs from the country side of the spectrum, including Kacey Musgraves' "A Willie Nice Christmas" and Suzy Bogguss' "Two-Step 'Round the Christmas Tree." Steel Blossoms also broke the news that they will be entering the recording studio starting this month to record some new songs.
With music back in live-streaming mode, western PA bluegrassers The Jakobs Ferry Stragglers resumed their "The Straggle Is In Your Living Room" performances early last month. The cast of singer and guitarist Gary Antol, singer and fiddler Libby Eddy, mandolinist and singer Ray Bruckman, upright bass player Nikki Kreider and dobro player Jody Musser were in the Christmas spirit, breaking out teases of such holiday numbers as "God Rest Ye Merry, Gentlemen," "Joy to the World" and "Jingle Bells." They also performed a number of original tunes from throughout their career, such as "Poison River," "Mannington #9," "The Legend of Gandy Grey," "Midnight Gown" and more, chasing each song with happy whooping afterward. After a post-New Year's Day 'straggle' in the living room on January 2, the Jakobs Ferry Stragglers head to Asheville, North Carolina for a live show later this month.
Not able to present an in-person Christmas party this holiday season due to COVID-19 concerns, my collegiate employer, Penn State Altoona, instead staged a virtual Christmas Party via Zoom. After opening words of thanks and appreciation from campus Chancellor Lori Bechtel-Wherry, attendees were invited to drop in on various Zoom rooms with a number of festive options and activities. I, of course, followed the sound of virtual music to Conner Gilbert's Christmas party Zoom performance. Also the campus' sports information director, Conner entertained the online audience with his blend of hit song favorites and Christmas tunes. Strumming acoustic in his Santa hat, Conner sang numbers from the Beatles, Green Day, Pure Prairie League, Uncle Kracker, CCR, Steve Miller Band, the Eagles, Johnny Cash, Ben E. King and more. And he celebrated the Christmas spirit with renditions of "Blue Christmas," Tom Petty's "Christmas All Over Again," "Please Come Home for Christmas" and Jose Feliciano's "Feliz Navidad." The mood was happy and cordial, and Zoom visitors clapped and bobbed their heads in approval. Conner received calls for an encore, which he honored with a version of John Denver's "Take Me Home Country Roads." Afterward, I visited another Zoom space where campus interim Director of Strategic Communications, Jonathan O'Harrow, led a round of Christmas caroling on his keyboard. Jonathan led carolers on renditions of "Santa Baby," "White Christmas," "Winter Wonderland," "Baby It's Cold Outside" and more.
Home for the holidays from his classes at Boston's Emerson College, Bedford-based singer and songwriter Coltt Winter Lepley hosted a Christmas Special live stream last month. While he did perform a few more-established holiday favorites such as "White Christmas," "Silent Night" and "Auld Lang Syne," Coltt dug deeper for some less-heralded Christmas and winter-themed morsels from the folk and country catalogs – strumming and singing such numbers as Merle Haggard's "If We Make It Through December," Townes Van Zandt's "Snowin' on Raton," Doc Watson's "Christmas Lullaby," Willie Nelson's "Pretty Paper," John Prine's "Christmas in Prison," Robert Earl Keen's "Merry Christmas from the Family," and – performing on bones – Jack White's "Christmas Time Will Soon Be Over," popularized in the film "Cold Mountain." Playing his locally-crafted Shaffer acoustic guitar (made by luthier Mike Shaffer of Salemville, Bedford County) and a 1937 Gibson L-C acoustic guitar, Coltt also did some of his own songs such as "Toilet Wizard" and "The Waffle House Song," plus songs from Woody Guthrie and more. Hear Coltt on Q94 Classic Rock on Jan. 10 as he appears on my "Homegrown Rocker" program.
I also got to enjoy two performances of holiday piano. The Sunday before Christmas, Elizabethtown's Joe Trojcak tickled the ivories with his selection of holiday favorites. Joe presented instrumental renditions of Christmas carols and time-tested seasonal favorites with his tasteful and detailed arrangements, and skillful keyboard work. Among his selections this day were "Have Yourself a Merry Little Christmas," "Let It Snow," "Oh Christmas Tree" into "Oh Come All Ye Faithful," a medley of tunes from Christmas season movies, "Rudolph, the Red-Nosed Reindeer," "Oh Holy Night," "Silent Night," the Peanuts pairing of "Linus and Lucy" and "Christmas Time Is Here," "Joy to the World," "What Child Is This?" and more. Joe shared a few holiday memories and acknowledged online audience members, and gave a friendly and warm performance.
And late on Christmas evening, I discovered John "JT Blues" Thompson bringing some Yuletide live-streaming cheer in his own unique way. John tickled the piano keys and sang plenty of Christmas favorites and Christmas blues tunes, plus a few of his new original songs. Opening with his piano instrumental "High Street" (named after a thoroughfare in his hometown of Bellefonte), John did his bluesy arrangements on "Have Yourself a Merry Little Christmas," "Whatcha Gonna Get Me for Christmas," "Merry Christmas Baby," "Please Come Home for Christmas," "Jingle Bell Rock," "Santa Claus Is Coming to Town," "Blue Christmas," "Christmas Time Is Here" (from "A Charlie Brown Christmas"), "Winter Wonderland," "I'll Be Home for Christmas" and more. John did a Christmas parody song, "Worst Possible Time of the Year," and introduced a few new original songs he has created during his time away from live stages during this past year: "What Day," "Love Embrace" and "Boomers' Lament." And for the finale, he performed "All I Want for Christmas Is You" and his instrumental rendition of "The Christmas Song." John's performance was upbeat and cheerful, and his voice and piano playing were in great form, making for the perfect musical chaser to a great Christmas Day.
For blues fans, The Blues Society of Central PA presents a virtual blues jam every Thursday evening starting at 7 p.m. The Blues Society assembles a lineup of blues-geared artists from throughout central and eastern PA each week; this night – my first time checking it out – featured three different acts. A loose jam of blues artists led up to the official start of the night, and the first performer, Dan Mowery. Working the strings of his acoustic guitar and singing, Dan mixed blues-rooted takes on several popular numbers with instrumental workouts. Some of his numbers included "When the Levee Breaks" (created by Kansas Joe McCoy & Memphis Minnie, popularized by Led Zeppelin), Willie Cobbs/Allman Brothers' "You Don't Love Me," Jimi Hendrix's "The Wind Cries Mary," Herbie Hancock's "Chameleon" and Prince's "Kiss." Dan's arrangements on these numbers were fresh and creative, and his guitar skills and nuances were impressive. From northeastern PA, Clarence Spady was next; his musical direction geared more toward traditional blues as he demonstrated a soulful voice and smooth, skillful work on his acoustic guitar. He performed numbers from Elmore James, Howlin' Wolf, a new original number called "If My Life Was a Book," a few instrumentals and more; his set was enjoyable as well. Finishing the jam was the Chester County-based duo of Tommy Froelich and Chris Uyvari, who played a blend of blues-rocking acoustic originals and other numbers. These two sounded strong as well; with Tommy handling most of the singing duties, they did original songs such as "My Desire," "The Light," "In Your Eyes" and a song Tommy wrote for his wife, "Mellow Down Lady," with Chris demonstrating some slide guitar skills. They also pulled out a rendition of Alvin Lee's "The Bluest Blues," plus ushered in the Christmas season with the Chuck Berry-popularized "Run Rudolph Run," and did a take on "Call Me the Breeze." Tommy and Chris executed well together, showing some cool guitar nuances along the way. It all made for an entertaining evening of blues-based music, and I plan to be back for more. Check it out each Thursday through the Blues Society of Central PA's website, ,www.bscpblues.com, or through their Facebook page.
News and notes…Area seasonal music has been garnering attention; Zupe's Christmas polka, "Dasher, the Reindeer," continued to generate accolades as it earned the Akademia Music Awards award for "Best Children's Music Music Video"…The area songwriting team of Bill Dann, Jay Zimmerman and Jack Servello scored a recent holiday season local radio hit with their COVID-inspired Christmas novelty song "Santa's Curbside Pickup," which even achieved airplay on a recent online edition of "The Dr. Demento Show"…And Pittsburgh's Chip & the Charge Ups scored regional radio airplay with their farewell-bidding ode to 2020, "Under the Exit Sign," featuring guest singer Char Fields… Ted McCloskey has issued another new album, this time a collection of remixed and remastered songs from his back catalog called "Whispers and Waltzes"; the album is available for purchase through Ted's Bandcamp page…And Matt Otis & the Sound are putting the finishing touches on their new album, which will be released this year.
Please send correspondence and recordings to: Jim Price, 1104 S. Catherine St., Altoona, PA 16602. You can also e-mail me at jptheprofessor@gmail.com. And if you're into social networking, look me up on Facebook. SUPPORT LOCAL MUSIC IN 2020! And keep WASHING YOUR HANDS and WEARING THOSE MASKS!