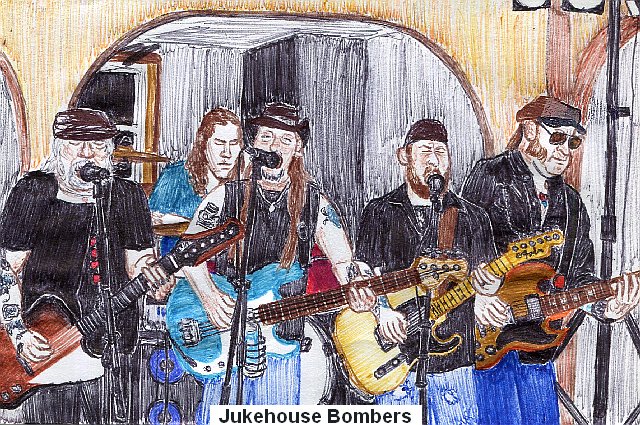 ---
By Jim Price
Another trip around the sun means that this month begins my 35th year of writing about and covering the west-central PA area's music scene for PA Musician Magazine. As always, thanks to Josh and the Noll family for allowing me to do this thing I do in the pages of the magazine each month! And thanks to the all the musicians whose talents and creations continually inspire me to write, photograph, draw pen sketches, broadcast on radio airwaves and otherwise extol the virtues of local and live music!
As the pandemic starts to fade into the rearview mirror, my live music quest continues…I traveled to Meyersdale early last month for the final day of the annual two-weekend Pennsylvania Maple Festival, and took in the Katelyn Rose Band's performance at Festival Park. Katelyn and her band – Billy Stoppe (of Dirty Dogz) on guitar and vocals, Andrew on drums and Greg on bass – sounded good on a selection of a few original songs and various rock'n'roll and country favorites. With Katelyn providing a bright voice and personality as she handled most of the singing duties, she and her band did country favorites like Johnny Cash's "Folsom Prison Blues," David Lee Murphy's "Dust on the Bottle," Nitty Gritty Dirt Band's "Fishin' in the Dark" and Dwight Yoakam's "Fast as You." They also rocked with renditions of Jimmy Eat World's "The Middle," The Outfield's "Your Love," .38 Special's "Hold On Loosely," tunes from Matchbox 20, Tommy Tutone, Tom Petty and more. Katelyn sang with a smooth voice, lively stage presence and confidence, and her band was solid and tight behind her. As a special treat to close out the show, Katelyn's dad, Randy Ritenour, joined his daughter and the group onstage for their finale rendition of Marshall Tucker Band's "Can't You See."
Also outdoors, I had the opportunity to see State College-based acoustic trio The Extra Miles last month as they performed during a spring festival at the Way Fruit Farm near Stormstown. Singer and multi-instrumentalist Andrea Miles, guitarist and singer Patty McKenna and guitarist/banjo player Ruth Williamson entertained an all-ages audience with their mixture of original songs and their own distinctive versions of rock and pop favorites. Andrea and Patty delivered great-sounding vocal harmonies throughout the performance, and all three women were together and on target on their instruments; Andrea at various times switched between djembe, shakers, harmonica and mandolin. Their original song selection included such numbers as "High Crimes and Misdemeanors," "Fingerprint," "Nearly Perfect," "Days Like These," "Stream of Lies" and others. Their cover selection was wide, as The Extra Miles did songs from Tom Petty, X Ambassadors, George Michael, Crosby Stills Nash & Young, Creedence Clearwater Revival, the Mamas & Papas, Eagles, Beatles, Roxette, Simon & Garfunkel, Phillip Phillips, Van Morrison and many more. The Extra Miles made their cover numbers into their own with their unique acoustic arrangements and vocal harmonies, and they clearly pleased the audience through their whole performance. The group is working toward recording and issuing an album soon, and they have a busy summer schedule coming together, including June 19 at the annual Coalport Street Fair.
Indoors, I caught a couple of shows at McGarvey's in recent weeks; including a triple-bill last month featuring Mediocre Gatsby, Skyline Drive and Dr. Chance Bartleby & the ? Kicking things off, Mediocre Gatsby played as a duo this night, with singer/guitarist Kevin "Kevo" Quinn and drummer Greg Brigham. The pair merged folk and punk rock flavors over their set of original tunes and select covers – including the entirety of the group's recently-issued debut EP "Quarantina" plus a few of Kevo's other original tunes and a hearty version of Tom Petty's "American Girl." Kevo sang each song with grit and edge, and both he and Greg kept the pace uptempo and moving. Next was my first look at Skyline Drive. Three members strong, this group fired off a strong set of indie/garage-flavored rock, mixing both original tunes and covers. Guitarist Christian Douglas handled most of the lead singing duties, with bassman Dylan Forr singing lead on versions of Tom Waits' "Chocolate Jesus," the Grateful Dead's "Mr. Charlie" and the Doors' "Crawling King Snake." Christian, Dylan and drummer Phill Hanold also did several of their own, including "Until the Day It Does," "Dopamine," "Time" and "Untitled" (where Dylan unleashed a bass solo), plus did a version of Pavement's "Harness Your Hopes." Skyline Drive's performance was strong and energetic, and cheers from the growing crowd grew louder as the group's set proceeded. Closing the night was the enigmatic and chaotic Dr. Chance Bartleby & the ? The good Doctor (who is actually a math professor) and his ? assistant, James Grove on drums, mixed elements of punk rock, stand-up comedy, avante-garde and chaos into an entertaining, intriguing mix. The pair did various original songs, containing simple melodies, frequent rants and shouts from Dr. Chance, accompanying antics from the ? and more. I didn't catch many of the song titles, but one song incorporated Einstein's theory of relativity into the lyrics, another tune referenced the UFC, and other tunes included (titles by my guess) "Let's Get Carried Away," "Lemonade Lenny," "I Am A Robot" and more. Watching Dr. Chance brings to my mind a scene from Doctor Who, when Peter Capaldi's Doctor lectures a college class about what "time" is – the Doctor rants and raves, and only he knows exactly what he is talking about, but he does it so convincingly that the class is fixated on him for his whole lecture…Dr. Chance is sort of like that – we don't ever know totally where he is headed with his rants and craziness, but we enjoy the ride as he gets there. (And he encourages us to boo him along the way.) The whole night was entertaining, presenting three distinctive groups, each with a different musical angle and slant. Watch for all three of these names as they continue to play area stages – and all three will be part of the annual Mass N Tha Grass Music & Arts Festival, happening August 6-8 at the Sinking Valley Fairgrounds north of Altoona.
New Altoona area country performers Rodeo Radio made their first broadcast on the stage at McGarvey's in late April. Opening the night was solo performer Brittany Boyles, singing and strumming acoustic guitar on a variety of original songs and favorites. Some of her selections included Gotye's "Somebody That I Used to Know," Alanis Morisette's "You Oughta Know," Lorde's "Royals," Amy Winehouse's "Valerie," and her set-ending crowd sing-along version of 4 Non Blondes' "What's Up." Brittany also introduced at least one of her own songs, called "My Life." Rodeo Radio then debuted their mixture of country, alt-country and some classic rock. Rogan Allen on lead vocals and guitar, Jextin Pugh on guitar, Jarrett Bickel on bass and Randy Servello on drums did numbers from Josh Turner, Ronnie Milsap, Chris Stapleton, Kenny Chesney, Brooks & Dunn, Georgia Satellites, Vince Gill, Kenny Wayne Shepherd, ZZ Top and more. Between their two electric sets, Rogan and Jextin played several songs acoustic, including Billy Currington's "People Are Crazy," Van Morrison's "Tupelo Honey" and others. Rogan fronted with a solid voice and stage presence, while Jextin demonstrated clean and fast-firing guitar solo displays. Rodeo Radio drew increasingly louder approval as they went along, and inspired a crowd sing-along during their night-closing version of Garth Brooks' "Friends in Low Places." Rodeo Radio's first onstage broadcast was a successful one; tune into them as they appear on stages around the area.
I caught up with the Jukehouse Bombers as they brought fiery blues and blues rock to The Grove near Strongstown early last month. Armed with vintage guitars, amps and gear, the Jukehouse Bombers cut loose with a hearty mixture of original songs, classic rock and blues. Jimmy Roach on Gibson Firebird guitar and vocals, Joe Roach on several guitars (including a cigar box) and vocals, Troy Laney on Fender bass and vocals, Kirsch on Gibson Les Paul Classic guitar and pedal steel, and new addition Logan Yonkoske on Ludwig Vistalite drum kit played songs from both of their CD's such as "Real Bad Feelin,'" "Absolute Success," "Born to Hard Time" and "Last Ride" off the first EP; and "Midnight Blues," "Rooster Gets to Crowin,'" their night closer "Winding Our Way Back Home" and a few others off the "Death or Glory" CD. They also introduced several new numbers, including "Keep Movin' On," "Death Be My Warning," the country-flavored "The Lonesome Rider" (with Kirsch on pedal steel) and others. And the Jukehouse Bombers broke out a number of classics, including ZZ Top's "Beer Drinkers and Hell Raisers" and "Waiting for the Bus/Jesus Just Left Chicago," the Allman Brothers' "One Way Out" and "Whipping Post," their Allmans-flavored arrangement on Dave Mason's "Feelin' Alright," Screamin' Jay Hawkins' "I Put a Spell on You," Charlie Daniels' "Long Haired Country Boy" and more. There were lots of other highlights, too – such as Joe's slide guitar work on Santo & Johnny's "Sleepwalk," Logan going gangbusters on his Vistalite kit on the second set-opening Led Zeppelin salvo of "Moby Dick" into "Bring It On Home," the group's regularly-scheduled firestorming edition of the Allmans/Molly Hatchet's "Dreams I'll Never See," and their crowd-rousing rendition of Little Feat's "Don't Bogart That Joint." The Jukehouse Bombers owned the house from start to end – this group has established their musical identity with their style of dirty, swampy, greasy and lowdown blues and blues-rock. Their instrumental execution was great through it all, with double and triple guitar harmonies, beefy bass lines, powerhouse drumming, plus gritty vocal performances from Jimmy, Joe and Troy. The Jukehouse Bombers again made it well worth my roadtrip to see them, and they delivered the goods this night! Watch for their new album to be released sometime soon.
Stormy emerged from their 14-month COVID-induced hibernation last month to re-christen the Argonne Café in Hollidaysburg after its COVID-induced hiatus from hosting live music. A welcoming, enthusiastic crowd greeted singer and harmonica man Mark Montrella, keyboardist Charlie Leiden, guitarist and singer Brandon Stewart and drummer Ray Fedeli. Stormy shook off the rust quickly as they entertained the house with their tasty mixture of classic and light rock favorites. They performed many songs I hadn't heard on stage in a while, including America's "Daisy Jane," Bruce Hornsby's "The Way It Is," Steely Dan's "Pretzel Logic," Traffic's "Low Spark of High Heeled Boys," Paul Simon's "50 Ways to Leave Your Lover," the Byrds' "My Back Pages," Al Stewart's "Year of the Cat" and others. Additional highlights included Ray's wife, Carol, stepping up to sing a block of songs with the group to open their second set – including Patsy Cline's "Crazy," Carole King's "I Feel the Earth Move," and a pairing with Mark for a duet edition of Sonny & Cher's "The Beat Goes On." Brandon also fronted the group for a rendition of Tom Waits' "Heart Attack and Vine." With folks feeling festive by night's end, Stormy got them on the dance floor for the Beatles' "Let It Be" and "Lady Madonna." Now back in action, Stormy will be playing the Argonne Café monthly.
After posting final grades early last month to close out my tumultuous COVID-impacted collegiate school year, I celebrated by heading up the hill to the Hastings VFW to see Denny and Ken Pompa in action. Armed with acoustic guitars, Denny and Ken triggered happy moods with their upbeat mixture of classic rock and other favorites. Denny handled most lead singing duties, with Ken fronting the pair on versions of Marshall Tucker Band's "Fire on the Mountain" and the night-ending version of the Eagles' "Hotel California." The pair also did numbers from Fleetwood Mac, Barenaked Ladies, Lumineers, Grateful Dead, America, Tom Petty and more. Some standouts this night included their takes on John Stewart's "Gold" and Gerry Rafferty's "Baker Street," and their merger of Poison's "Every Rose Has Its Thorn" with the Rolling Stones' "You Can't Always Get What You Want."
I discovered the recently-opened Spring Dam Brewing Co. in Roaring Spring last month. Their hosting of acoustic music on Thursday evenings gave me another reason to return and enjoy their tasty beer creations. Paul Johnson and Rob Berkheimer provided the entertainment this night; Paul singing lead and strumming acoustic guitar, and Rob playing mandolin. The pair mixed a variety of traditional and modern folk numbers, and honored requests along the way. They did numbers from Old Crow Medicine Show, Bob Dylan, John Prine, the Rolling Stones and others, and kept a good-sized beer-sampling audience happy. They finished up the night with a request for "Wagon Wheel," which prompted some dancing to close things out on a happy note.
The area and state's music scene was saddened by the passings of several musicians in recent weeks…Pittsburgh musician Bobby Lamonde passed away on May 6 at age 54 from complications stemming from COVID-19. Bobby had been a prominent guitarist and personality on the Pittsburgh music scene since the 1980s, and was a member of such bands as Trash Vegas and the Science Fiction Idols…Robert "Chip" Jabs passed away on May 3 at age 40. From Lewistown, Chip was a songwriter, guitarist and frontman for several band projects, including Even As We Speak and more recently, Calmly Poisoned…And Hollidaysburg-based singer and song creator Rich Edmundson passed away on May 18. Since first surfacing at open mics and jam nights on the Altoona music scene a little over a decade ago, Rich became a popular solo performer, and frequently performed at various festivals, benefit shows and other community events…Our heartfelt condolences go out to the families and friends of all three musicians.
News and notes…The People's Choice Festival of Pennsylvania Arts & Crafts has again cancelled their event for this year; according to a message on the festival's website, the cancellation was made because the venue where it is held, the Pennsylvania Military Museum in Boalsburg, must follow COVID-19 safety guidelines from the Commonwealth of Pennsylvania, who owns the museum and grounds, and they are not permitted to host special events until the fall season…The annual Smoked Country Jam Bluegrass Festival, a fundraiser for the Lupus Foundation of PA, returns from June 16-19 at Quiet Oaks Campground in Cross Fork; the event was cancelled last year due to COVID-19…The AmeriServ Flood City Music Festival in Johnstown has announced its headliners for this year's event, which returns during the first weekend in October after taking last year off due to COVID-19; headlining the Friday, October 1st half of the two-day event will be Uprooted, featuring Michael Glabicki of Rusted Root, while Bruce Hornsby and the Noisemakers will headline on Saturday, October 2nd…Cresson Lake Playhouse and PennCrest Bank will present the PennCrest Bank Music Fest on June 19 at Cresson Lake Playhouse behind the barn theater; featuring performances from Bruce Schettig, duos Walt & Jackie and Two Far Gone, and Clay Bowser…Guitarist Jimmy Mincin has rejoined longtime Altoona classic rock favorites Half Tempted, who will perform at the Mansion Mania Rockfest event with Challenger Deep at Altoona's Baker Mansion on June 5…Four established Altoona area musicians recently assembled a new jazz-flavored band project; Uptown Jazz features Dave Villani on keys and vocals, Erika Marino-Ankeny on vocals, multi-instrumentalist Randy Rutherford and drummer Paul Turner…Recently retired from his job, longtime Altoona musician Pat McGinnis has embarked on a cross-country bicycling adventure called "Salt-to-Salt," as he pedals from San Francisco to Virginia Beach; for updates on his journey, see his "Salt-to-Salt" page on Facebook…A Celebration of Life for Altoona area singer Steve Shiffler happens at the Unter Uns Musical & Entertainment Society on June 19; a special musician softball tournament in memory of Steve will happen that same day at Altoona's Garfield Park. Steve, who fronted bands such as XL, Legacy and Not Them Guys, died last October in a work-related accident…And I hope to see many friends during Whitey Noll's Celebration of Life Music Festival in Liverpool on June 19.
Please send correspondence and recordings to: Jim Price, 1104 S. Catherine St., Altoona, PA 16602. You can also e-mail me at jptheprofessor@gmail.com. And if you're into social networking, look me up on Facebook. SUPPORT LOCAL MUSIC!