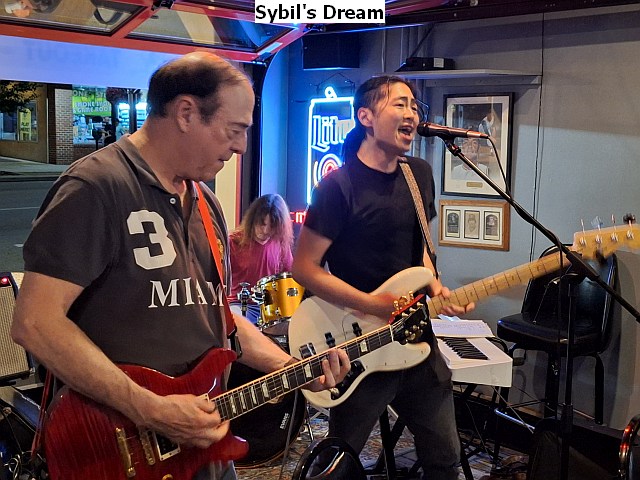 ---
Late summer activities kept me busy through much of September, prior to the arrival of Tropical Storm Ophelia's rain deluge on September 23 – the first day of fall – which abruptly and convincingly ended summer and started fall. While outdoor fall festivals will be prominent on my schedule during the next few weeks, summer festivals and events are fresh on my mind.
The PA Roundhouse Rally summer series reached its climax during a four-day extravaganza on Labor Day weekend. Throughout this year's series, the PA Roundhouse Rally and Q94 Classic Rock were registering people to be drawn and added a field of 1,000 qualifiers with a chance to win a 2023 Harley-Davidson 120th Anniversary edition Fatboy 114 motorcycle. Live music helped to build the anticipation and excitement leading up to the motorcycle drawing, which concluded the PA Roundhouse Rally series late on Labor Day eve.
The Rally's kickoff night, Thursday, provided a special musical highlight, as ten area musicians – anchored by Felix & the Hurricanes – performed a special tribute to the Marshall Tucker Band. Dubbed the "Mother Trucker Band," the musicians – Felix and Dick Kos on guitars, Jeff Clapper on bass, Jim Fungaroli on pedal steel guitar, Dave Villani on keys, Kent Martin on flute and horns, Eileen Christman on violin, Steve Oswalt on vocals, and Bob Watters and Randy Servello on dual drum kits – cut loose on a set of ten Marshall Tucker Band classics, including the group's established popular favorites and a few deeper selections. Hearty renditions of "Take the Highway," "Fire on the Mountain" and "This Ol' Cowboy" kicked off the tribute; followed by "See You Later. I'm Gone," "Searchin' for a Rainbow," "Bob Away My Blues" and "24 Hours at a Time." The homestretch included the popular 1977 hit "Heard It in a Love Song," an extended jam edition of "Ramblin'" and "Can't You See" to end the set. The group soon followed with a second set as they blended their talents on songs from Lynyrd Skynyrd, Molly Hatchet (with additional guest John Shimko growling out the lead vocal on "Dreams I'll Never See"), Jethro Tull, Gary Moore, Bob Seger, and the Hurricanes' popular original number "Walking a Straight Line." The musicianship and enthusiasm rode at a constant high, with all ten performers savoring the occasion and delivering excellent displays in their respective roles. The audience quickly responded with loud cheers of approval after each song. It was fun to witness the interaction between the various musicians, with the Kos brothers blending and dueling on their respective guitars, and the instrumental solo "conversations" between Eileen's violin, Dave's keys and Kent's flute and horns all providing additional highlights. Sequels to this night's musical fireworks may be forthcoming.
The following night, Friday, featured performances from the Bad Luck Lover Boys and Shallow 9. Bedford's Bad Luck Lover Boys – singer and guitarist Chris Diehl, guitarist and singer Matt Godissart, bassist and singer Adam Lingenfelter, and drummer and singer Brad Hengst – mixed their own pop punk-driven original songs with various punk and alternative favorites, generating excitement and their own goofball fun along the way. Besides a few songs off their latest CD "Letters to Emily," Bad Luck Lover Boys kept the pacing fast with numbers from Blink-182, Proclaimers, Ramones, Green Day, the Killers, Beatles, The Who, Fall Out Boy and more. Shallow 9 then cranked up the dance party with their blend of rock, funk, soul, hip-hop and more. Singer Erika Machiel, singer, guitarist and keyboardist Ryan Weaver, bassist and singer Mitch Neuder, lead guitarist Greg Larrimore and drummer Todd Harshbarger quickly brought folks onto the dance floor as they did tunes from the Commodores, Rolling Stones, Prince, Amy Winehouse, The Killers, House Of Pain, Michael Jackson and Harvey Danger, along with a few hit medleys and mash-ups to keep the music and dancing nonstop.
Saturday's Roundhouse Rally music started off in the country vein with 100 Proof. Singer RJ Payne, lead guitarist Todd Belardi, rhythm guitarist Denny Yon, bassist Moose and drummer Dave Russell kept the music constant with multiple modern country favorites along with a sprinkling of rocking numbers from the Black Crowes, Bryan Adams, Rick Springfield, Lit and their set-ending mash-up of Big & Rich's "Save A Horse, Ride a Cowboy" with Bob Seger's "Old Time Rock'n'Roll." Johnstown's Octane then cranked up the rock with their mix of classic rock, modern rock and metal. Singer Mike Prebehalla, lead guitarist Kenny Murdick, rhythm guitarist Ian Kordish-Murdick, bassist Dave Bambino and drummer Chris Jimerson fired off high-powered numbers from Alice In Chains, AC/DC, Offspring, Nirvana, Nine Inch Nails, Van Halen, Kix, Accept, White Zombie, Volbeat, Rage Against the Machine and more. Octane fueled the crowd, who cheered louder and livelier as their performance proceeded. Headlining both this and Sunday night's Rally was the return of Cincinnati-based That Arena Rock Show, who brought their theatrical tribute to arena and stadium rock groups of the 1970s and 80s. The cast of lead singer TBone, Steve Satriani on lead guitar, Nikki Starr on rhythm guitar, Geddy Rose on bass and Ryan Rocket on drums started off with Motley Crue's "Kickstart My Heart," and proceeded through numbers from Poison, Alice Cooper, Quiet Riot, Bon Jovi, Journey, Aerosmith, AC/DC, Ozzy Osbourne, Whitesnake, Metallica, Van Halen, Def Leppard, Guns N'Roses and Kiss. The group used several interludes between songs to change wardrobe to match the artists they were covering, and also brought MTV-era characters on stage such as Beavis & Butthead. Their performance was high energy with lots of stage movement and no breaks in the action, keeping the crowd on their feet and cheering feverishly from start to end.
Sunday's Roundhouse Rally finale coincided with the Burgi's Low Life Riders' 20th Anniversary Charity Ride, which raised more than $40,000 to help out three area children with serious medical conditions. The ride's after-party kicked off with The Pines providing the music. This young crew – singer Daman Mills, guitarist Logan Warner, bassist and keyboardist Alex Snyder and drummer Ben Brumbaugh – again sank heart and soul into songs created long before they were born from the likes of Steppenwolf, the Doors, Allman Brothers, Beatles, Black Crowes, The Sweet and many more. They did several of their original tunes, including their newest one, "Shoot to Kill." They also covered a song by the band that was up next, doing good work on Felix & the Hurricanes' "Walking A Straight Line," and Logan's explosive Van Halen "Eruption" guitar solo display led into "You Really Got Me" and "Jump" to close out their set. Felix & the Hurricanes continued the excitement with their mix of southern, classic rock, blues and other favorites, before That Arena Rock Show returned with a mostly different set from the night before; this time including songs from Autograph, Skid Row, Scorpions, Judas Priest, Dio, Twisted Sister, Queen and Led Zeppelin. Following their set, the finale, as the winner of the Harley-Davidson motorcycle was drawn: Angie Dixon of Philipsburg won the bike, capping the 2023 PA Roundhouse Summer Series!
On Labor Day itself, I caught the final day of the annual Forest Hills Festival at Berwind Wayside Park in St. Michael (north of Johnstown). Tombstone kicked off the music with their blend of classic-flavored country and touches of rock and roll. The husband-and-wife duo of John and Brenda Fox share lead singing duties, with John also playing rhythm guitar; joined by lead guitarist John Luszik, bassist Rusty Gates, steel guitar player Jerry Hodge and drummer Pat Boland. Tombstone played country classics from such names as Dolly Parton, Johnny Cash, Kentucky Headhunters, Patsy Cline, Don Williams, Charley Pride, George Jones, Hank Williams, Alabama and more. They also mixed in rock'n'roll chestnuts from Elvis Presley, the Beach Boys, CCR, Roy Orbison and others. Closing out the festival was the Johnstown Area Button Box Club, who triggered some dancing and toe-tapping with their mix of polka favorites, waltzes, pop standards and more. Four button-box accordion players and a drummer strong this day, the Button Box Club did such numbers as the "Just Because Polka," "Detroit Polka," "Old Timers Polka," a medley blending "Strawberry Hill Polka" and "E.I.O Polka" and more, plus versions of Eddy Arnold's "Make the World Go Away," Don Ho's "Tiny Bubbles" and others.
The following weekend, I journeyed to downtown Indiana to catch the Saturday portion of the annual Northern Appalachian Folk Festival, held along Philadelphia Street. Under way as I arrived was western PA's Gashouse Annie duo. Singers and guitarists Shirley Dragovich and Laurie Palmer blended their voices on a selection of original songs plus blues, rock and country covers. Both sang with soul and purpose as they did the Janis Joplin double-shot of "Me and Bobby McGee" into "Mercedes Benz," Lee Greenwood's "God Bless the U.S.A." and Hank Williams' "Jambalaya." Taking the stage next, Altoona's The Jaded Lips introduced the Indiana audience to their brand of musical 'lip service' as they did numerous original songs off their "Lip Service" debut album. Singer and guitarist Mike Wertz, bassist Hunter Karns and drummer David Applas mixed hard rock and funk on original tunes such as "Where Do We Run?" "Shallow Woman," "Save Me," "Testify," "Black Lashes" and more; also versions of the Rolling Stones' "Gimme Shelter" and Sly & the Family Stone's "Thank You (Falettinme Be Mice Elf Agin)" to end the set. Arriving storm clouds threatened to erupt as the Derek Woods Band next got under way, but the storminess moved away from downtown Indiana as the group started playing their brand of Americana-toned rock. Derek on voice and acoustic guitar, Joe Scheller on sax, bassist Chris Schaney and drummer Chris Belin mixed new and older original songs with select covers. They broke out at least one new tune, "Nothing New," as well as tunes off their 2021 "Picture This" album such as "Happiness" and "Don't Look Away." And they did numbers from the Spencer Davis Group, Allman Brothers, Tom Petty and the Grateful Dead's "Shakedown Street" to close their set. The Derek Woods Band sounded strong, especially Joe's passionate saxophone solo work. Next was Jim Donovan & the Sun King Warriors, who triggered lively street dancing with their rousing set. Namesake Jim on vocals and guitar (and later, drums), lead guitarist Kevin McDonald, bassist Kent Tonkin, multi-instrumentalist Dan Murphy, percussionist Bryan Fazio and drummer Joe Marini introduced a bunch of new original songs that will be on their next album, including "You Are Not Your Hurt" with its intriguing reggae, soul and eastern flavors. The group also did established favorites like "Last Dance," "Ooh La La La-La" and their lively set closer "You Are My Everything," as well as their "two tons of drums" interlude comprised of the sing-along "We Have Arrived" into a heated percussion jam between Bryan, Joe and Jim taking over behind the kit. Closing out the event was Nashville-based trio July Moon, who mixed a number of country-based original songs with a variety of cover material done in their own distinct flavor. Cassidy Daniels and Piper Bateman both play acoustic guitars, while Braelyn Watt plays tambourine; all three sing. And sing they did – delivering great vocal harmonies as they introduced songs such as their debut single "Champagne Plans," "You Think You Know Someone," "Devil Walkin,'" "Someone Like Me" and others. They also gave their own treatments to renditions of KT Tunstall's "Black Horse and the Cherry Tree," Tyler Childers' "White House Road," Fleetwood Mac's "Dreams," Dobie Gray's "Drift Away," Heart's "Magic Man" and more. July Moon won over the Indiana audience, and answered calls for an encore with their version of Little Big Town's "Boondocks" to close out the festival.
After the festival concluded, I heard live music emanating from further down the block on Philadelphia Street, so I followed the music and discovered local trio Sybil's Dream performing at Spaghetti Benders Italian eatery. Lead singer, bassist and keyboardist Andrew Shingledecker, guitarist Dave Serene and drummer Luke Stitt brought together a wide variety of rock favorites spanning the 1960s to 2000s. Their setlist included such numbers as Redbone's "Come and Get Your Love," Huey Lewis & the News' "The Power of Love," Depeche Mode's "Personal Jesus," Electric Light Orchestra's "Mr. Blue Sky," Outkast's "Hey Ya" plus tunes from the Beatles, Franz Ferdinand, Jethro Tull, Bill Withers, Fastball, Talking Heads, The Who and much more. Andrew's voice capably handled the wide range of sounds, and all three musicians sounded solid and together. Sybil's Dream had their post-festival audience increasingly cheering, grooving and dancing as the night progressed.
Also in Indiana County, I took in the Thursday evening leg of last month's 106th annual Cookport Fair. Country music was the prominent flavor of this night; I first caught some of the performance by Wellsboro-based artist Chris Eckert on the outdoor midway stage. A longtime performer, Chris sang and played his acoustic guitar along fully orchestrated arrangements of mostly country numbers; including songs from Ronnie Milsap, George Strait, Merle Haggard, Willie Nelson, Kenny Chesney, Billy Dean and others. I then headed to the indoors main stage to see the western PA-based Michael Christopher Band. Michael and his band – lead guitarist Matt DePra, bassist Michael Bess and drummer TJ Thomas – lean toward the more rocking side of the country spectrum. They entertained with numbers from Luke Combs, Jason Aldean, Deana Carter, Kip Moore, Toby Keith, Jon Pardi and others; plus offered their own twists on several rock and pop numbers from Tom Petty, Chris Isaak, Don Henley, John Denver and more. The group also played one of Michael's original songs, "Song About a Beach." Michael delivered it all with a strong, clear voice, and Matt displayed clean, sharp-sounding guitar solos along the way.
Ethnic music and food were parts of my September journey…I headed to Johnstown's Heritage Discover Center to take in the 8th annual Polacek Family Johnstown Slavic Festival. Slavic music, food, drink and culture took the spotlight during this two-day event. I caught much of Saturday's festivities, grabbing a bowl of goulash immediately after arriving, and then proceeding to the courtyard stage to watch accordionist Jim Vizzini. Jim entertained the audience with a mix of Slavic folk numbers and polkas, but also morphed Journey's "Don't Stop Believin'" into a polka as well. Following Jim was Bronco Toter, who performed a variety of Eastern European folk numbers and polkas. Bronco played his buttonbox accordion and sang, with wife Karen playing bass. I then headed to the main stage to see Washington, D.C.-based Gerdan. Founded by Ukrainian professional duo Solomia Gorokhivska and 2020 Grammy Award winner Andrei Pidkivka, Gerdan specializes in traditional Ukrainian folk melodies and rhythms, played using Ukrainian flutes and other traditional folk instruments. Gerdan several times rallied dancers to step up and get festive with them. Following them on the main stage was Sarena. Four women strong, this group specialized in Croatian and Serbian folk songs, played on traditional instruments such as the brac (a lute-type instrument). Sarena's vocal harmonies sounded great, and their music presented a relaxing vibe. Closing out the main stage was Jeff Dermes and The Happy Slovenes from Steelton. This group served up the polka and quickly got folks dancing with their lively melodies. The Happy Slovenes had something for everyone – doing the "Chicken Dance" for the children, multiple polkas such as the "Bottoms Up Polka," "Just Because Polka," "Barking Dog Polka" and a "Beer Barrel Polka"-triggered polka medley, and even a polka take on a surf rock instrumental.
From Slavic music to Celtic rock – After departing the Slavic Festival, I headed to McGarvey's in Altoona to enjoy some high-powered Celtic-flavored rock courtesy of Harrisburg's Kilmaine Saints as they played the "Halfway to St. Pat's" bash. Opening the show was Clearfield power trio Hardtack; I arrived in time to catch the group's last two original songs, "Do It to Yourself" and "Strawberry Jam." All three band members sang, and they sounded good on their melody-geared brand of original alternative rock and punk. The Kilmaine Saints then fired up the house with their rowdy Celtic sounds. Singer Brendan Power and the multi-instrumental cast of Jon Heller (bass, bagpipes and accordion), Bill Brown (bagpipes, bouzouki and whistle) and Rich Lipski (acoustic guitar, mandolin and banjo), plus fiddler Gary Eurice, guitarist Erich Arndt and drummer Tony Leanza fired up the McGarvey's crowd with a number of new songs off their recently issued new album, "Same Again Tomorrow," along with other original tunes, amped-up traditional folk numbers and more. Jon and Bill's bagpipes ushered in "Amazing Grace" to begin the set, then leading into "Will the Circle Be Unbroken," and the group's slamming statement of purpose, "The Saints Are Up!" From there it was on, from a rowdy version of "All For Me Grog" to feisty originals like "Whiskey Blues and Faded Tattoos," "Painting Paradise Square," "Undivided" off the new album and more. The Kilmaine Saints kept it loud, rowdy and fun through their entire set, and when the crowd wanted more at night's end, the group responded with their Celtic-edged version of House Of Pain's "Jump Around" to finish the night.
Rainy conditions didn't thwart me from attending another ethnic food and music event the following day, the 33rd annual Italian Food & Heritage Festival at Delgrosso's Park in Tipton. In between savoring tasty Italian cuisine, I enjoyed this year's featured performers, The Cavaliers Italian Band from Pittsburgh. For 25 years, this group – presently singer and bassist Dan Pollice, guitarist and singer Bob Marshall, drummer Joe Patrick, keyboardist and singer Mary Ferro and accordionist Michael Spak – has entertained audiences throughout Pennsylvania, Ohio, West Virginia and more. The Cavaliers mixed a variety of Italian favorites and standards, early rock'n'roll, swing and polkas during their two sets. Some of their numbers included Louis Prima's "Buona Sera, Signorina" and "Jump, Jive and Wail," Dean Martin-popularized hits such as "Mambo Italiano," "Volare" and "Arrivaderci Roma," polkas such as "In Heaven There Is No Beer" and "Tick Tock Polka," and early rock and soul numbers from Elvis Presley, The Drifters, Wilbert Harrison, Wilson Pickett and more. Also performing between the Cavaliers' sets was strolling Pittsburgh-based artist Edwardo the Accordionist, who played a blend of Italian pop and folk plus songs from the American songbook.
When you label an event "Rot-Fest," it should only be fitting that the weather be rotten; such was the case when longtime area "rot-n-roll" specialists, Roadkill, staged their annual Rot-Fest '23 celebration on the grounds of the Morris Township Volunteer Fire Company Recreation Center near Morrisdale. Clouds and steady rain adorned Rot-Fest through its duration, only lifting and dispersing moments after the event concluded. But the rain didn't thwart the fun; I missed the host band's performance, but arrived in time to see acoustic sets by "The Bearded Stranger," Clayton Miller and Big Head Driver. Singing with a hearty voice, Clayton introduced his brand of darker-toned folk sounds as he did many of his original songs – including "Ridin' the Highway," "Rabbit in the Well," "Riverside Lament," "Garden Full of Weeds," his self-titled ode "The Red-Bearded Stranger" and more. The creative alias of singer and songwriter Tom Bryan, Big Head Driver then did his first-ever public performance, introducing original songs such as "Blackburn Road," "Let the Monster Play," "Breaking Me" and more. Not so "rotten" about Rot-Fest was that monies were raised this day for local non-profit organization The Angel Project.
I recently caught my first look at area variety rock and pop group SoundCar, as they performed in the outdoor courtyard at Tyrone's Bull Pen Restaurant in late August. Formed in 2019, SoundCar – Preston and Breann Knepp on lead vocals and guitars, Geoff Conrad on drums and vocals, Melissa Conrad on harmonica and backing vocals, Todd Hinkle on bass and vocals, Lisa Edwards on keys and vocals, and Terry Quici on vocals, hand percussion and trumpet – played a wide variety of music, spanning classic rock to country to modern pop, "yacht rock," heavy metal, pop punk and more. SoundCar sounded strong on all of it, with most band members sharing lead vocal duties along the way plus blending on tight harmonies. The group's diverse range of styles kept their performance sounding fresh throughout the evening; some of their highlights included the Todd-sung rendition of the Rolling Stones' "You Can't Always Get What You Want," the Melissa-fronted version of Fleetwood Mac's "Gold Dust Woman," Breann's treatment of Def Leppard's "Hysteria," plus songs from Toto, Marshall Tucker Band, Chris Isaak, 4 Non Blondes' "What's Up" to close the night and more.
Hate Grenade headlined a hard-hitting triple-bill at McGarvey's last month. Work duties kept me from seeing the opening group, Pittsburgh's Theriaca, but I did arrive to see the last couple of songs by Shippensburg's 1818 as they demonstrated their brand of intense, heavy alternative rock and metal. Hate Grenade then pulled the pin on their explosive set, as they played numerous nu/rap metal-geared original songs, many from their latest album "i-Society." Singer Jeff Glace, guitarist Chuck Lavera, bassist Donny and drummer Mike Powers kept it intense and on edge from start to end as they did numbers such as "Hollywood, "Bind" and the title track "Isociety" from the new album, as well as older tracks like "Left Behind," "Wake Up" and "Watch Your Back." When the assembled crowd demanded an encore, Hate Grenade answered with a version of Limp Bizkit's "Full Nelson" to end the night.
I also caught part of the Labor Day weekend triple bill at McGarvey's featuring Nik Mik, Grimm & the Reapers and Donimo. I missed Nik Mik's set, but arrived as Grimm & the Reapers were under way. This group – vocalist Grimm Adams, guitarist Brandon Valentine, bassist Tyler Valentine and drummer Joe Carlo – are fast gaining a following with their sonic mixture of digital nu-metal, rap metal, techno and funk. Their original songs display interesting melodies, and their stage presence provides constant energy and swagger. This was also my first look at rising local punk rock trio Donimo. Lead singer and guitarist Rizzo, drummer Zachary Snyder and bassist Brayden Adams (who recently departed the group but was filling in until a replacement is found) drilled high-velocity punk-rocking original songs and a few select covers. Some of their original tunes included "Mushroom Man" and "Dragon Fire," and they also did versions of Teenage Bottlerocket's "Necrocomicon" and "A-Bomb."
And I had the occasion to mix my "day job" with some live music in late August…Just before kicking off my first classes of fall semester at Penn State Altoona, I enjoyed a few songs from State College duo The Corner Brothers under the campus' Laurel Pavilion, part of the celebratory school year kickoff event. The Corner Brothers – brothers Matt Greer on vocals and acoustic guitar, and Tyler Greer on vocals and percussion – entertained students, faculty and staff with their wide-ranging mix of popular songs from the 1980s to present. I only got to enjoy a handful of songs before my classroom duties called me away, but the Corner Brothers sounded good on renditions of the Zac Brown Band's "Chicken Fried," Tears For Fears' "Everybody Wants to Rule the World" and more.
News and notes…Visit Johnstown revealed last month that they will step down as the operators of Johnstown's annual Thunder in the Valley motorcycle rally after a 25-year run; Visit Johnstown's executive director Lisa Rager said that the decision was made so the organization could focus more on their core mission of marketing the Johnstown area as a destination for visitors. Besides being a popular motorcycle event, Thunder In the Valley also featured performances by many local, regional and even national bands and performers…One of State College's long-running bars and live music venues closed permanently last month; according to a press release, HiWay Pizza Pub's downtown State College location and its basement live music bar The Saloon closed after 60 years of business…Deus Ex Machina will present the Halloween-themed "Witching Hour Serenade" to the Sinking Valley Fairgrounds near Altoona on Oct. 27; among the festivities will be live music by Memory Collector, Crazed Visions, Quick, A Starlite Grey, Lucid Yooth & the Cubensis Lenses, Grimm & the Reapers, M A$AP and Intentions. EDM and dubstep artists Xxtremixx and J/Howl will also perform…Popular Centre County doo wop group RamaLama played their final show in late September after eight years together…And Johnstown-based rock and cover band Untucked added drummer Scott Rosage to their roster.
Please send correspondence and recordings to: Jim Price, 1104 S. Catherine St., Altoona, PA  16602. You can also e-mail me at jptheprofessor@gmail.com. And if you're into social networking, look me up on Facebook. SUPPORT LOCAL MUSIC!